We had a lovely, spontaneous day yesterday. And, boy, did we need it!
We decided to get in the car and see where we were led, starting off with a visit to a farm down the road that was supposed to have free-range eggs (for Don). When we got there, it was evident no one was living there. The house was for rent, the property for sale. And, as we drove up the drive to turn around, these faces were staring at us:
There were at least two more kittens/cats around inside the barn. Clearly, they're being fed by someone, either the owner of the property or a neighbor. My instincts are to worry about them, of course, but they seem okay.
We then drove into the town that is just north of us – a college town – where there's a little street that has several little shops we like to visit. It should be noted that I was wearing my pink hat.
We stopped at our favorite record shop and I found a couple of albums and a 45 that I wanted. (More on that tomorrow.) This is a little winding street that is off the main drag, so I often drive by, but clearly haven't stopped to explore it in a while. As we sauntered down the street, yet another shop that had been one thing was now another thing – what looked like a coffee shop. I was ready to move on, but Don wanted to peek inside. Okay.
What a discovery! It's entirely vegan. Started by a local shop owner who has a ethically sourced chocolate shop, this coffee shop/cafe is called The Commissary.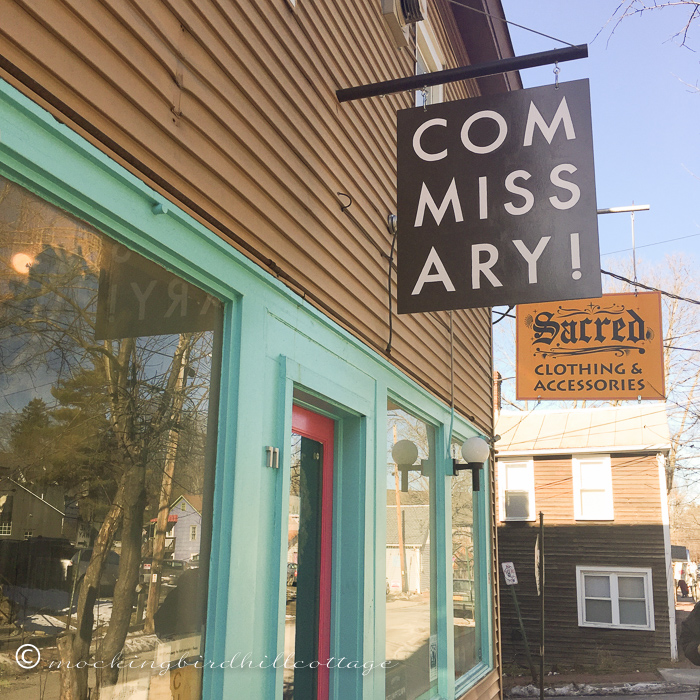 We went in to check out the menu and the young woman behind the counter told me she had seen me in my hat when I was outside the window. Yes, she'd been on the Women's March. We started talking about that and I said, for the first of what would be several times that day, that, no, I didn't go on the march but my husband did. Everyone, of course, loved that Don marched.
Right by the counter was this sign:
I like this place.
After I discovered that the menu was vegan, I ordered some soup and Don ordered something else, I can't remember the name of it, but I sampled it and it was delicious. And then I realized they made vegan hot chocolate. That was a no-brainer.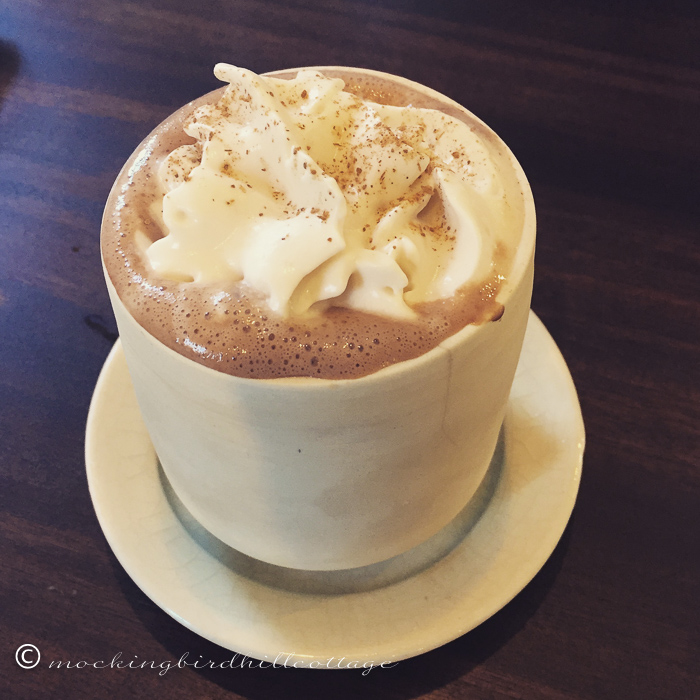 Goodness, it was delicious! With marshmallows and whipped cream (all vegan) it was far better than anything I make at home.
Around the corner from the cash register: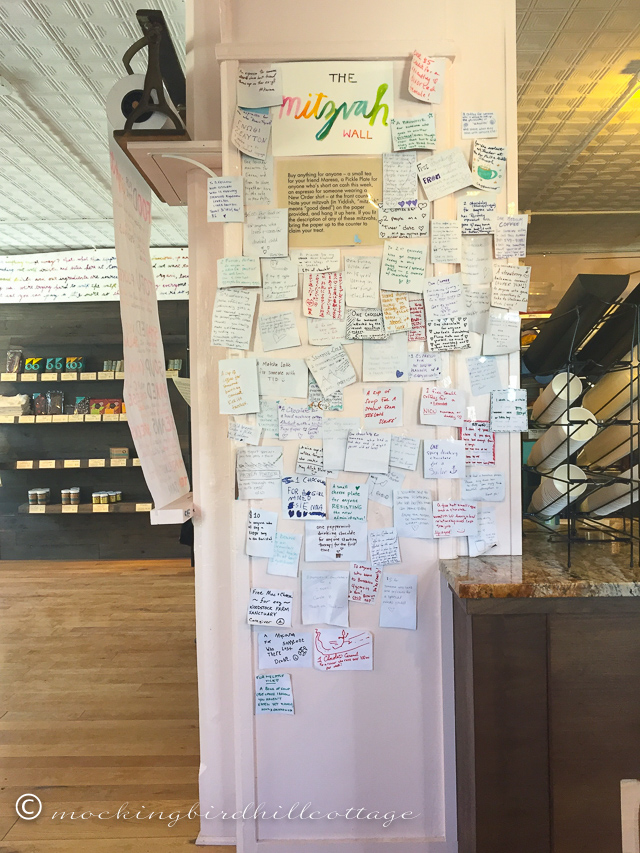 The Mitzvah Wall.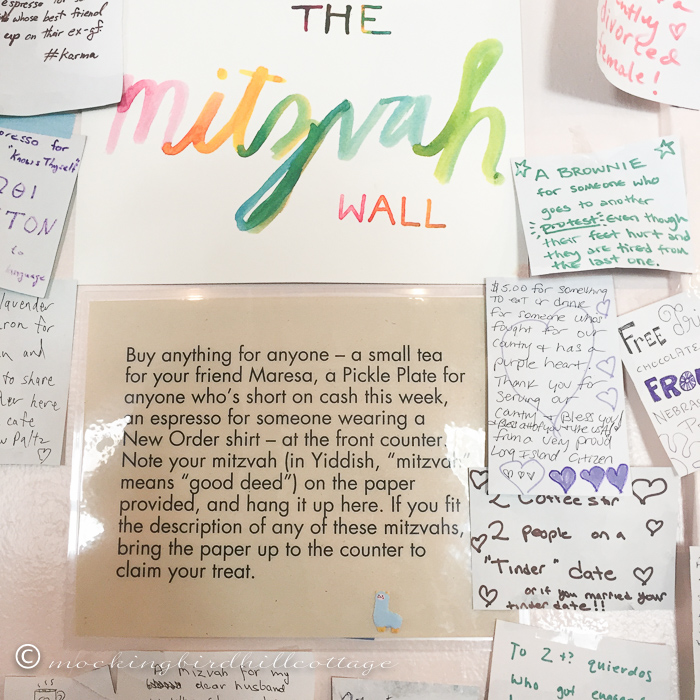 The notes were fascinating and lovely and compassionate. I love this idea. We contributed: $5.00 toward anything on the menu for anyone who loves and cares for a disabled child, in honor of our Little Z, who was in a wedding yesterday, by the way! And absolutely adorable.
But I digress.
Clearly focused an equality and activism, this shop won my heart. Some of things on the menu are given a suggested price. You can pay more or less, depending on your situation. Those who pay more will help someone else who might be unable to pay for an item. It all evens out in the end.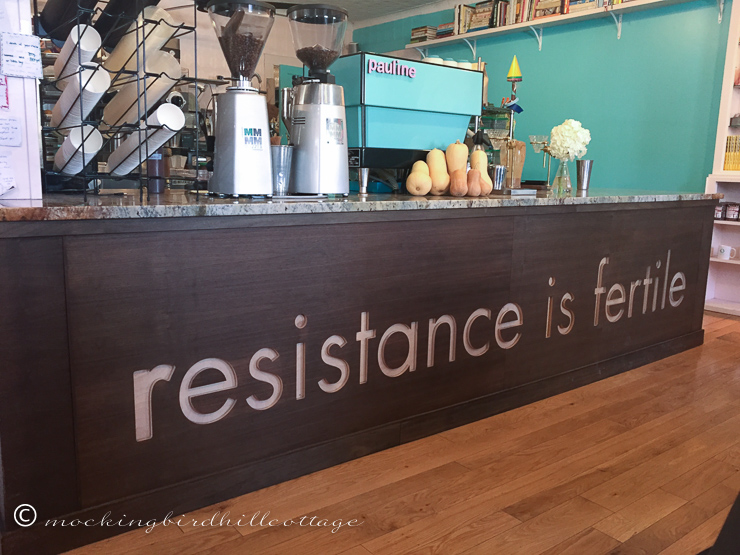 Absolutely fell in love with this message carved into the wooden counter.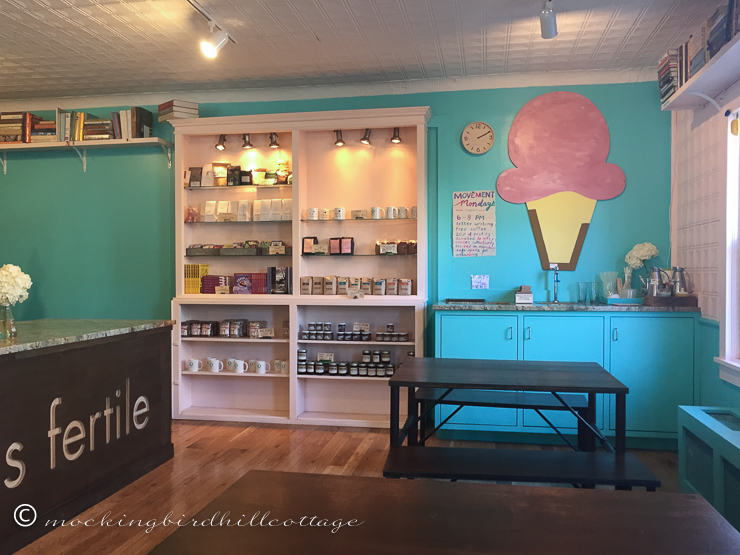 Movement Mondays – for two hours, you can hang out and write postcards and letters to elected officials. Free coffee.
The food was delicious. And we have found a new hangout.
After we finished, we crossed the street and went into an independent bookstore that we often visit.
On the door: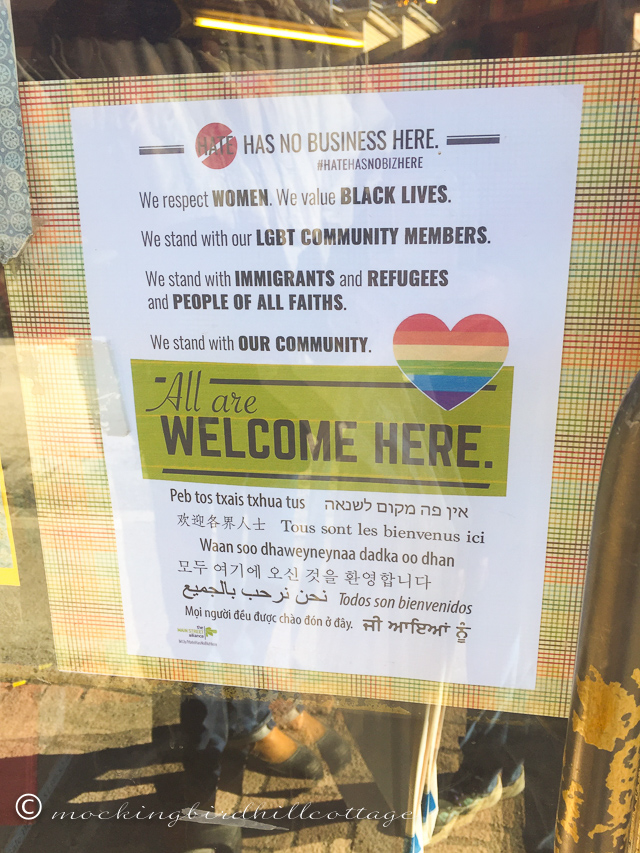 I'm proud of our community.
Once we entered and started browsing, more conversations with strangers – all of whom commented on my hat. All three woman were younger, two of them might well have been students at the local university. The young woman behind the counter had gone to the March. We had a lively conversation and it was simply lovely.
That hat seems to be a conversation starter.
I bought a couple of books that I'll share with you tomorrow.
Stopped to buy a couple of vegan cookies at another local restaurant run by a friend of Don's. Had a great conversation there, as well.
A lovely, lovely day that, as sometimes happens, turned on a dime as we drove back home. As we turned down a local road that we cut through to get to our house, we saw flashing lights ahead. A man directed us to turn around. All we could get out of him was that there had been a fire.
After we got home, Don noticed a voicemail on his phone. It was from our friend who owns the local horse farm and boarding facility. The home of the local man who owned Pliers and Ashley (the horses who were taken in by the Catskill Animal Sanctuary) burned to the ground yesterday afternoon. We'd seen his house. It was little more than a shack, really, with a wood-burning stove. Whether he had electricity is unsure. But it was his home, and this man who has problems due to a head injury years ago, is now homeless.
Utterly heartbreaking.
We are gathering clothing and sheets and towels for him. I don't know where he'll go or where he might find shelter. I hope to find out more today.
I can't even take it in. That poor man who is still dealing with having to give up his horses – now homeless.
We'll do what we can, as will others in our community.
Happy Sunday.