Still sick. This is endless.
I am grateful that I'm not needed at rehearsals for a while. I can concentrate on healing.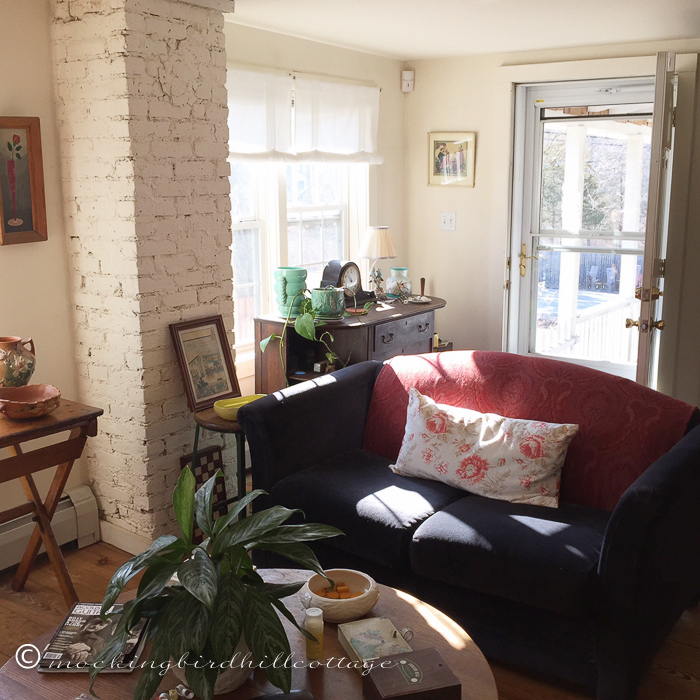 I took this yesterday afternoon. February 23rd. The temps were in the high sixties.
What the ???
Global warming.
Oh, I forgot. Global warming is a hoax perpetrated by the Chinese.
I appreciated having the windows open for a while and seeing the sun come through the front door was very nice, indeed.
Having nothing to do but look at my laptop and/or read a book, I check in on Twitter fairly frequently. This is far and away my favorite photo of the week, which I retweeted:
Absolutely perfect. I've said it before and I'll say it again, Jesus would not like what is happening here. And by Jesus I mean the Jesus of the New Testament, who spoke in clear terms about what is right and what is wrong – not the Jesus who has been manipulated into something else in order to validate bigotry, misogyny, racism and Islamophobia.
The Jesus who would be denied entrance into this country because of the color of his skin and his ties to 'suspect' countries.
Listen. I'm tired, I'm more  than tired – I'm exhausted, I'm sick, I'm sleep deprived because of coughing jags and, above all else,  I'm sick of all these evil machinations.
This is not who we are. Nor will we allow it to be who we are. The Resistance is strong and getting stronger by the minute.
Michael Moore mentioned a terrific app the other day. It's 5 Calls. You can download it from the App Store. Brilliantly simple. You choose the issues that are important to you. It dials your Reps or Senators or the Justice Department – wherever your voice should be heard. It gives you a script. The calls are made in no time.
Don and I downloaded it yesterday. I can't call anyone yet because I'm coughing too much, but Don pulled off 3 calls in about 3 minutes.
I'm looking forward to the day when my Peet's Coffee starts tasting like it should again.
Happy Friday.