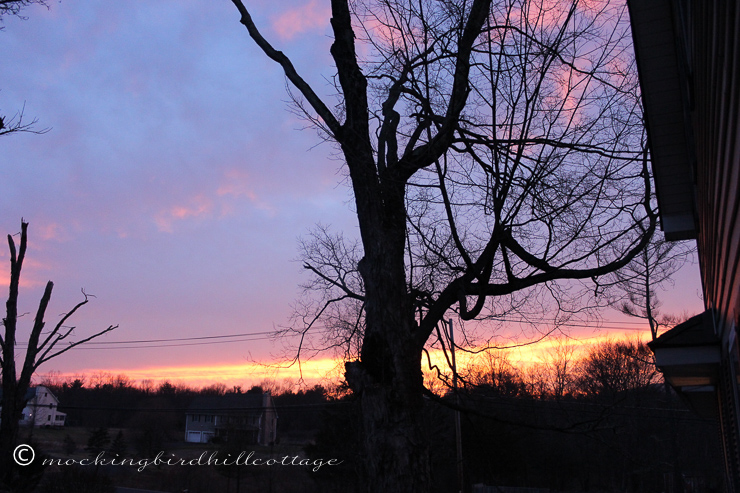 A sunset for you. Friday night? I think so, though life has been rather unfocused lately. The past three weeks have been a blur and, though some of it has been lovely, much of it has not  been lovely. I'm trying to stay in the now for the next 8 days before Don leaves. I'm a bit resentful of this virus and the fact that it 'took me away' from Don. Of course, it really didn't, as he was here and taking care of me. I guess I mean that I wish I hadn't felt so god-awful so we could have had lighter, happier days. Ah, well. There's no replay allowed, so we'll move forward and enjoy the next week together.
I do have to go into the city tomorrow for a run through and then I'm done for about a week and a half or so, until final dress rehearsals begin.
Perhaps because I read that lovely new quarterly magazine, QuiltFolk, perhaps because I know my evenings will soon be something other than a time to cuddle with my husband – whatever the reason, I brought out this work in progress: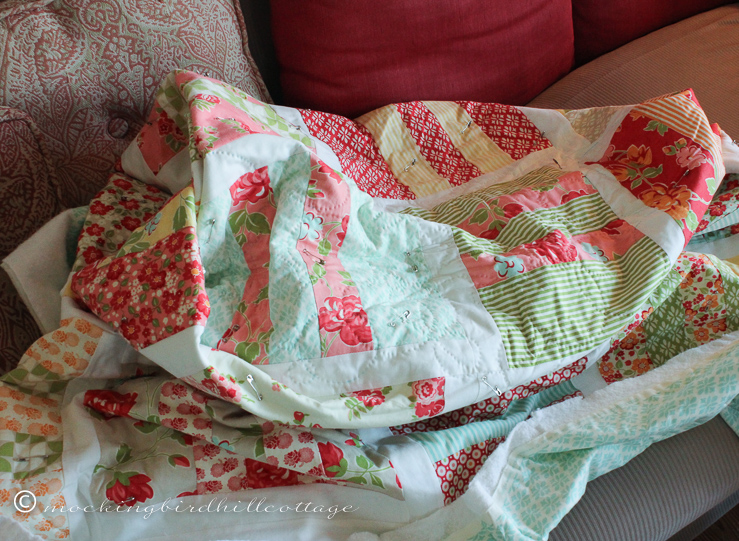 I pieced this together a few years ago while working in Hartford. It's meant to hang on a wall, though it would also work nicely as a throw. (The wall it was meant to hang on is now our 'gallery wall' by the stairs.) I started hand quilting it back then and I've pulled it out a few times, but it hasn't been touched in a while. Hand quilting – which is the only way I quilt – is slow going and I have to be motivated to do it.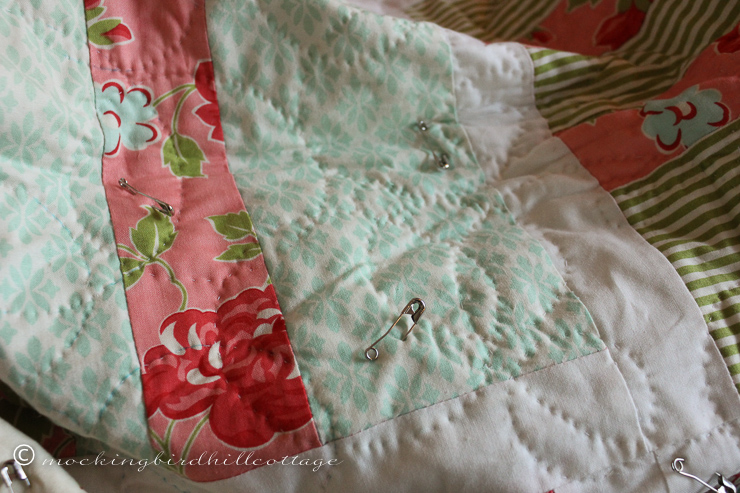 I'm feeling motivated. I think it will be the perfect thing to do as I pass the time 'of an evening.' Nothing is quite as fun to watch alone as it is with Don. I'll probably end up watching MSNBC, cursing repeatedly, and jabbing my needle into the quilt.
We've started watching Rachel Maddow again after having stayed away from the news after that man was elected. Maddow is brilliant, of course, and she manages to weave information together into something coherent. She does the hard work for us and like the teacher she is, leaves us knowing more than we did by the end of her show. A lot more. We find we're clinging to her nightly show because we need to connect the dots and that's something she does better than anyone else.
The winner of a copy of Wilde Lake  by Laura Lippman is Katheryn! Congratulations. I'll send you an email, Katheryn.
Happy Monday.