First bunny sighting: yesterday morning. Though it was still too darkish outside to get a good photo, I stood by the kitchen sink and smiled.
Bunnies. Spring is here.
This morning, I stood in front of the china cabinet in the kitchen trying to figure out where to display the plate and saucer I bought at Fish's Eddy. And, as happens with all of us, I really took in the things I have stashed in the cabinet. I'm so used to walking by it and not noticing…you know what I mean.
I had forgotten about this lovely Emma Bridgewater bowl:
I echo the sentiment: Don't let the farmer have his fun, fun, fun. Run rabbit, run, run, run.
(I just read a mystery where the farmers routinely shot rabbits and I had to skip over those paragraphs. Do Not Like. The mystery was excellent, by the way – The Dry.)
I can't remember whether I bought this in England or found it somewhere stateside. Most of my Bridgewater was purchased in England – London, actually. I carefully packed it all and brought it back home – this would be about 16 years ago. But I vaguely remember finding a piece here. Was this it? I'm not sure. What I am sure of is that I really love it.
So, in honor of the bunny sighting and the bunnies and baby bunnies to come, I share this with you.
I'm back to limiting my news and Twitter time. I don't want to be constantly angry or fearful. It's a delicate balance, as every day brings more alarming news. But I can oh-so-easily fall in to the proverbial rabbit hole and become obsessed by what is happening every minute. So. A bit of twitter. Maybe  The Randi Rhodes show in the afternoon. And Rachel. That's it.
It will be easier to strike this balance when I can get outside and start my garden cleanup. It's too wet right now. Fingers crossed that I'll be able to start on that next week.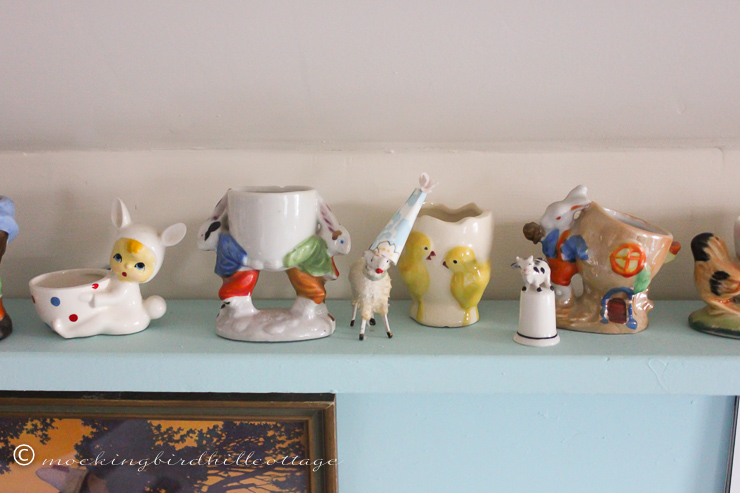 More egg cups. And The Lamb With the Party Hat. And a little thimble with a cow on top (a gift from my friend Susi in Amsterdam.)
The egg cup with the two yellow chicks is a Fanny Farmer egg cup and it was the start of this whole collection. My godparents gave it to me when I was a wee thing and I kept it for decades. One day, in 2001 or 2002, I read an article in Martha Stewart Living about collecting egg cups and there, in one of the photos, was this egg cup! That was it. I was off and running.
The sun is coming out. More rain tomorrow. I will be traveling into NYC on Saturday to catch the matinee of Anastasia. I need to check in and take some notes.
Happy Wednesday.