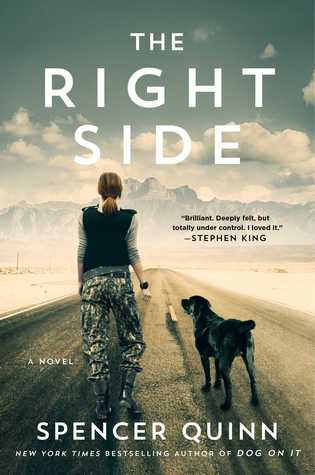 Today I am reviewing The Right Side by Spencer Quinn for TLC Book Tours. As always, I am provided with a copy of the book in return for my honest review.
About the book (from the publisher): In this riveting new novel by the New York Times  bestselling author of the Chet and Bernie mystery series, a deeply damaged female soldier home from the war in Afghanistan becomes obsessed with finding a missing girl, gains an unlikely ally in a strange dog, and encounters new perils beyond the combat zone.
LeAnne Hogan went to Afghanistan as a rising star in the military, and came back a much lesser person, mentally and physically. Now missing an eye and with half her face badly scarred, she can barely remember the disastrous desert operation that almost killed her. She is confused, angry, and suspects the fault is hers, even though no one will come out and say it.
Shattered by one last blow – the sudden death of her hospital roommate, Marci – LeAnne finds herself on a fateful drive across the country, reflecting on her past and seeing no future. Her native land is now unfamiliar, recast in shadow by her one good eye, her damaged psyche, and her weakened body. Arriving in the rain-soaked small town in Washington state that Marci had called home, she makes a troubling discovery: Marci's eight year old daughter has vanished. When a stray dog – a powerful, dark, unreadable creature, no one's idea of a pet – seems to adopt LeAnne, a surprising connection is formed and something shifts inside her. As she becomes obsessed with finding Marci's daughter, LeAnne and her inscrutable canine companion are drawn into danger as dark and menacing as her last Afghan mission. This time she has a strange but loyal fellow traveller protecting her blind side.
My review: LeAnne is one of the thornier heroines I have encountered. She's tough, she's very, very angry, and she's damaged. All of that makes her compelling and fascinating. After returning home with a missing eye and physical and emotional scars, LeAnne is trying to put some semblance of a life back together. She doesn't want the therapy that the powers-that-be at Walter Reed think she should have, she doesn't want to play games, and she can't remember what happened during the mission. She has trouble remembering, period.
Quinn deftly takes us along for the ride in this novel, where, along with the action in the present, scraps and bits of memory come back to LeAnne and drift away again. After Marci unexpectedly dies, LeAnne leaves Walter Reed, goes AWOL, and starts on her trek across the country. Her anger percolates just beneath the surface and, at times, erupts during her encounters with strangers along the way. At times, she seems to be a ticking time bomb, even contemplating suicide.
Pursued (gently) by an officer who is trying to piece together what happened on that mission, she also revisits her hometown and encounters her mother –  a necessary part of the beginning of healing.
I take a wee bit of issue with the blurb from the publisher, which makes it sound like the mystery of Marci's young daughter is the bulk of the story. It's not. Rather, the mystery is a personal one: what happened on the mission, what went wrong, was LeAnne to blame, and will she find peace and healing. That's the mystery. The mystery of the missing child is important but that doesn't happen until about 2/3 of the way through the book.
Quinn writes very well, indeed, and I found this book fascinating and couldn't put it down. The dog is written beautifully. Anyone who has ever loved a dog, especially an abused dog (and I have), will understand. LeAnne and the dog are both damaged and there is a bit of the mystical about the dog's sudden appearance in her life. Together, they form an unlikely, yet beautiful bond.
Quinn also writes of battles and wars and the Army with honesty and a reality that doesn't pull any punches. You'll feel as if you're there, watching the mission unfold.
I think you'll really like this novel. We all seek redemption in some form or other. LeAnne is no different than any of us. You'll be rooting for her.
About the author: Spencer Quinn is the #1 New York Times  bestselling author of the Chet and Bernie mystery series, as well as the bestselling Bowser and Birdie series for middle grade readers. He lives on Cape Cod with his wife Diana – and dogs Audrey and Pearl.
I am giving away a copy of this book. At this point, I'm unsure if it will come from the publisher or will be my personal copy. Either way, if you're interested, leave a comment on this post and I'll draw the winner's name on Friday evening. Good luck!
Happy Tuesday.