In a conversation with my husband, I stated that we live on the 'edge of wild.' And we do. We have wooded areas bordering our property and on  our property. Manicured lawns and weed free gardens are simply not in the realm of possibility. And at this time of year so many plants that would be called invasive or wild are blooming. It's one of the delights of spring.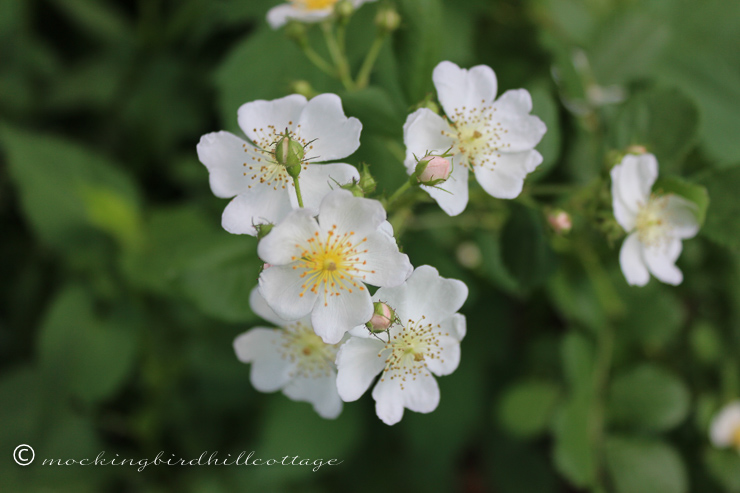 The pesky and prickly brambles are, for a short time, beautiful wild roses. The little white flowers are currently on display all over the property.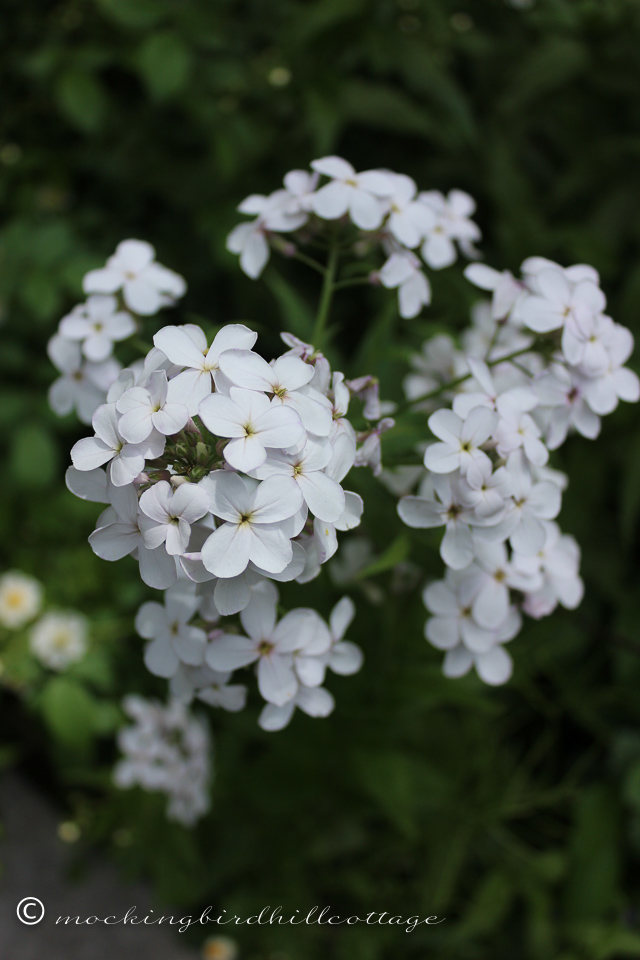 Rocket/wild phlox is blooming everywhere and, between the scent of the wild roses and that of the rocket, it's smelling rather heavenly around here.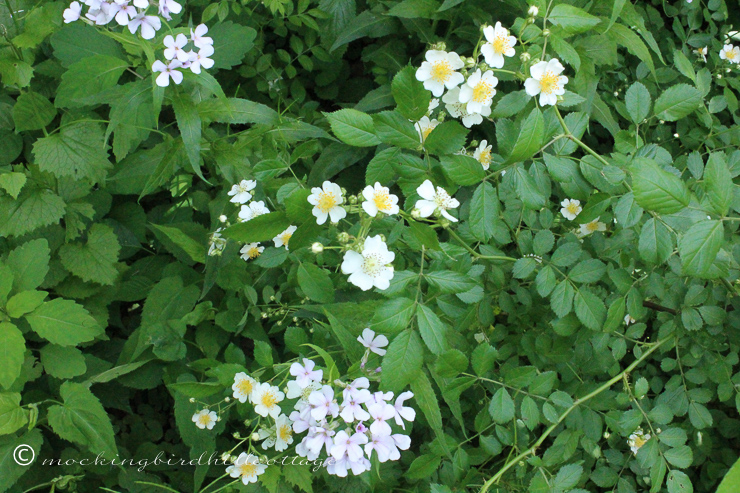 Behind the kitchen: wild roses and rocket.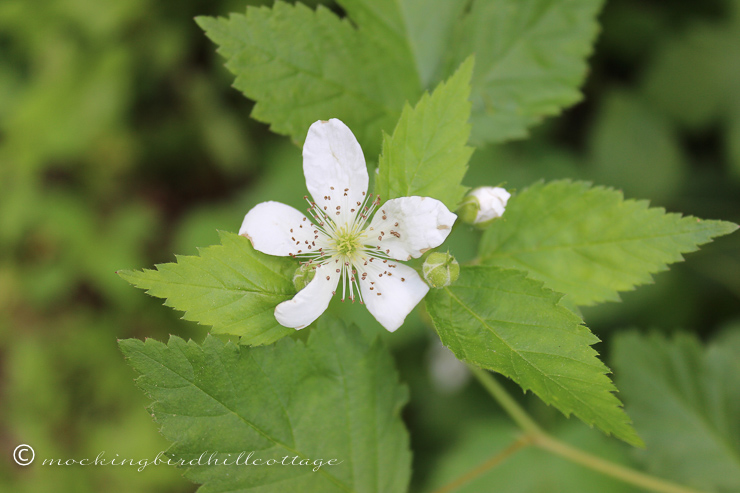 And the black raspberries – also all over the property – are blooming, as well.
Thank you Mother Nature! Even though I have to cut back brambles and black raspberries, I appreciate the display you put on for us every spring.
I'm also looking forward to the raspberries.
In other areas of the garden: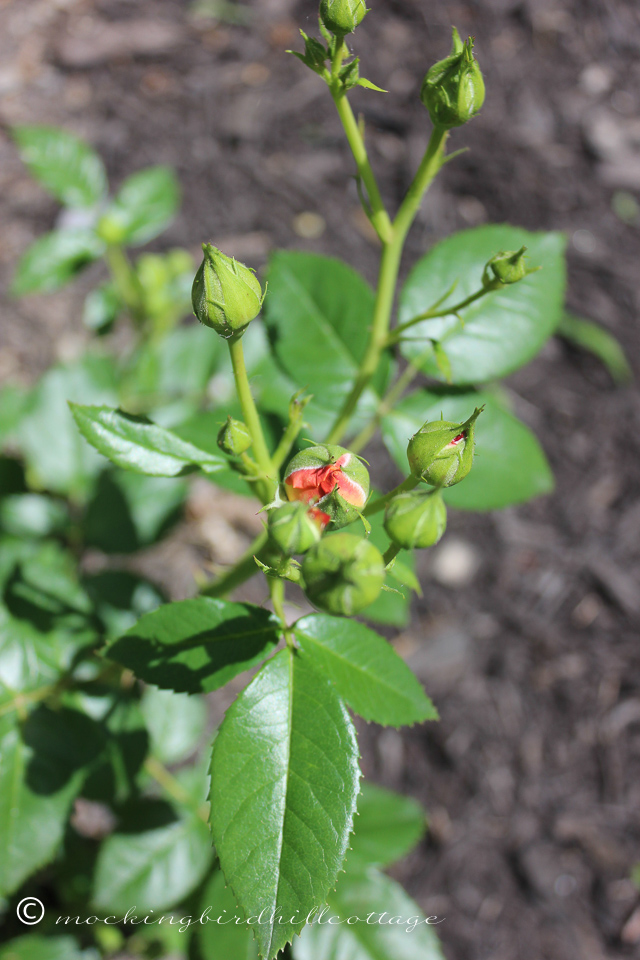 Roses are about to bloom in the memorial garden.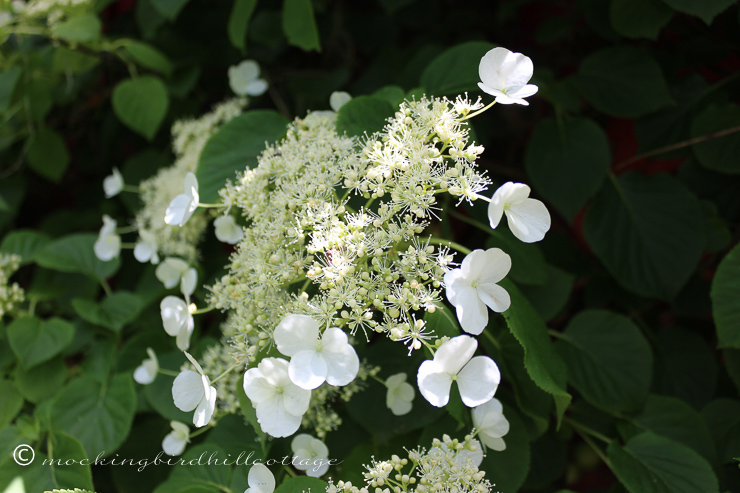 And the climbing hydrangea is stepping up its game with more blossoms than ever. (It's taken over 6 years to get to this point.)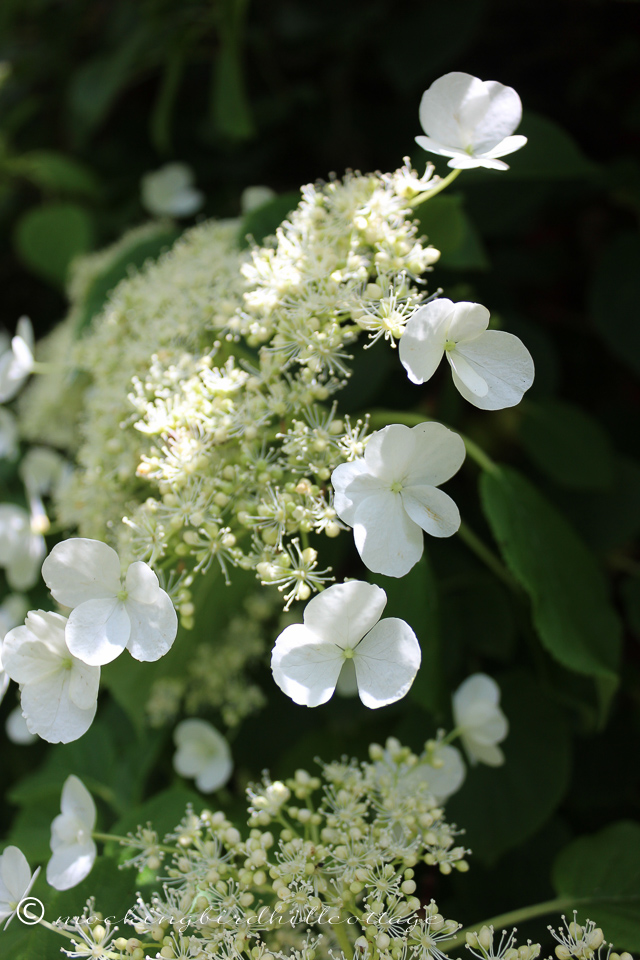 I have to apologize to mama robin every time I head toward the shed or the trash can, because her nest is currently behind this climbing hydrangea. I always warn her that I'm coming and she flies out from behind the hydrangea, heading for a neighboring tree where she proceeds to chirp at me non-stop until I move away.
The other day, the UPS guy backed his truck up the driveway so that it was parked at the top of the drive. He handed over my package, I wished him well, and as he started to drive away, I heard the mama robin chirping. She was giving him the same warning that she gives me. I got such a kick out of it!
There are nests all over the property. Some I'm aware of; there's one belonging to the brown thrashers that's in the brambles right outside the kitchen window, there's the nest behind the climbing hydrangea, there's another one in the big bush that sits in the big garden bed (I see birds flying into the middle of that bush all the time.) And of course, there's the nest in the boxwood, which has been repaired and made ready for more eggs. None so far.
I bought some mineral oil for cutting boards, per your advice. I cleaned the breadboard and then added two coats of the mineral oil. It's looking beautiful!
Happy Sunday.