I've been watching this young bird, who tends to hang out on the grass right outside the window over the kitchen sink. Usually I'm in the midst of something so I don't have my camera handy. Yesterday, I grabbed my telephoto lens and got a picture of him.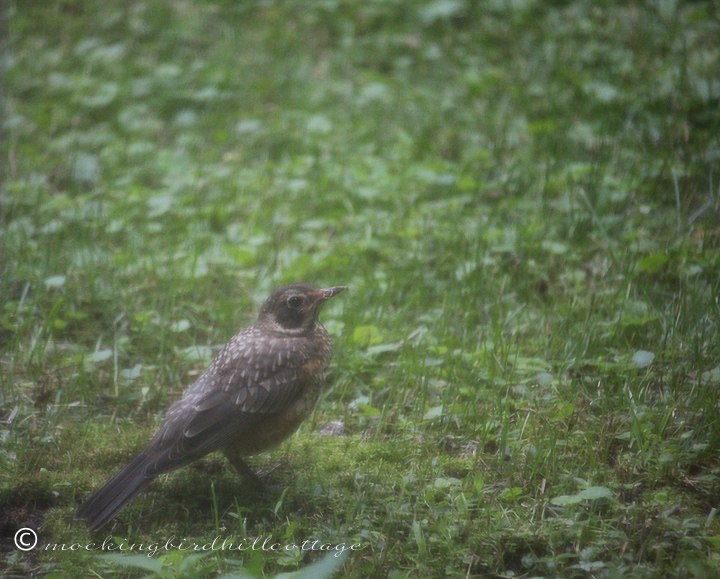 He's a young robin. That makes me wonder: could he be one of the recent fledglings from the nest by the shed?
I like to think so.
Yesterday, he stayed in this position for a long time. And then he sat for a while. I imagine all of this flying and feeding is exciting and exhausting for a recently fledged robin!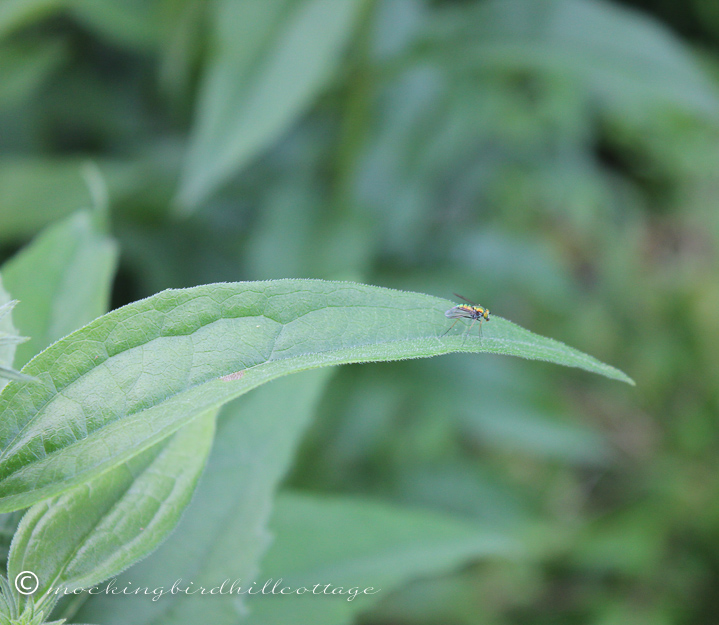 This bug was lounging on a coneflower leaf and I loved his iridescent rainbow colors.
One more day! And a lot to do.
The winner of a copy of The Right Side  by Spencer Quinn is Vicki! Vicki, I need your mailing address. Congratulations!
In other news: My friends made an offer on the house and it was accepted very quickly. They will be moving here.
What are the odds that my dear friends would be looking for a house in the very large area that is the Hudson Valley and come upon a listing that intrigued them, which they then realized was in the same town that we live in, not only in the same town, but only six minutes from our house????
And that, after looking at so many houses all over the Hudson Valley (which encompasses several counties), this would be the one for them? It's too bizarre! It's been 16 years since we moved east from San Diego, leaving Rick and the Old Globe behind, and now we've come full circle.
I still can't believe it. They can't either. I think they're in the 'What are we doing?' stage of this transition.
Wow.
They fly back today. I fly there on Monday. We're all attending the same matinee on Wednesday of Escape to Margaritaville. It's all too weird!
I'll dash off a quick post tomorrow (most likely writing it tonight) and then I'll be off to the West Coast. If I don't post every day, I know you'll understand. Though I love writing posts so I just might come up with something every day. We'll see. I'll also post on Instagram.
Happy Sunday.