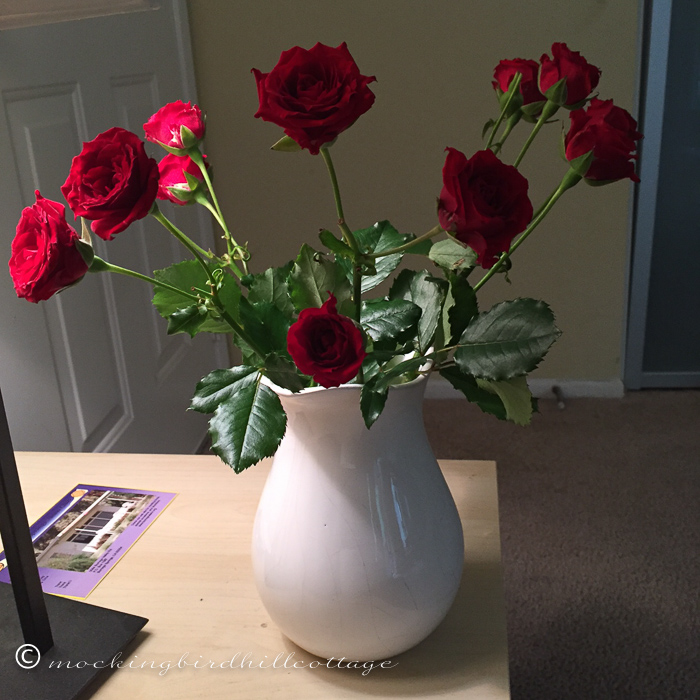 Hello, all. After one extremely long travel day, about 11 hours total, I'm in La Jolla with my sweetheart. He greeted me with these roses and a vegan chocolate bar.
We're going out to breakfast soon at his favorite place, Harry's Diner, and then we're going to mosey on over to Ocean Beach, where we met 23 years ago on this date. It's the 23rd anniversary of that fateful day! Sort of perfect that I happen to be out here at this time, don't you think?
The wi-fi here is dreadful. I have to figure out how to deal with it. I won't be posting every day, but I will be posting, so if you don't see a post one day, don't worry.
Right now, Don is playing the ukulele and I'm at the computer. It's a very small apartment, typical actor digs, and there's 'stuff' everywhere. But it will be my home for the next several days so I will have to surreptitiously "rearrange" things when Don is doing his show. Ssssh! Don't tell him.
One of the things that happens when you've been apart for 3½ months is that you get into your own routines. I'm already screwing up his routines and when we get home, he'll be screwing up mine. And then we'll readjust and all will be well.
Happy Fourth.
Happy Tuesday.