A strange day yesterday, but good.
Breakfast at Harry's:
According to Don, the original Harry was a bat boy for the Brooklyn Dodgers and he followed the team out west when they moved to Los Angeles. The walls are covered with baseball memorabilia and Norman Rockwell paintings, so yours truly feels right at home there. It's still family owned and Harry's son runs it now. It's very popular, as you might guess, and the staff is fantastic. Of course, everyone knows Don by name. I expected nothing less. He's a charmer, our Don.
By the way, I've only been here a few days and we've been stopped twice by people who recognize Don. The first time was in Ocean Beach on the Fourth. The second was at a coffee shop in Pacific Beach, where it turns out one of the employees had seen the production and asked me to take a picture of him with Don.
This is nothing new, by the way. It used to happen all the time when we lived in San Diego. When he was working in Williamstown, MA a few years back, people shouted out to him as he walked down the street.
After Harry's, we drove to Ocean Beach or as we say it, OB, to visit the antique shops. OB has always been know for the antique shops and malls that are on the far end of Newport Street, a street that stretches down to the ocean. My favorite, Vignettes, is located there. I went inside Vignettes, but Lori, the owner wasn't in, so I didn't get to say hello to her. It's really lovely there, beautifully – dare I say it? – curated. In this case, curated is the perfect word for the way in which the shop is staged.
And then I noticed that the shop next to Lori, which used to be a multi-dealer antique shop, was now a 'brewery/bar.' That was unnerving. I walked by it to another multi-dealer shop that I've always loved and had an enjoyable time perusing the aisles. Then I crossed the street to a newish shop, which was lovely. As I was leaving, I spoke to the owner, complimenting her on the shop and we got into a conversation about OB and Newport. It turns out that the multi-dealer shop across the street which I had just been in and which has been there as long as I can remember, has been sold to some chain store.
And the micro-breweries have been taking over Newport Street. I found this so depressing. Soon there will only be a couple of shops still standing and Newport will be one long stretch of bars, restaurants, tattoo parlors and head shops. Just another scruffy beach town.
"You can't go home again" resonates for a reason. It's never the same. Those shops were the treat I would give to myself when I had a day off during the summers I coached the Shakespeare Rep at the Globe. I don't want that to change. But it is.
We got back in the car and were about to head up the 5 to Orange County to visit another favorite: Country Roads (an antique shop) but the traffic was so backed up that we turned around and headed to La Jolla, where we poked around in a vintage bookstore.
Don was really tired yesterday, so we went back to the apartment so he could rest before his evening performance.
Don went to elementary school here.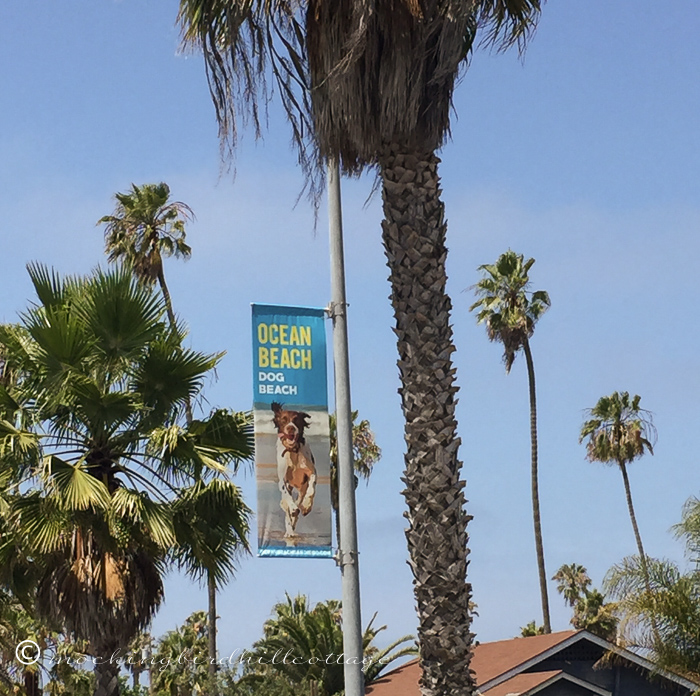 Dog Beach brings back lots of wonderful memories. Winston loved it there – we went often – and when Scout joined our family, she also learned to love it there. So many stories from that beautiful stretch of sand. Beautiful and bittersweet at the same time.
I don't know yet what we're going to do today. We didn't end up at the beach yesterday, so I'm sure we'll be there at some point today because Don won't really have any time to do that Saturday and Sunday with two shows each day. His time here is winding down and he'll miss it. He loves the show and the cast and having a Whole Foods nearby, as well as Harry's Coffee Shop and the beach.
Happy Friday.