You know I like my coffee. For a couple of years, we've been using the pour over method to make our coffee. I was introduced to this method a few years back when I was coaching in Wisconsin and my apartment mate, a costume designer, said that her rules for essentials on the road were: good music and good coffee. She had a collapsible filter holder that she used when away from home. Anyway, she convinced me to try it and danged if the coffee didn't taste better.
I was sold.
When I came home, I persuaded Don to try it. He loved it. We dragged an old brown Melitta filter holder out of our pantry – I'm not sure why we had it, but for some reason, we did. Eventually, I bought a newer design, also Melitta, but orange in color, so that we would have two of them – one for each of us. Fast forward to this year when I realized we would both be on the road a lot and that we needed another orange version because the new design allowed one to peek at the coffee level in the cup when pouring, thus eliminating the otherwise inevitable over-pouring.
That brought us to 4 different versions of the filter holder. (I forgot to mention that I own a collapsible version, as well.)
Since I've been in Hartford, I've been packing my holder when I go home for the weekend and then bringing it back when I return to Hartford.
Yesterday morning, I woke up and stumbled into the kitchen to make coffee. Filled the kettle. Turned on the burner. Got my mug.
Crap. I'd forgotten to pack my filter holder. Near-panic ensued. What the heck was I going to do? I tried holding the paper filter while pouring water from the kettle. It immediately collapsed from the weight of the water, grounds all over the mug. I tried the Keurig. Couldn't get it to work.
So there I was, at 6:15 am, walking the streets of Hartford – not a pretty sight. I remembered that Starbucks sold a heavy ceramic version of the filter holder, so I walked a couple of blocks to the store. Nothing. Maybe they weren't selling them anymore. Starbucks coffee is too strong for me. (I know that's hard to believe.) So I walked a few more blocks to Panera and bought two large coffees to go. Back to the apartment. Didn't like the coffee a whole lot, but okay. Thought I'd try the Keurig again. I packed some Peets into the mesh filter and managed to make a cup, but the Keurig filter only holds half of the amount of coffee I use, so this ended up being tedious and messy, with me trying to retrieve grounds that were floating on the surface of the coffee. But I got my required amount of morning coffee. Thinking I would just have to 'tough it out' until I went home on Saturday, I chalked this one up to leaving home too early in the morning on Tuesday with Stella still in my head.
After rehearsal last night – around 6:00 – I decided to try the new Starbucks, which is connected to the new Barnes and Noble at UConn. What the heck, I thought.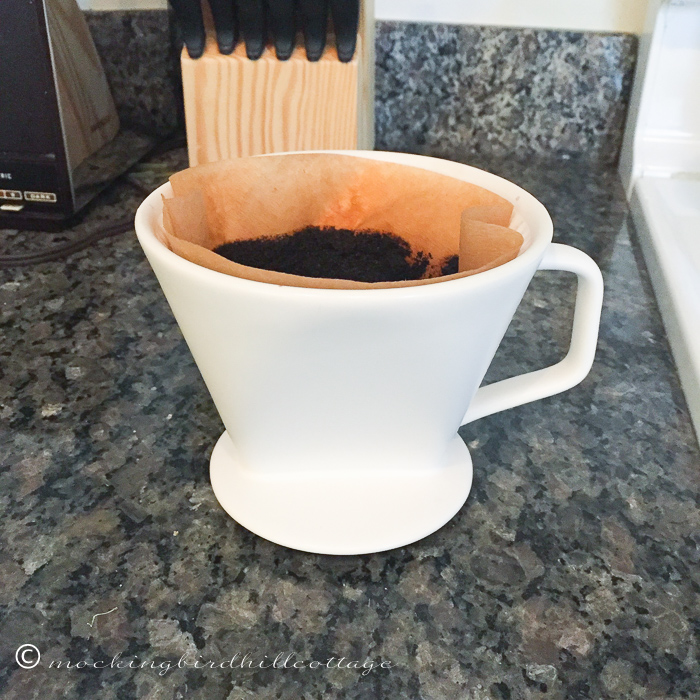 Bingo. They had two of them in stock.
It weighs a ton! And it's huge.
But it works.
I was a much happier camper this morning.
That makes 5 filter holders.
On my way back from Starbucks, I shot a few photos.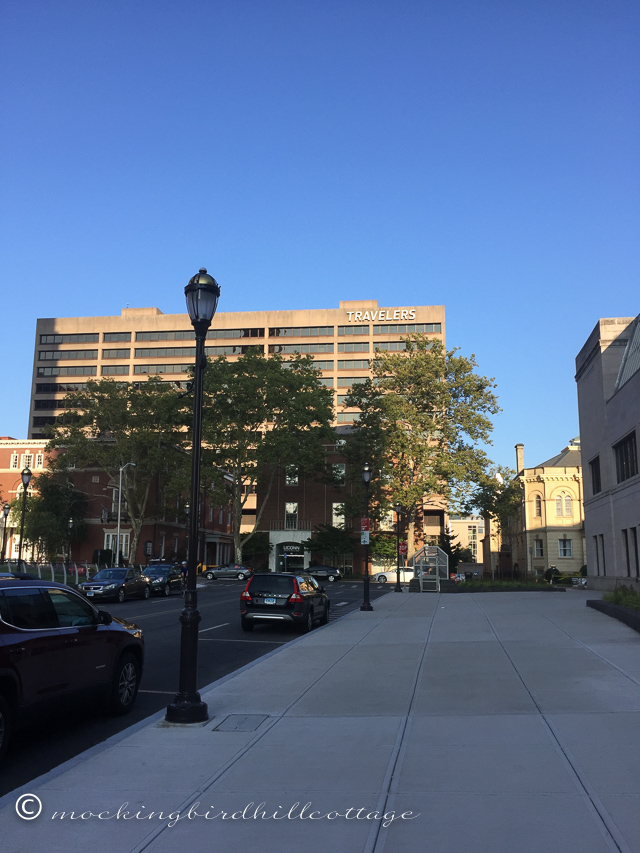 Hartford is a center for Insurance Companies and Travelers is right there in the downtown area. It flanks the Wadsworth Atheneum and is now a neighbor of the new UConn Campus.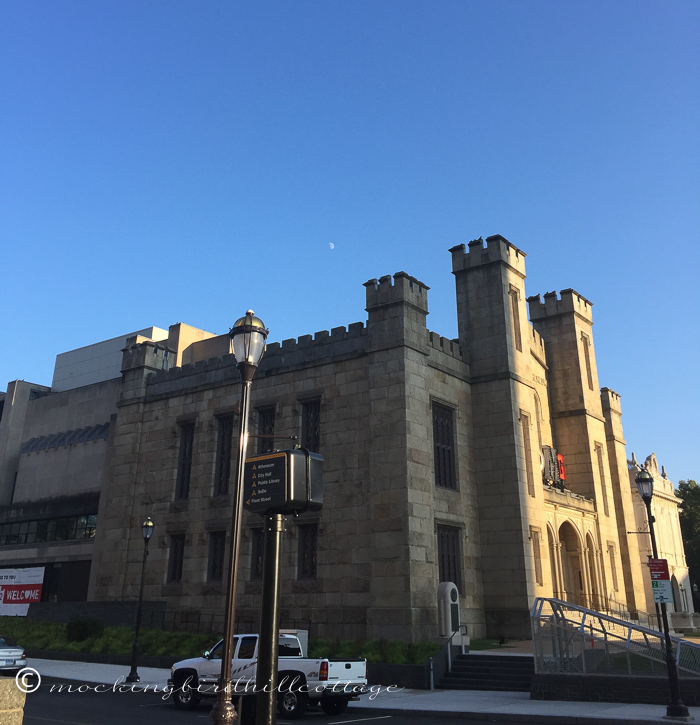 The moon over the Wadsworth Atheneum. I can't recommend this museum enough. It's gorgeous.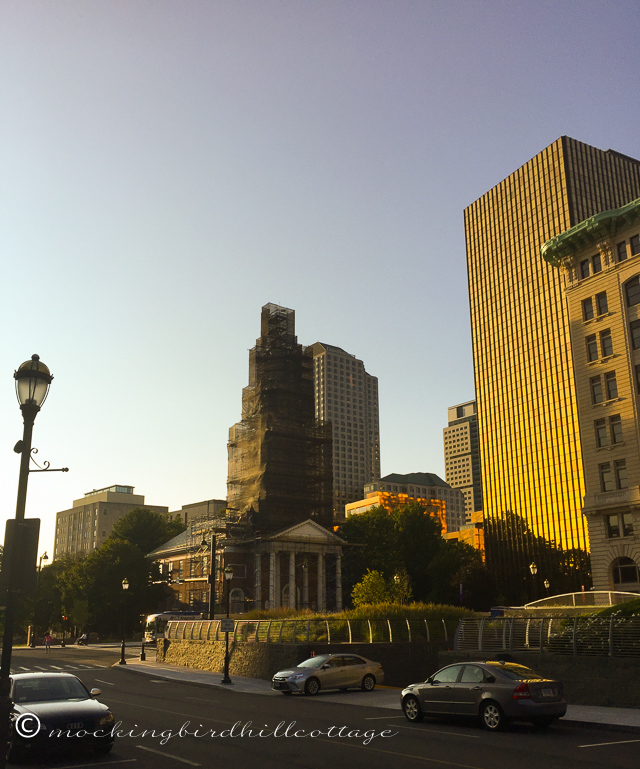 One of the oldest churches in the city is getting a steeple makeover. Just down the street from the church is Bushnell Park.
We're in the midst of our last few days in the rehearsal room. We had a run-through yesterday and we'll have one today and tomorrow. Then the whole kit and caboodle moves onstage on Saturday. That's why I can go back home for a few days. The first few days in the theater are about all things technical and I'm not really needed. I'll come back either Tuesday or Wednesday, depending on where they are in the process.
I made Don show me Stella when we were chatting on FaceTime last night. He even lit a burner for me! She's sure purty!
Happy Thursday.