Yesterday, a reader who subscribes to the email version of my posts sent me a 'reply' to that post. She commented on my not responding to her previous replies. Sigh. After a long day of packing, loading up my car, driving home, unloading and unpacking, I confess it hit me the wrong way because I have taken the time to explain this very thing more than once. In fact, I deliberately mentioned it on the blog a couple of weeks ago when I received a reply from that same reader because I wanted her to know that I couldn't respond to her. And I can't respond to her now except here on the blog.
But I'll do it one more time in case there are any of my readers who missed those posts and in case I wasn't clear in my explanation. I'll even give more details.
I cannot respond to your 'replies' to the email version of my posts. Period. They are sent via Feedburner. They are not sent by yours truly. A few years back, if you remember, there were problems all over blogland with readers not receiving posts via email. After lots of hours spent trying to fix the problem, we were told that email providers such as AOL, Gmail and Yahoo were often blocking what they saw as mass emails from one place. The solution was to create a more personal email address that would eliminate this problem – in the case of those of us who use a host/Wordpress, an address connected to our server. I consulted with my host and I did just that. That email address is connected to my server and it's the one that Feedburner uses in the 'From' line. But I can't respond using that email address. It was created only to make sure you receive my posts.
And frankly, an email of the post is not meant to be a two-way avenue of communication, it's simply a courtesy version of that day's post.
I am happy to provide the opportunity to read my posts via email. Personally? I don't subscribe to any blogs via email because, for me, the visual experience on the blog itself is lost in an email. I post every day, so you know there will be a new post sometime in the morning. But I know a lot of you prefer getting them that way, if only to know the post is up. I understand.
If you want to leave a comment, please do it the way everyone else does; right here on the blog. Or you can tap on the envelope icon on my sidebar and send me a personal email. I am a rarity in the world of blogging; I take the time to respond to every comment on the blog. I also answer every personal email. So, please don't take me to task for something I cannot do. Besides, why not be part of the conversation right here on the blog?
Okay. Sorry to go on, but I want to make sure I'm being clear about the whys and wherefores.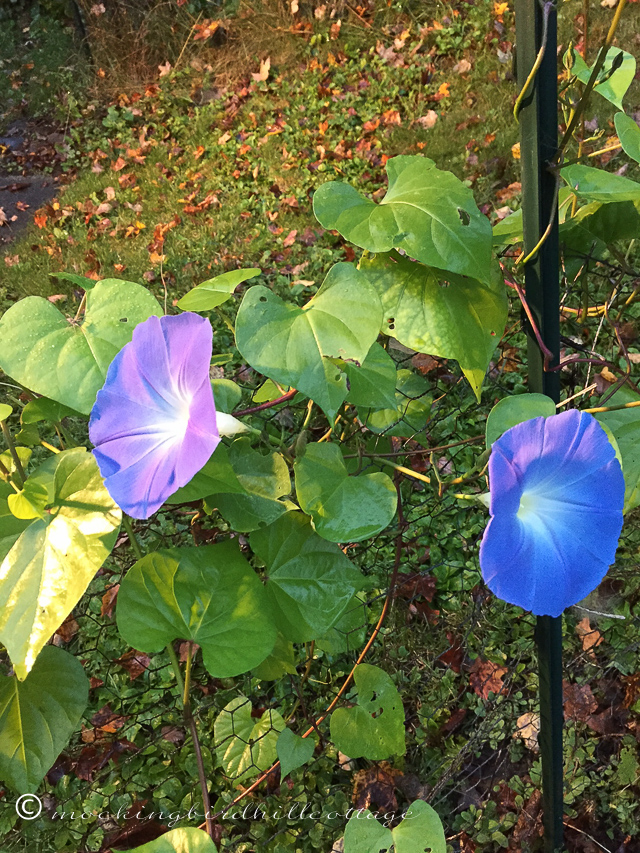 I have a mass of morning glories growing along the fence right outside the kitchen door. But there have been no flowers. I mentioned to Don last week that I was disappointed – a lot of leaves but that was it. Yesterday, when I arrived home, I saw four or five buds! Two of them looked ready to pop and, sure enough, there they were this morning. Thank you, morning glories! I'm sorry I didn't have faith in you!
I finished unpacking around 5 pm. The whole day was exhausting. I'm glad to be home in our cottage. I wrote an email to the cast saying goodbye (I'm usually there for opening night.) But I have prep work to do and I have to send off our deductions to our accountant and all that has to be done today and tomorrow. Better to be home.
Don may take the bus home tomorrow night because it's easier to grab the bus than go all the way back to Jersey City to get his car. I can pick him up at the station. Since I don't have to be at Monday's rehearsal until noon, I don't need to get there the night before. Looks like we'll both be taking the bus to the city on Monday morning – just at different times! Anyway, I can't wait to see him. He's missing our little cottage. I know the feeling.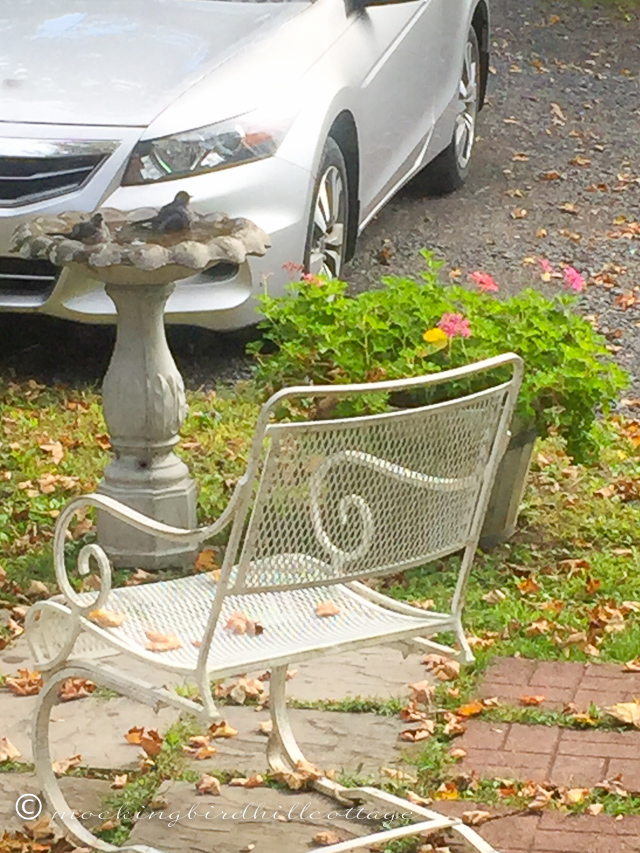 This isn't the clearest picture, but it's been very hot and humid around here. Right before I could grab my phone, there were four  catbirds in the birdbath at the same time! I wish I'd managed to capture that sight! They clearly needed a refreshing dunk.
Happy Friday.