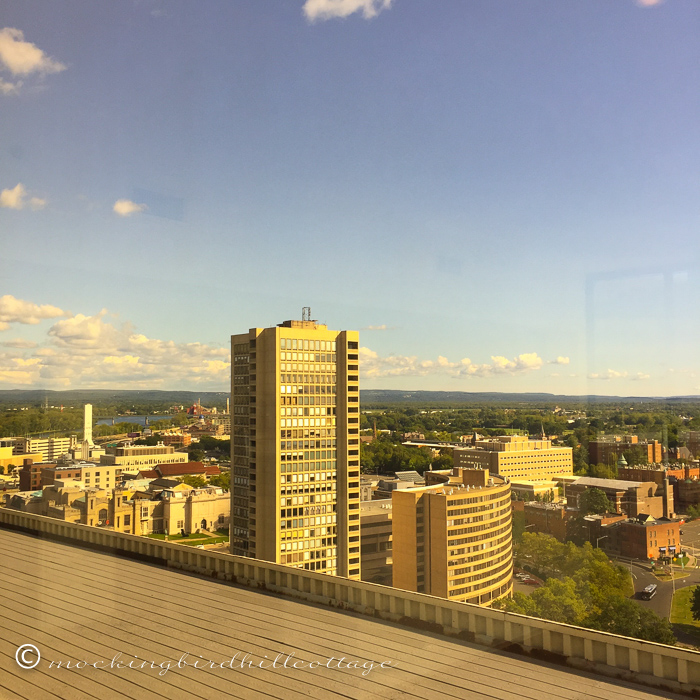 Another late afternoon view from the penthouse. That's the Connecticut River off in the distance.
Well, my friends, it's time to pack up the apartment and head home. I watched the show last night but I took only a few notes and, in the end, they are notes I've given before. There always comes a time, as a coach, when I have to let go. The actors will either make the change or they won't. Sometimes, they don't like the note. But more often than not, the actor is already locked into something and try as he/she might, it's impossible to make the change.
Like weaning a child, I 'wean' the actors. It is what it is. This group of actors is very talented and they are doing a bang-up job. They are terrific in every way. The notes I have at this point are so minor that they're not even going to be noticed by the audience. So…all done.
I'm drinking my second cup of coffee and then it will be time to take a shower and pack. Then the drive home and unpacking. I did a lot of work on our taxes yesterday – we always file an extension – and I'm nearly done. Once I'm home, I have to do some prep work for a coaching job that I start on Monday. It's only a few days, here and there, of dialect coaching. Not a big commitment.
Thank you Hartford Stage (my home away from home) and everyone involved in A Midsummer Night's Dream. Thank you, Darko for being who you are. You inspire me every day.
I've never not been at an opening night here but I feel the need to get home and check on the house and do my prep work there. I don't want to sit here in the apartment for two days when I could be back home getting organized.
Don will come home on Saturday night for his day off on Sunday. We will most likely travel back to NYC together on Sunday night – I'll stay there so I can get to rehearsal on Monday morning.
It helps having a little pied à terre near the city.
Happy Thursday.