It's a good twenty degrees cooler this morning! I didn't get up until 7:30 and it was only 45 degrees. I think it will reach 70 today and it's sunny, so that makes it a perfect day.
There are about twenty morning glory buds ready to pop, but unlike during the heat wave, they weren't open when I got up. They're opening slowly this morning.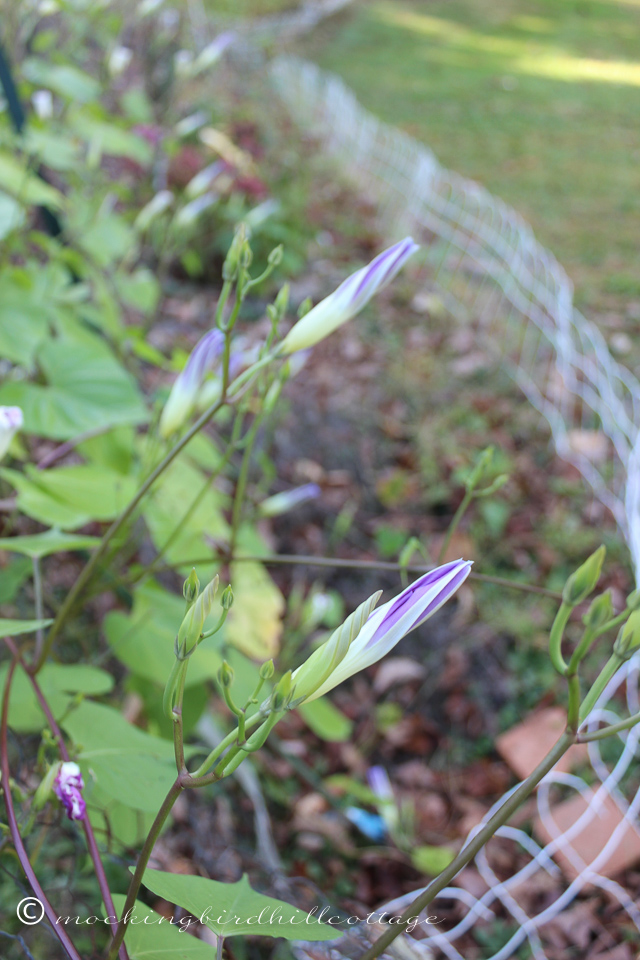 I just took this picture. Candy-striped beauty.
Yesterday, I was fascinated by the big, fat bumblebees diving into the center of the morning glories.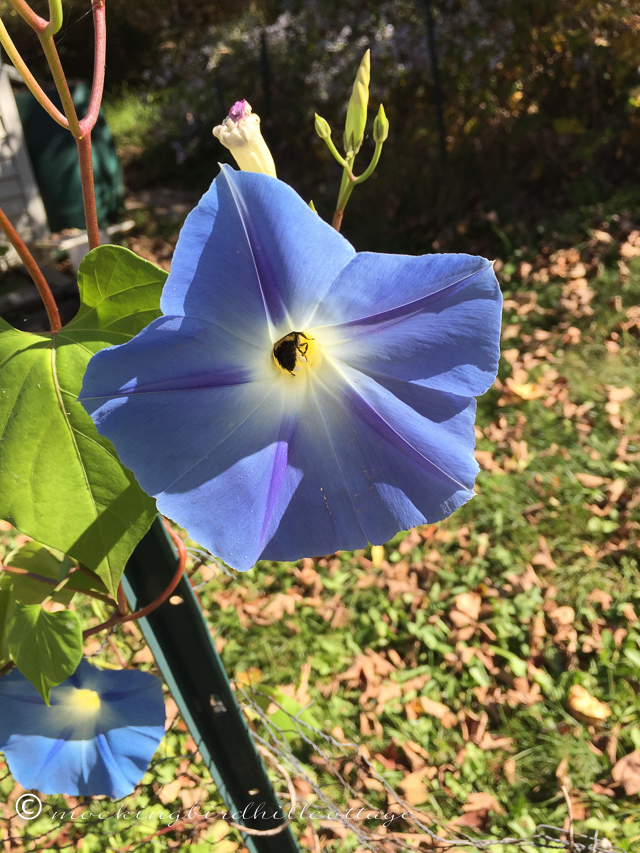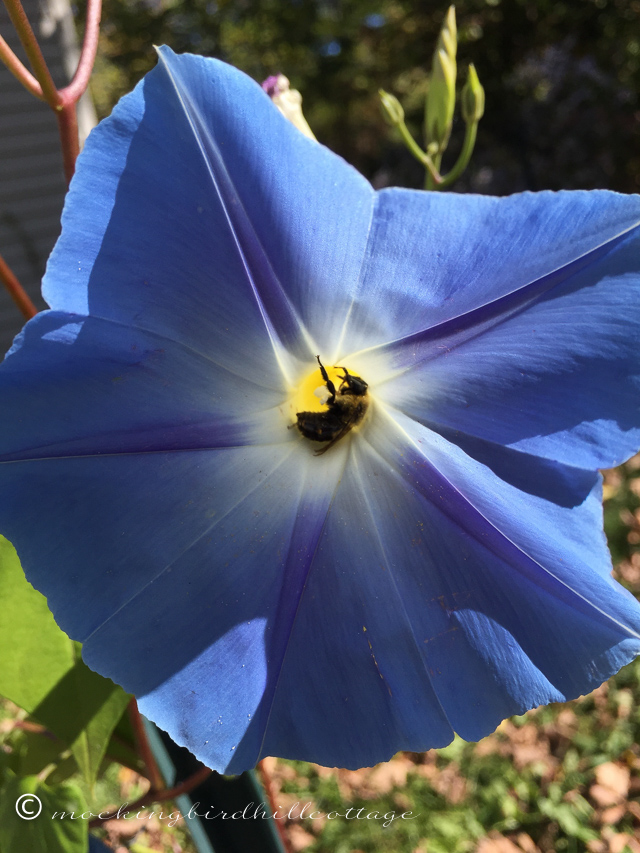 It's almost as if he's lit by a spotlight.
They're determined. If they can't fly directly into the center of the flower, they climb up the fragile petal.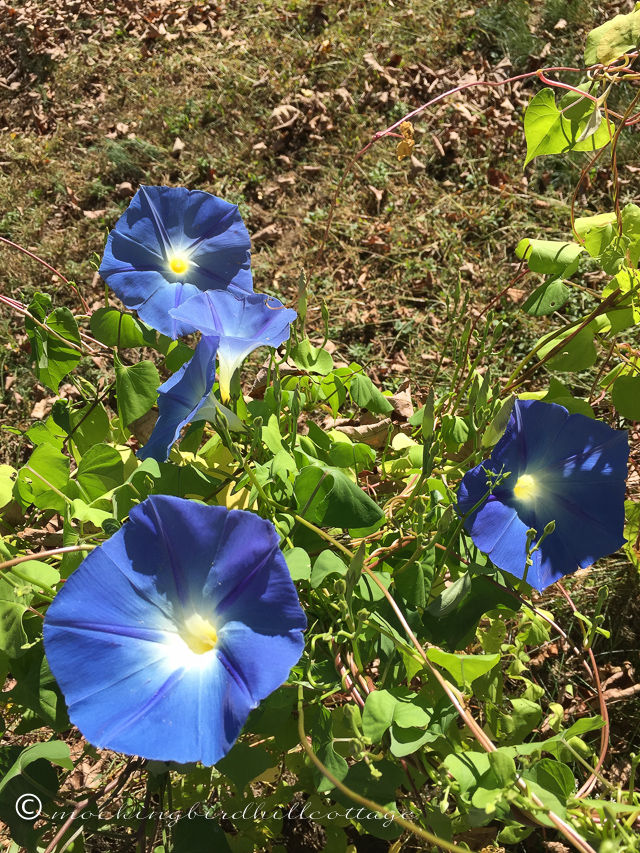 I raked some leaves yesterday and mowed part of the property. Don wants me to leave the back forty for him to do on Sunday. That's fine with me. I think doing something outdoors is refreshing for him after being in a rehearsal room for 6 days in a row.
The additional MiPad floor arrived yesterday. I assembled it in about 15 minutes and then carted it upstairs to the studio/office.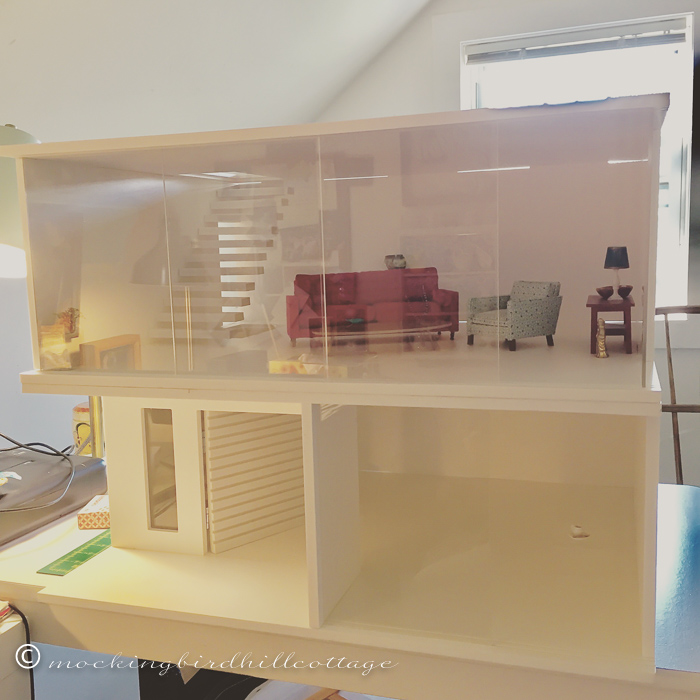 It's the lower floor – it has a huge front door. Not sure what I'm going to do with that yet, but it needs a big old handle, that's for sure! The door section is hinged, so that you can pull it away from the house to gain access.  Yes, it looks like a coffee cup is suspended in mid-air over there to the right, but it's really on an acrylic table.
I'm full of ideas and not so full of ideas. I'm loathe to disturb the pristine white and airy feeling of the house, but time will tell. Splashes of color everywhere, yes, but do I cover the floors? Do I put up any wallpaper? I need a bedroom, bathroom and kitchen as well as the living room. How do I fit it all in? Do I – I can't believe I'm saying this, I've gone mad –  buy another floor? These are the things that are whirling around my brain this morning.
For those of you who have been asking, Don has one more week of rehearsals in NYC. The last rehearsal is on October 7th and they fly to New Orleans on October 8th. Then they'll tech the show and preview  before opening on October 20th.  I've yet to make plane reservations – I'm working on that today – but I'm thinking I'll fly down on the 19th and stay for a week. New Orleans! It will be such fun!
Happy Friday.