I am one groggy person this morning! As often happens after a week of being sleep deprived, I slept a lot last night – which was great – but now I'm feeling very groggy. Don, who was exhausted last night after a full day of rehearsal running through everything in the show, decided to come home this morning instead of attempting the drive last night. He's on his way now.
The miniature show was lovely. As I have no other experience with these kind of things, it seemed to be on the modest side, but it was just enough for sleepless me.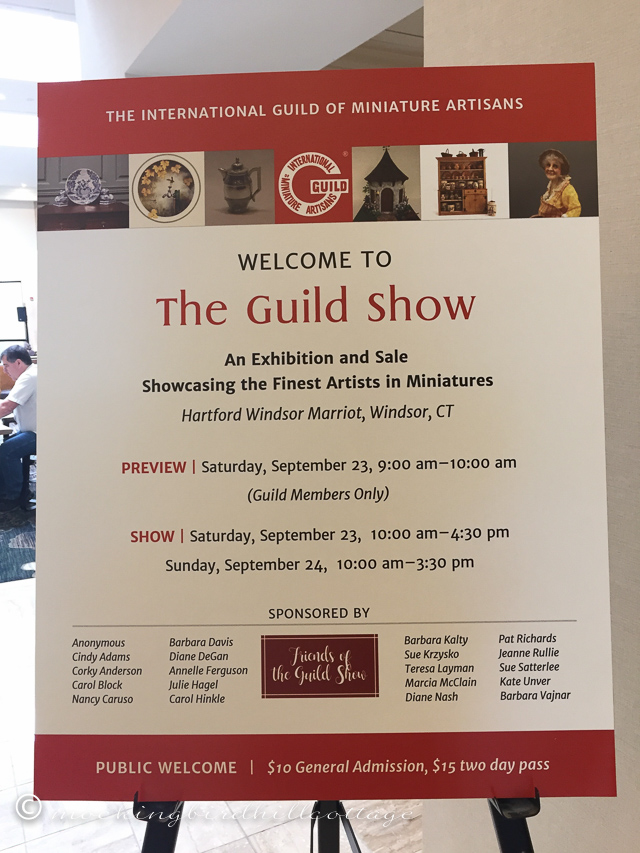 Yes, just a little over a week after I finally left Hartford, there I was – back again.
It's sort of overwhelming when you first enter – so many tiny things to look at, so many details. So I had to walk it a few times before I could narrow things down.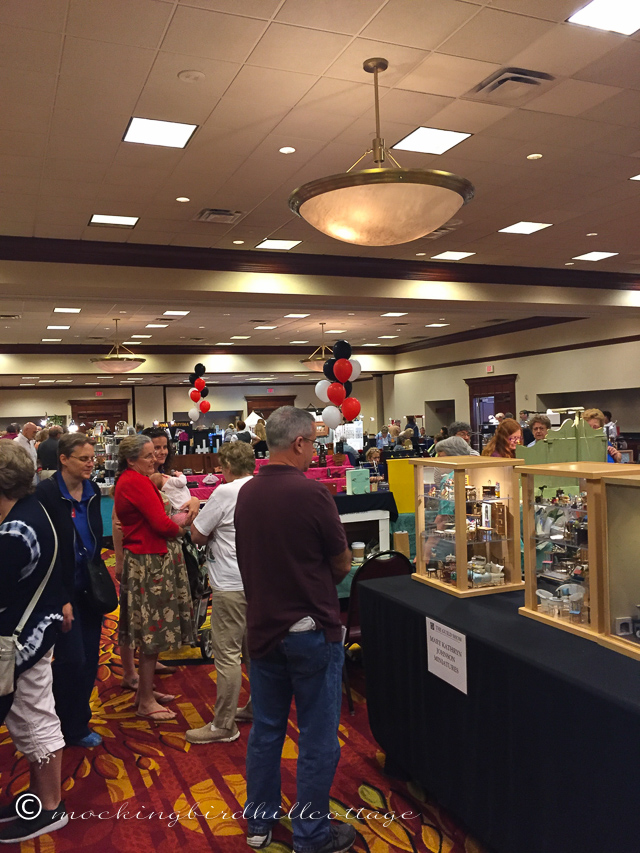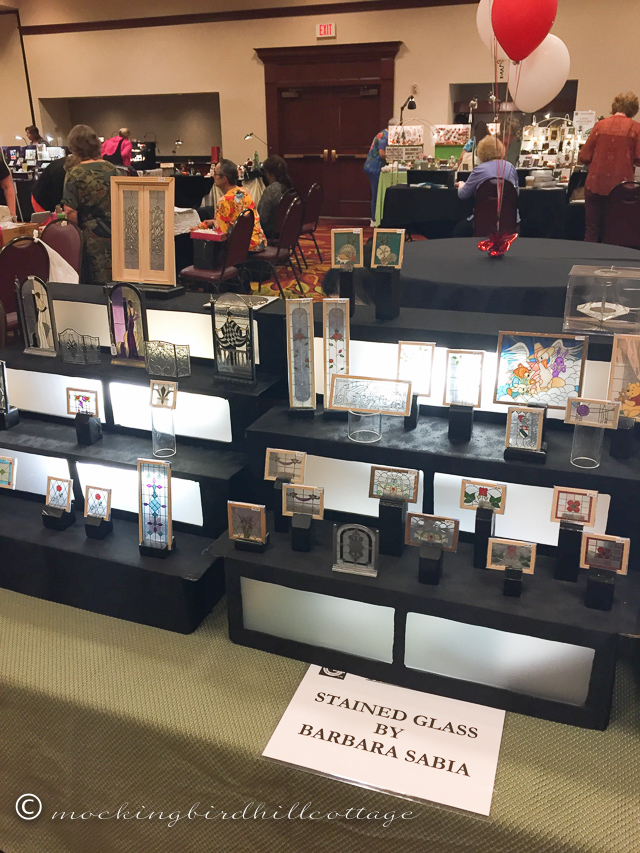 Unbelievable detail.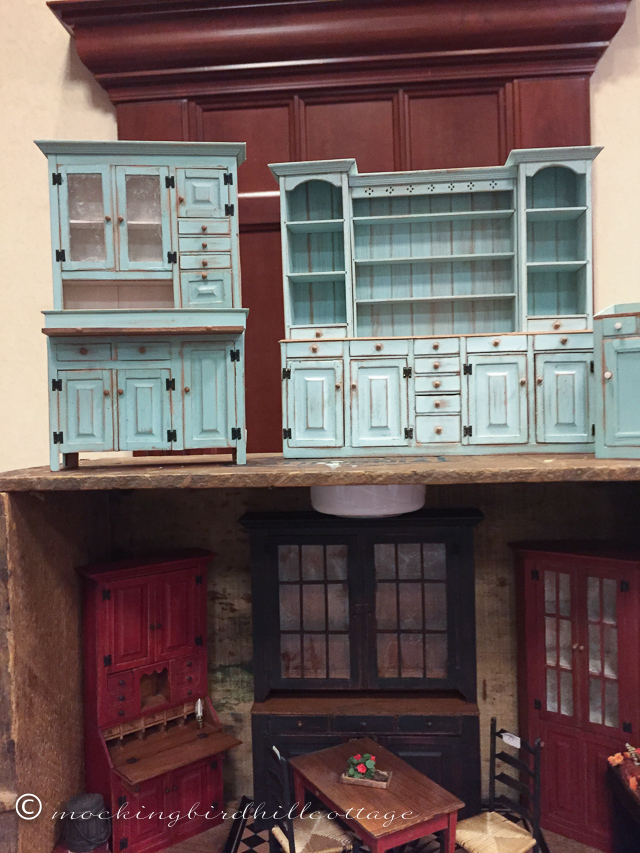 This woman's work was exquisite. Can I tell you how much I wanted those blue cupboards? Oh my goodness. Miniatures handmade with this level of detail and quality are expensive. At least $300, and even more depending on how large the piece is. But if you're a collector and you've got the money, it's worth it. The piece on the left has a bread board that pulls out. Be still my heart.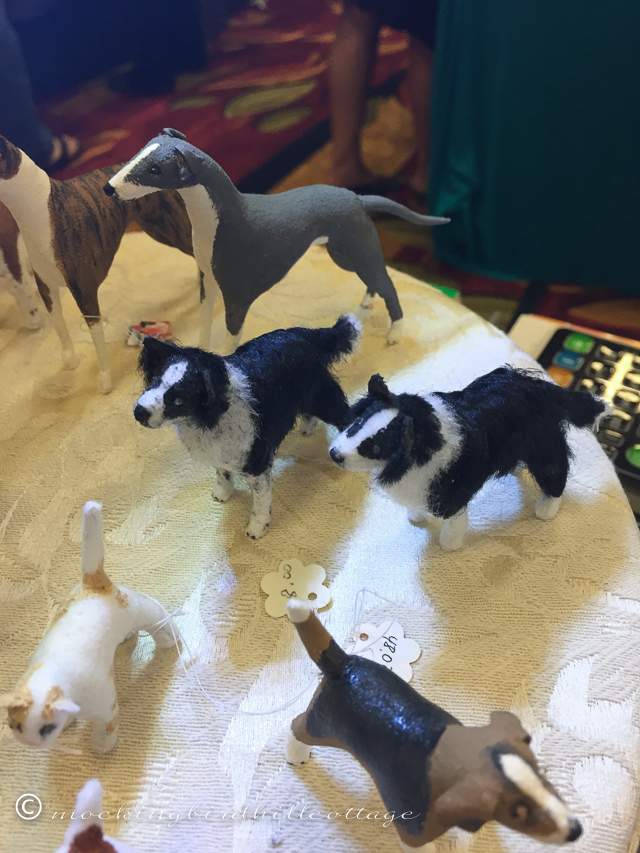 This woman makes lovely animals. The border collies drew me, of course. She told me that if I sent her some pictures of Scout, she could make a mini Scout for me. I just may do that.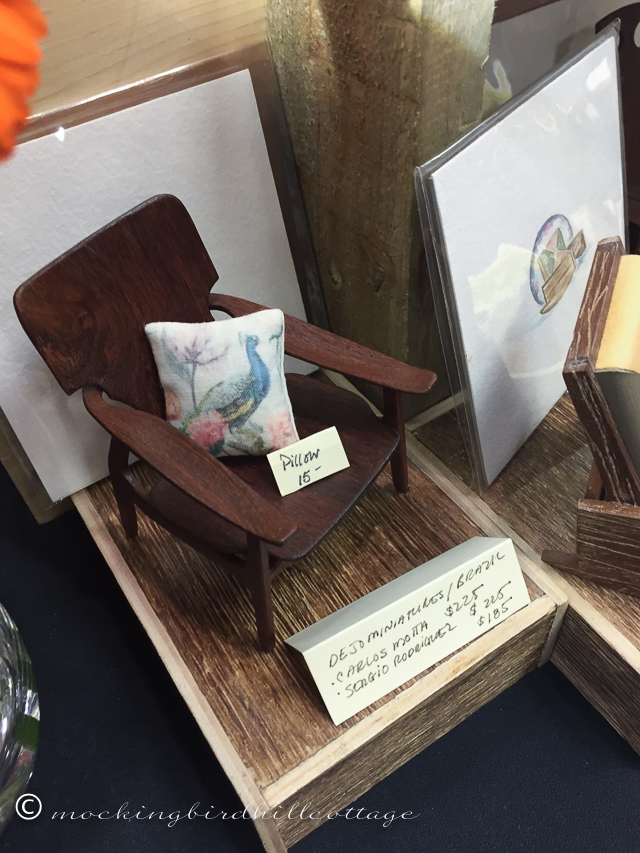 This chair was gorgeous. I don't know what kind of wood it is, but it's stunning. This was in D. Thomas Fine's booth – that's Darryl, who does the monthly Squint Box. It was a pleasure to meet him! We took a picture together but I don't like the way I look in it, so you won't be seeing it here. We had a nice chat, with Darryl telling the lady who was assisting him that I was one of the first supporters of Squint Box. He's a nice guy. He's moving his shop closer to my neck of the woods – still a drive – which makes me happy.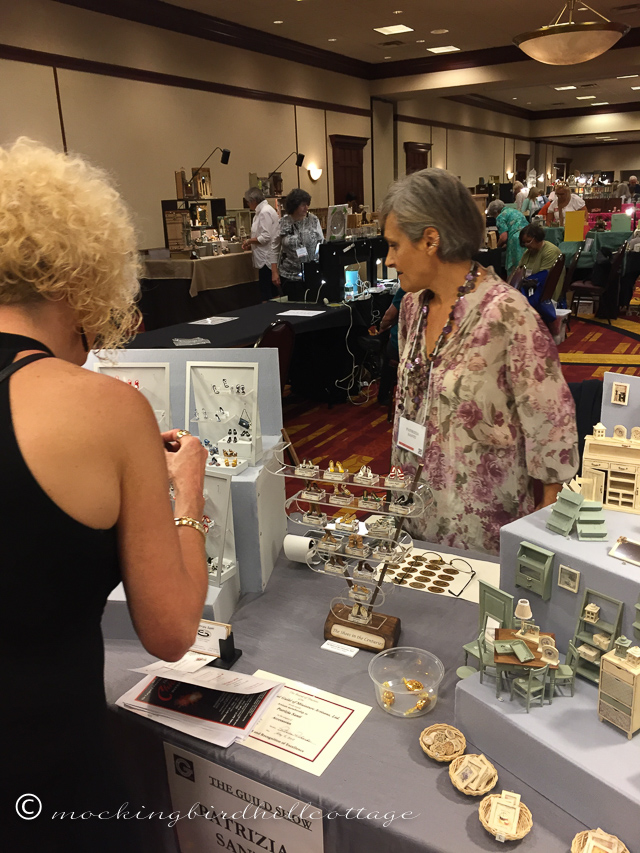 This is Patrizia Santi, who lives in Italy. She makes beautiful minis. She is really well known for her shoes and purses, which are exquisite. I've long been a fan and though I hadn't planned on it, when I saw she was actually there, I knew I had to buy a pair of her shoes because I might not get another chance.
Here they are: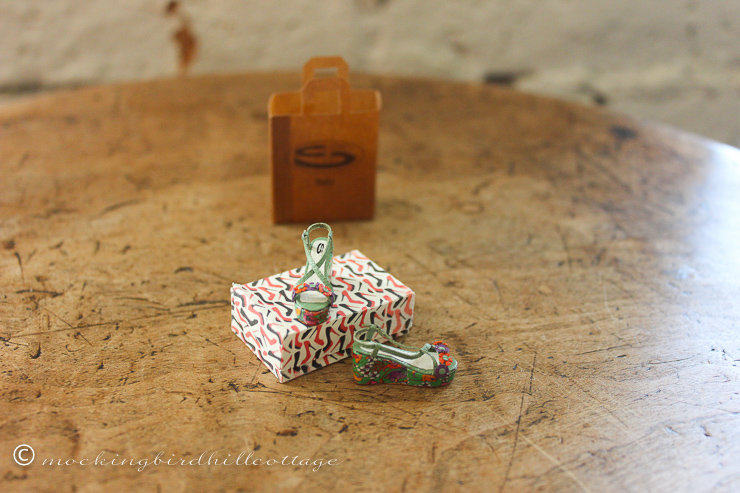 Unbelievable. She makes every style but I loved these rather outrageous wedge heels with the pattern.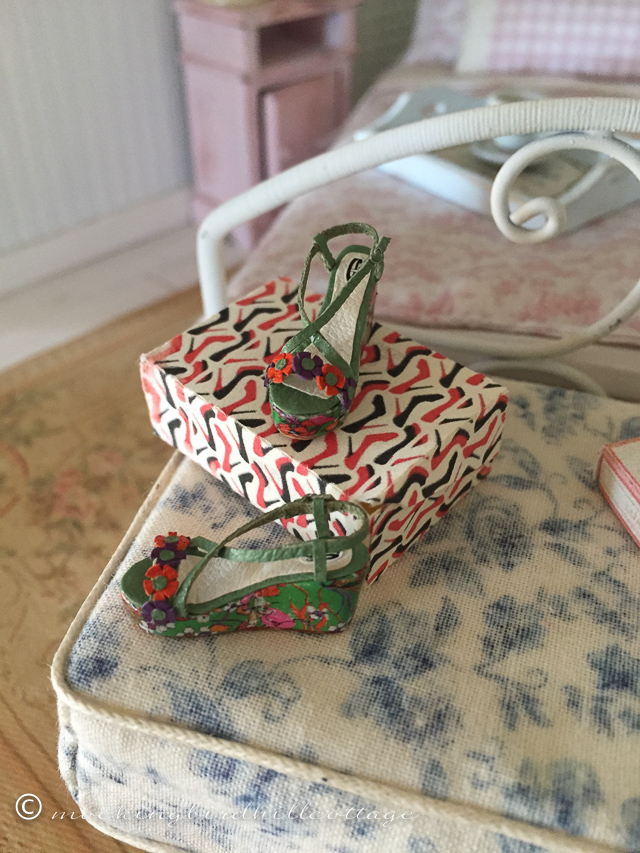 Here they are in the dollhouse. The level of detail is amazing. I don't know how she does it.
I also bought two framed pictures from her. They suit Hummingbird Cottage.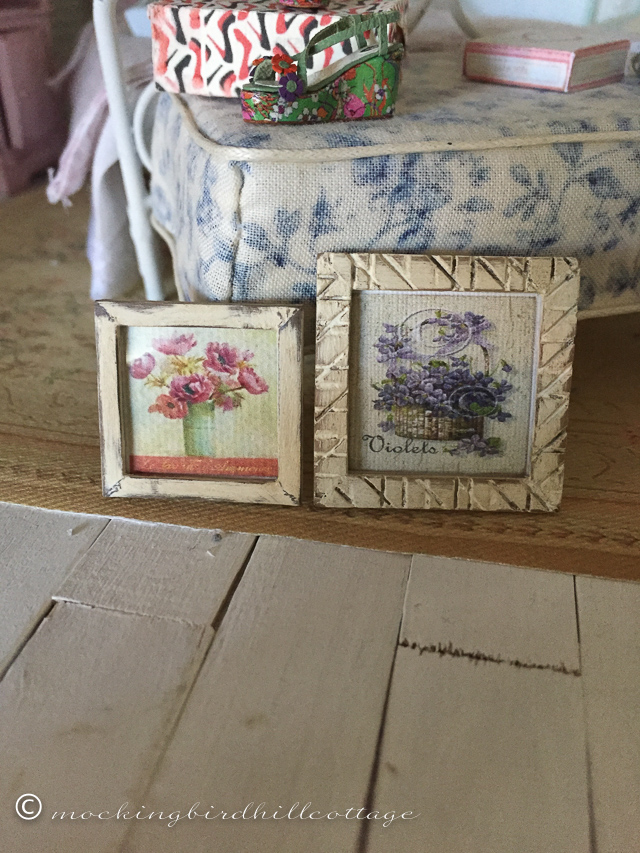 When I saw that Michael Yurkovic of Atomic Miniatures was there, I got very excited, as he does mid-century modern pieces and I'm a fan. It seemed timely, given that my new MiPad has just arrived.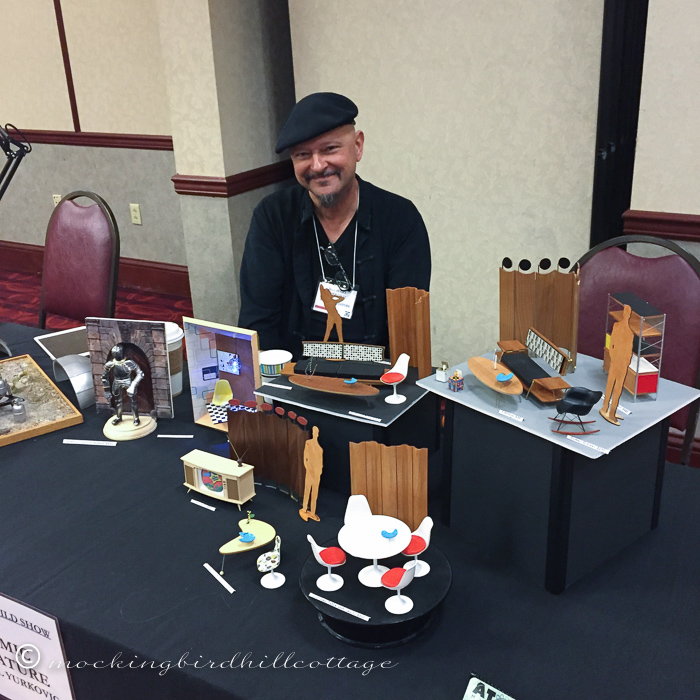 His work is amazingly detailed and perfectly done. Miniature Eames pieces, like the shelves and the rocker – they are truly incredible.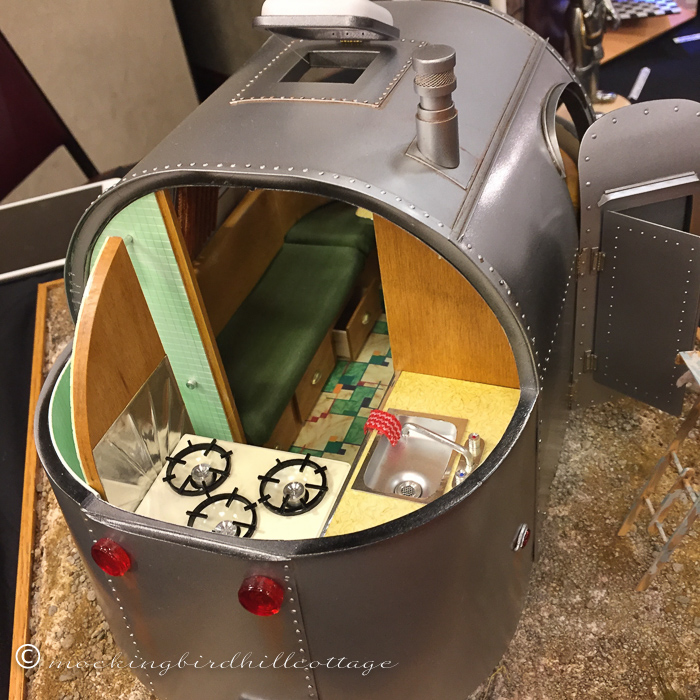 He made this mini Airstream. I cannot tell you how much I love that linoleum!
Anyway, I had a long talk with him and he let me look at his pieces and hold them in my hand and I decided I wanted a coffee table of some sort. He had three of them there, all different. I was tempted to get the boomerang table, but I settled on a 'surfboard table' because I loved the wood grain and the length.
This is an investment piece. His pieces are pricey. But they are beautifully made and I figure I'll balance the whole thing out with recycled pieces, as I did on my first dollhouse.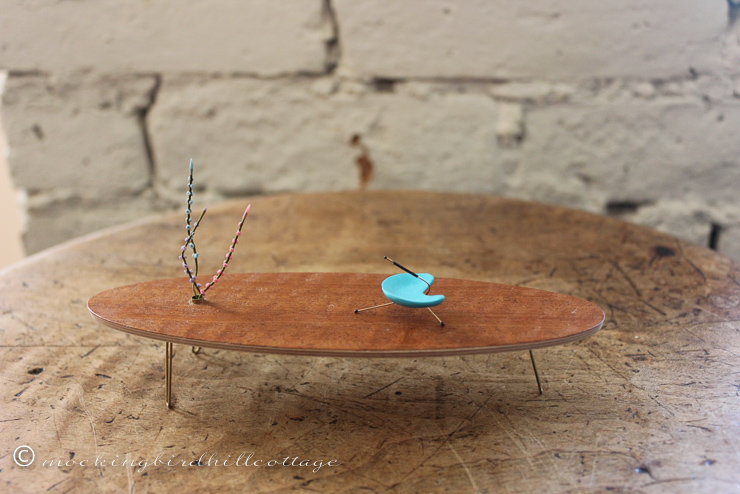 Each of his tables has a built-in vase. It's beautifully made. I also bought one of his signature ashtrays. It's signed and numbered. I mean, how could I resist?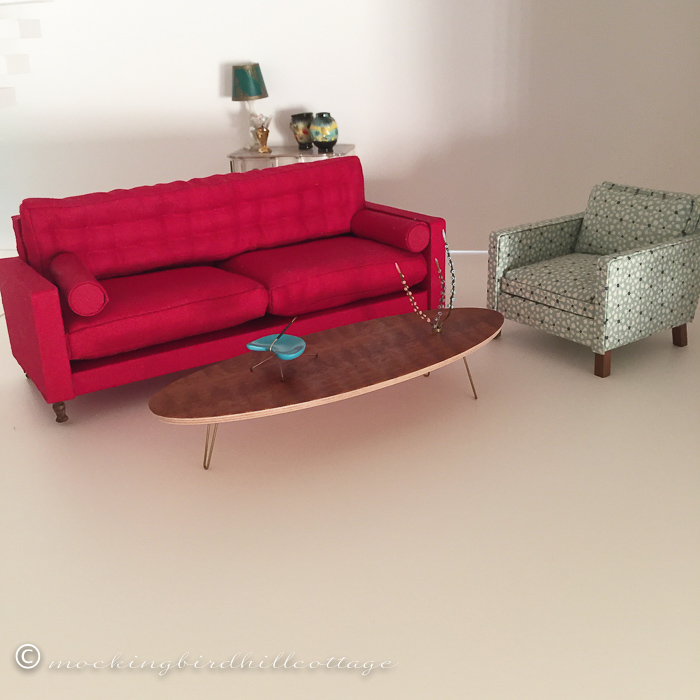 Here it is with the sofa and chair. Oh my goodness!
I felt a wave of guilt over my mini buys this week, including another floor of the MiPad, along with these designer pieces. I'm frugal. But I'll get over it and I know that, in the end, I will have such fun creating another mini dwelling. They're worth it.
It was a lovely day but I was tired and happy to get home.
Sadly, I arrived home to a message from my sister that they had to say goodbye to their beloved dog, Max, yesterday morning. We knew he was declining. He was 13, which is an amazing age for a golden retriever. I well know how hard this is. I adored Max. Everyone who met him adored him. He was such a wonderful boy and I will miss him. Rest in Peace, beautiful, beautiful boy. Aunt Claudia loves you always.
Happy Sunday.