A long, long day of travel on Thursday with a side note about the airport in New Orleans – the roads and access in and out of the airport are so poorly planned. The backups were endless with no room for cars to exit and enter and we sat in that mess for at least an hour. I was sharing a cab with four other gentlemen and we couldn't believe it! It was like that carnival game where you sit in a little car and try to hit the other cars, can't remember what it's called. Our cab driver was endlessly patient and we applauded him.
Anyway, I was exhausted when I got here but when Don came in the door after his rehearsal, all was well. Yesterday, we ate some breakfast and then trotted on over to Café du Monde for beignets and coffee. There was a line, but it moved very quickly.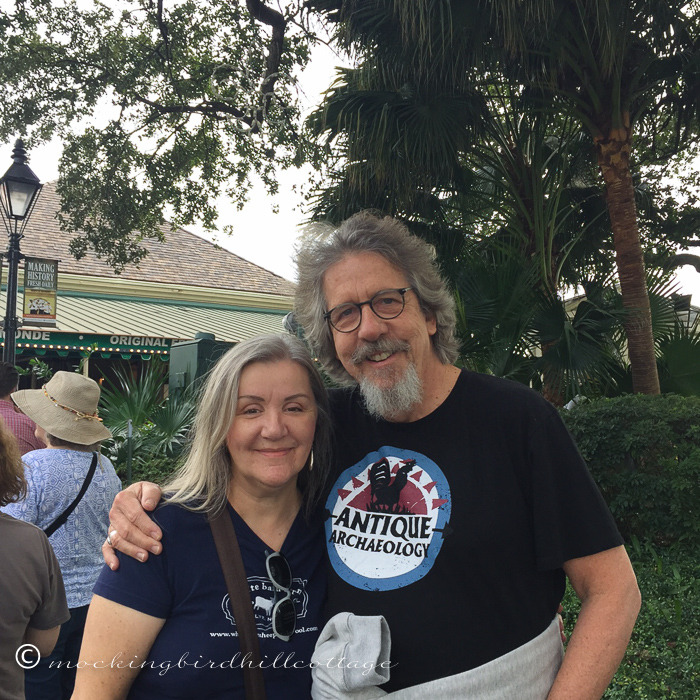 Here we are in line.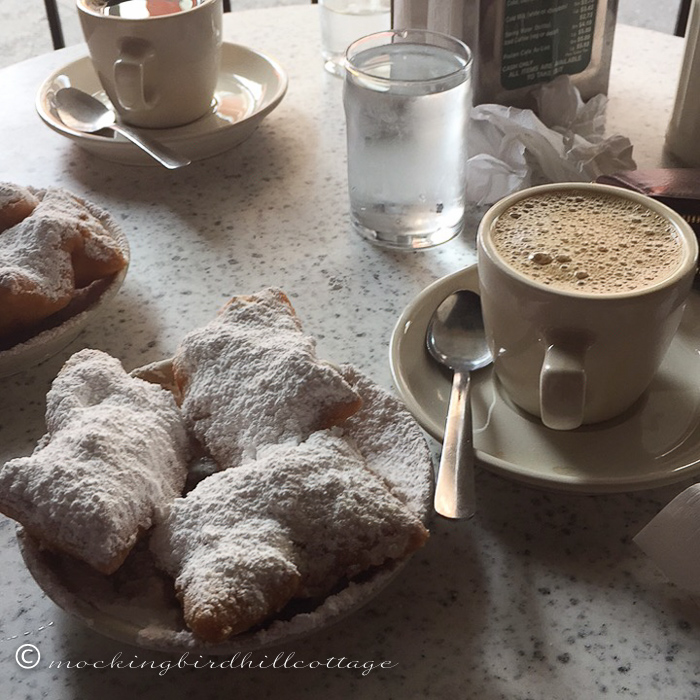 Oh, lordy. I had never had a beignet before, so this was a totally new experience for me. They are incredible; light and airy. I could only finish two of them because they're so sweet. The combination of the beignets and the chickory coffee was perfect – in fact, I bought a couple of cans of the coffee to take home. This Peet's drinker loved it.
We walked around the French Quarter until Don had to leave for rehearsal and then I continued walking around and taking pictures of the architecture.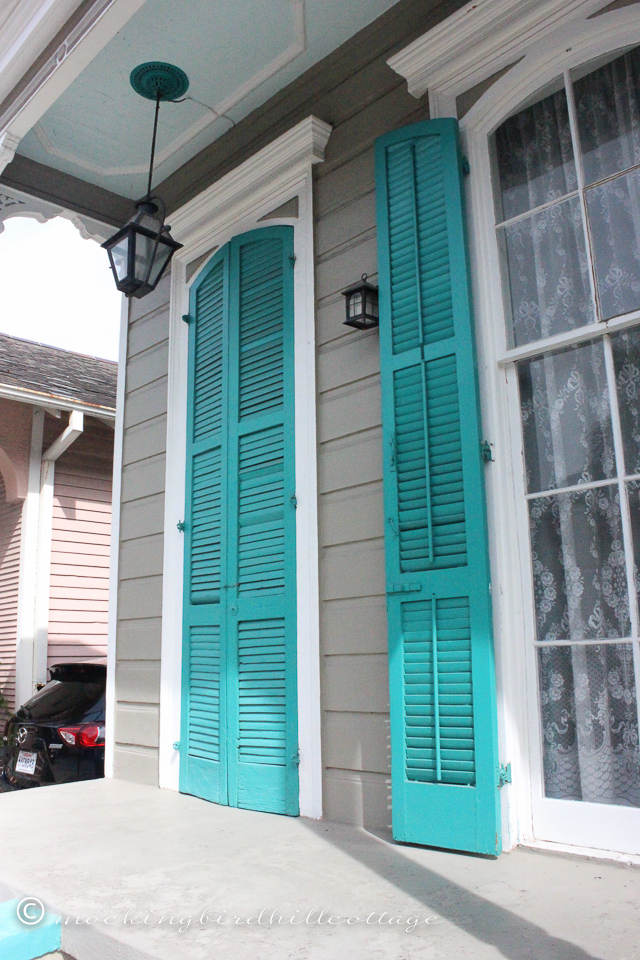 Every house and building has such a distinctive style. Shutters are everywhere; practical in the heat and during hurricanes. This blue is so vivid.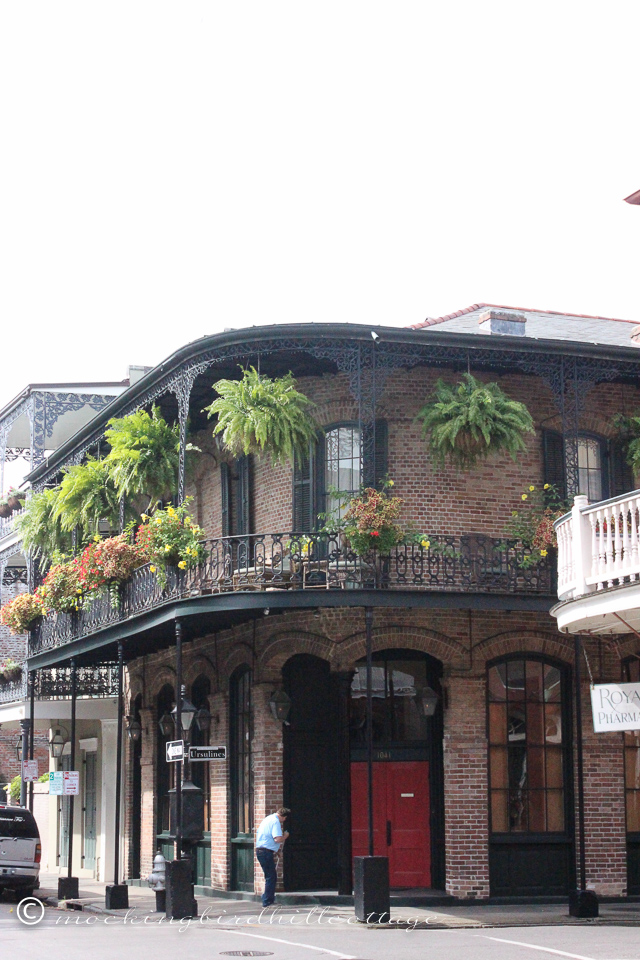 I swear my neck was sore from constantly aiming the camera up to shoot all the balconies and wrought iron and hanging plants on every building. So beautiful.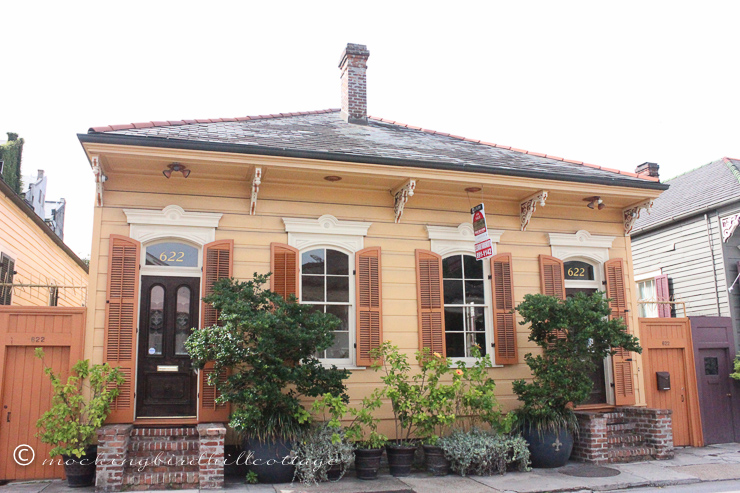 I can't stand it, this is so charming.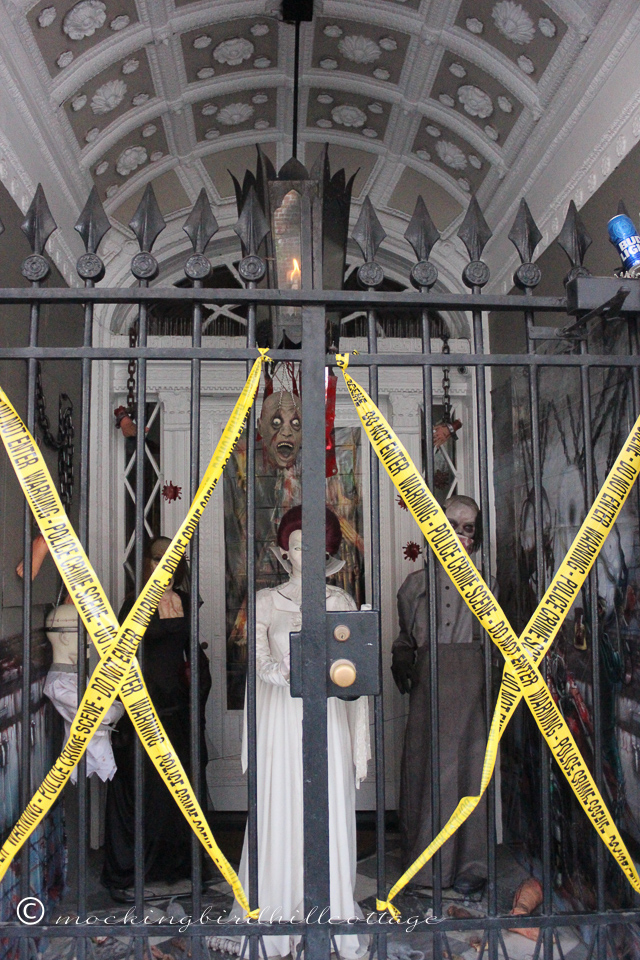 Halloween decorations are everywhere. Clearly, this is a big holiday in New Orleans.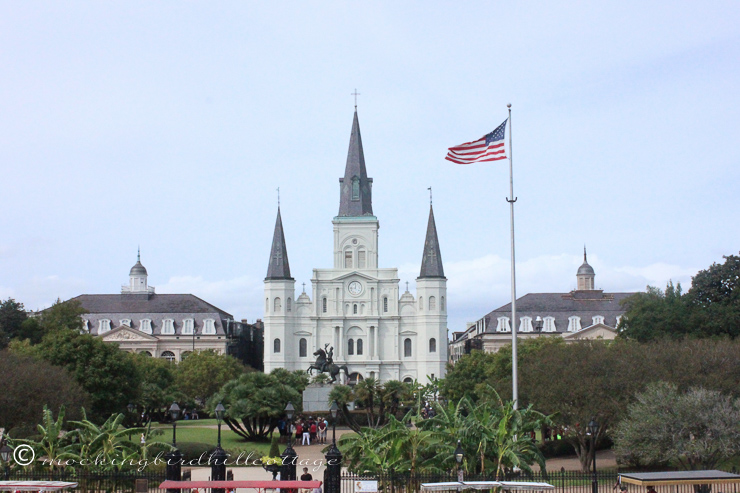 Jackson Square, with the cathedral in the center of the photograph.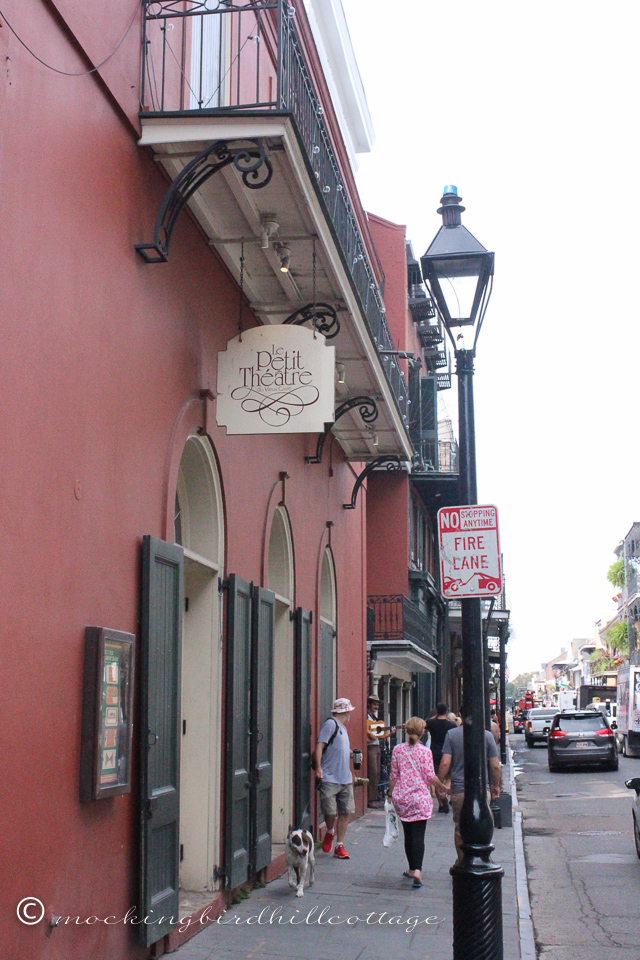 The Petit Theatre is run by a friend of mine. I stopped in, but had just missed him. It's so lovely inside.
My favorite little discovery yesterday was this little house or maybe it's a shop, I'm not sure. It was absolutely fascinating and I couldn't get enough of it.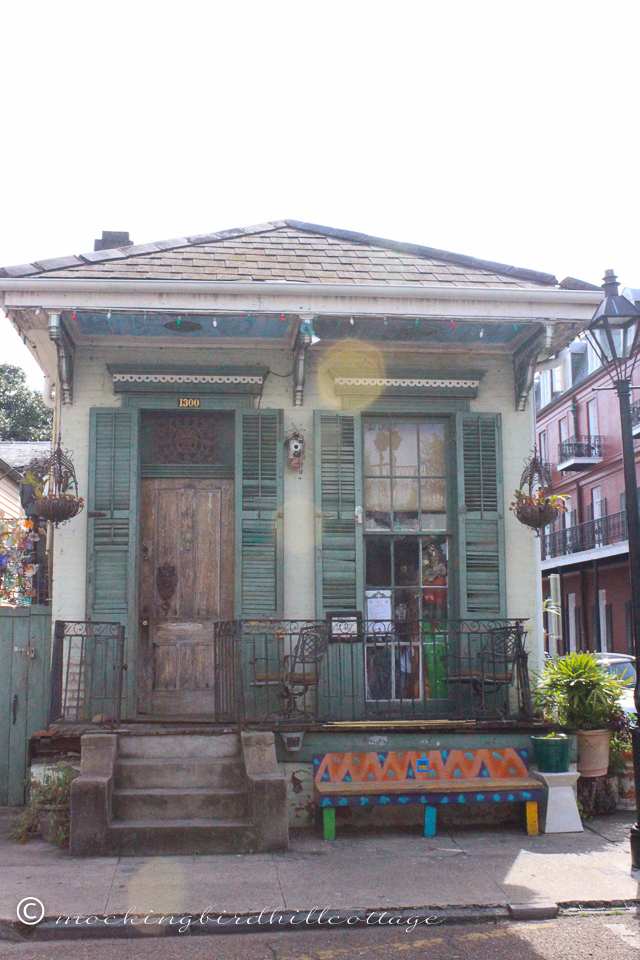 So many details: the lights hanging from the ceiling of the porch, the haint blue ceiling color, the handpainted bench, the shutters, the trim, the plants and this sign: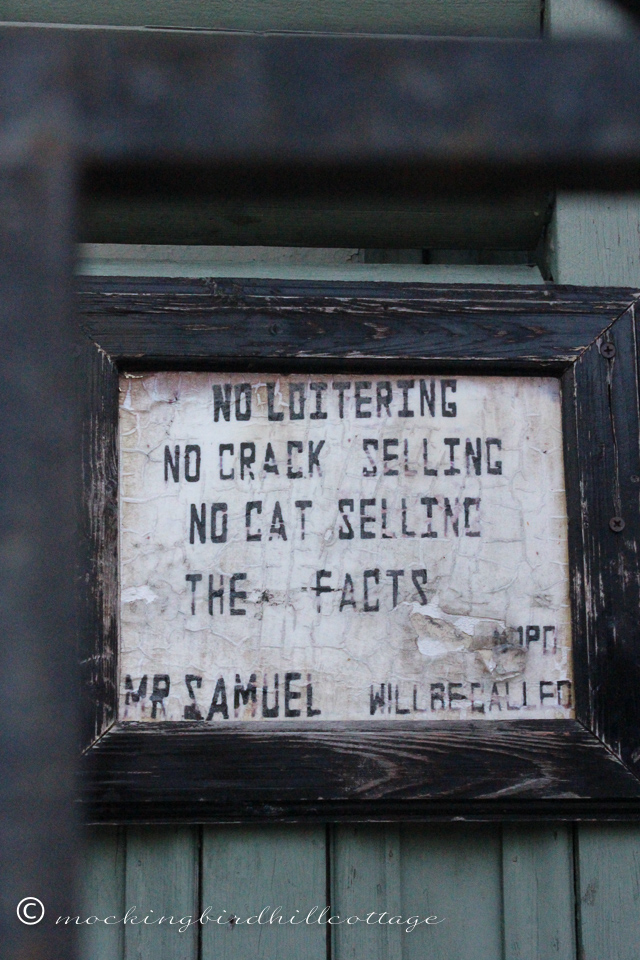 I love it.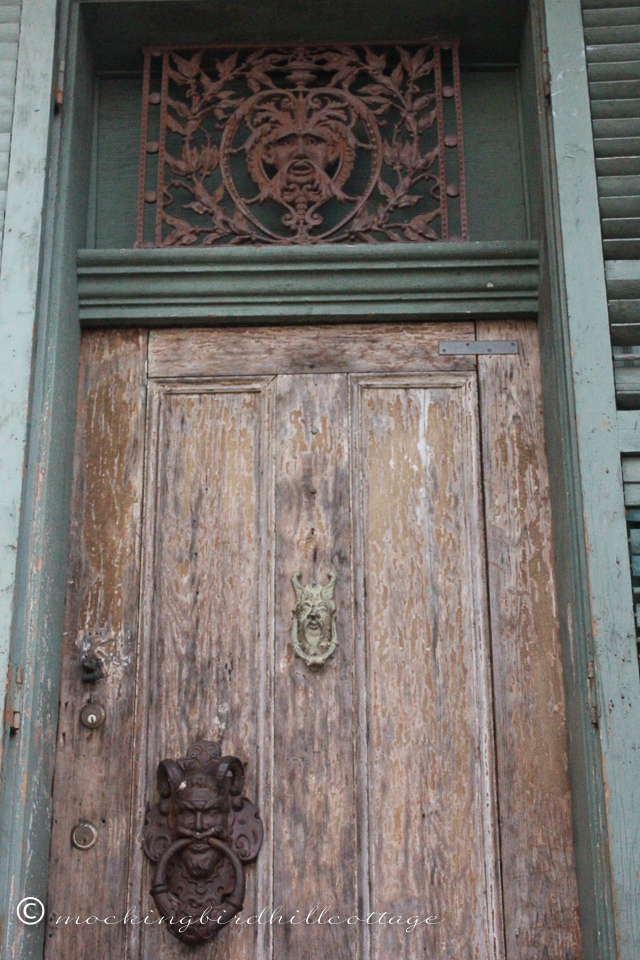 Door details.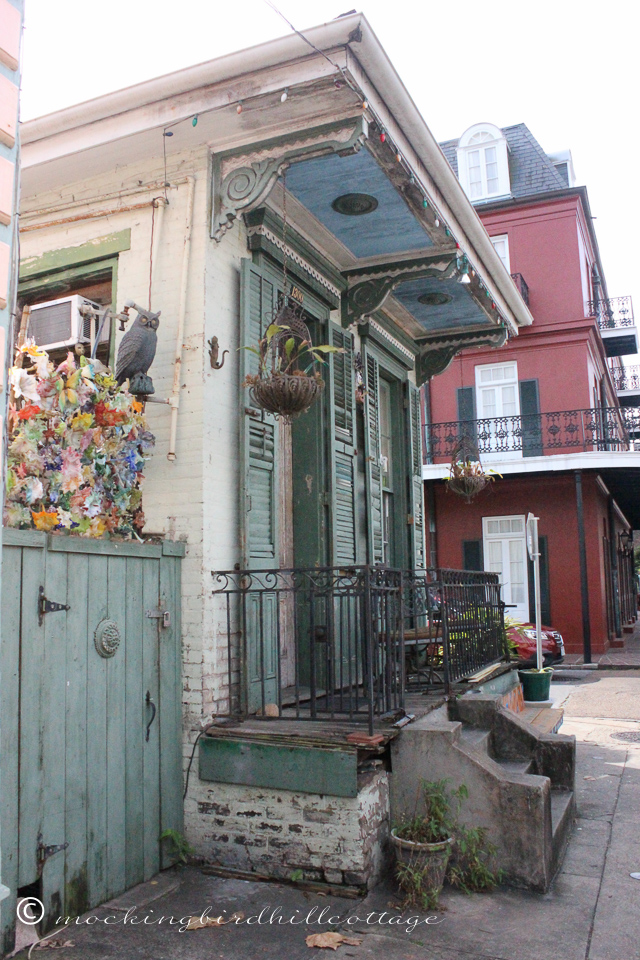 Just above the gate you will see colorful flowers. They're made of glass.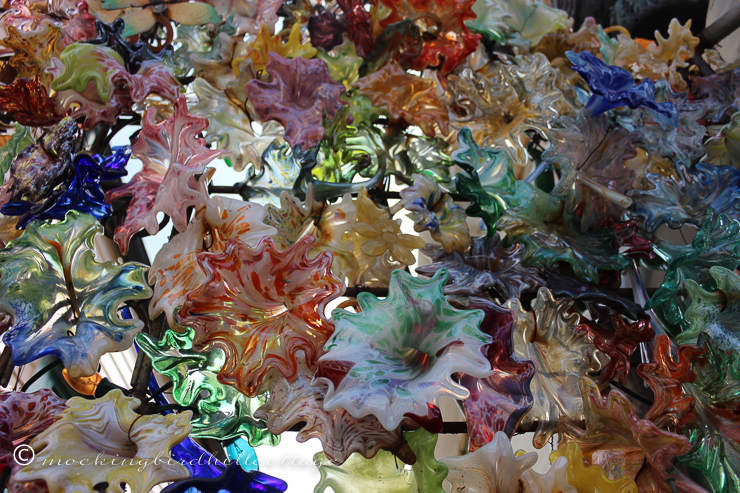 Everything about this little gem was so individual, so quirky and wonderful and charming. Give me this sort of free-spirited artistic expression any day of the week.
I have to take Don back there so he can see it.
I have tons of pictures, which I'll share with you this week. Don has two shows today and two shows tomorrow. I'll be going to tonight's performance.
More later.
Happy Saturday.