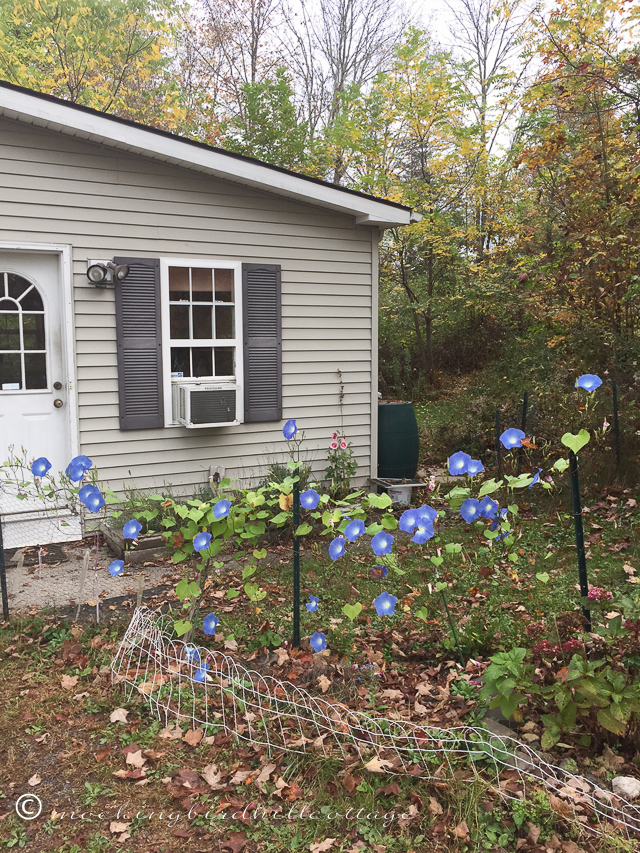 The other day, I counted 53 morning glory blossoms (including the ones in the chicken wire fence garden.)
Yesterday, there were 50. Today? I'm not sure yet because it got colder overnight and they're slow to open when the morning is cold. I can't tell you how much pleasure they give me; watching the bumble bees crawl in the blossoms, seeing their beauty as I go in and out the side door or walk to my car. Thank you, morning glories.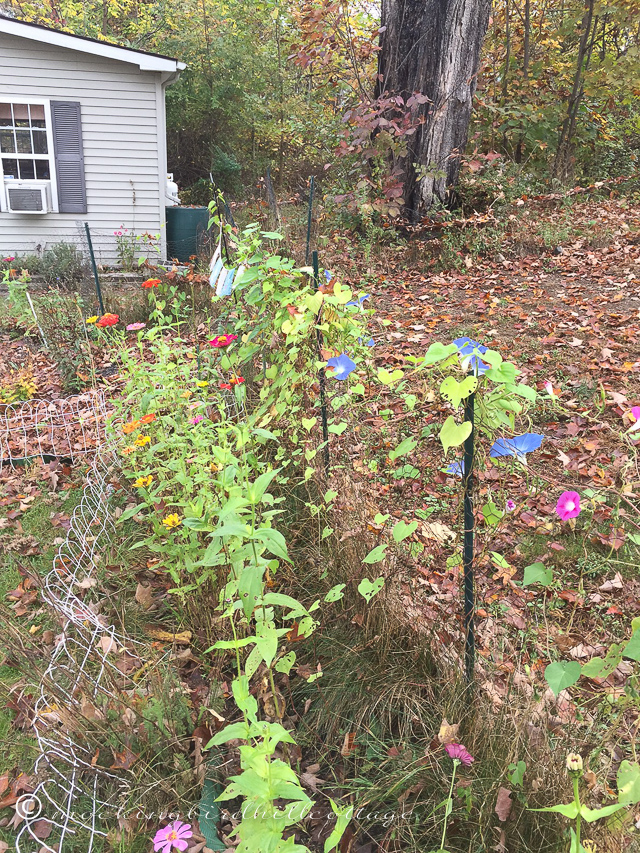 Morning glories, zinnias, and lots of leaves. I raked again yesterday and I'll rake again today. I don't mess with the leaves in the back forty – they can stay there. But the front lawn and the corral get raked. I'm not a perfectionist about it, not by a long shot. Today I'll mow part of the lawn, which will shred some of them. The rest stay on my garden beds because they work as protective mulch.
Thank you so much for the anniversary wishes yesterday! Don had a long day of tech, but we managed to snatch some phone/face time. He's feeling a bit better, by the way, so things are looking up.
Next year: 20!!
I finished Jan Karon's book. Just as when I read the last page of a Louise Penny, I sat here and didn't want it to end. Both Karon and Penny have managed to create towns that live and breathe and are just as much a part of the story as the characters. I'd live in Mitford or Three Pines. Easily. Anyway, if you like her books, I highly recommend it.
I think of my mom every time I read one of her Mitford novels. Mom loved them and we sometimes traded them back and forth. Maybe she was reading along with me. Wouldn't that be nice?
Now, I'm on to the newest in the Lisbeth Salander series, The Girl Who Takes an Eye for an Eye.
I've been taking a break from the news and Rachel Maddow because, as I said to Don, I feel like I'll go insane with rage otherwise. I know what's going on, but I'm not lingering there right now. I can't. I think we all have to do this when it gets to be too much. Give yourself a break. I have realized that I can't live at this level of anger and rage for extended periods of time. It isn't healthy. Reading helps. Chores help. Projects help. Looking at nature's beauty helps. Cocooning helps.
Sigh.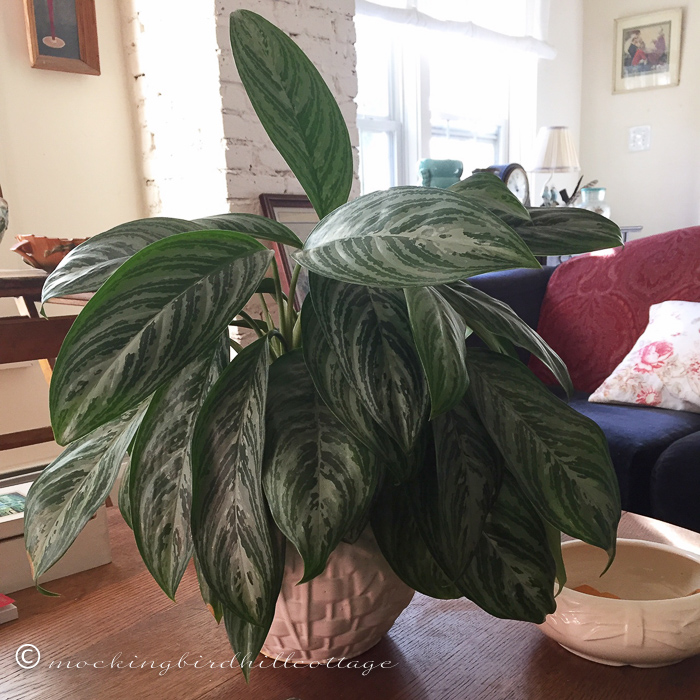 I've been repotting some plants that had become root bound. Yesterday, it was time for this Chinese Evergreen to be repotted. I really love this plant. Add to the list above: tending to houseplants helps.
Happy Friday.