I got home around 7:30 last night. Yes, a ten hour day for a less than 3 hour run-through. So it goes when commuting from the Hudson Valley. Anyway, it was that time when it was almost fully dark, but the morning glories were still open! I was grateful as they hadn't opened yet when I left in the morning. I think they like this cooler weather with no late afternoon blazing sun that forces them to close.
This morning: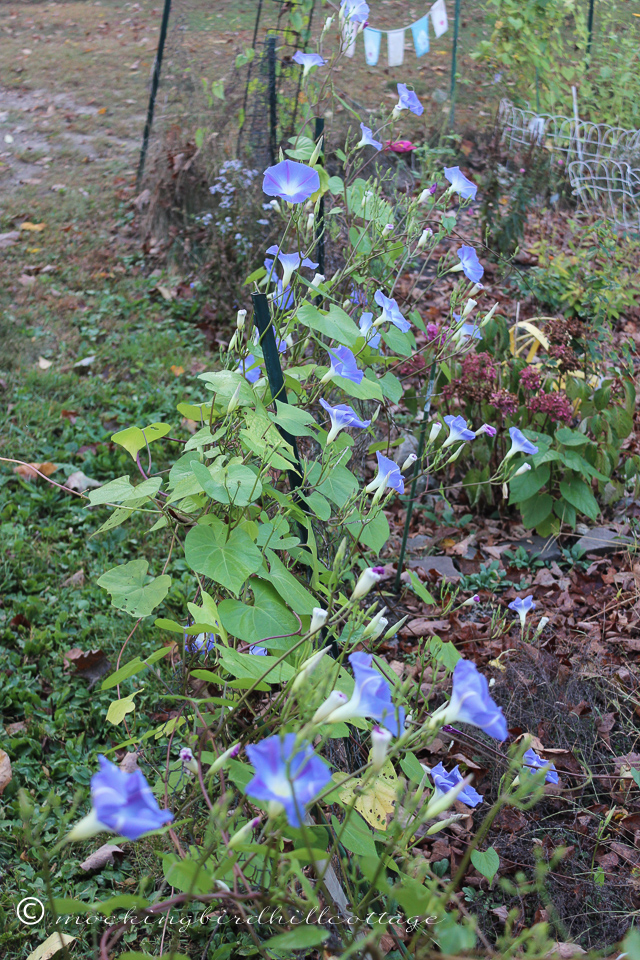 My cup runneth over. I also saw two robins and blue jay in the bird bath this morning. And I slept in. A nice way to start my Sunday morning.
Don is in the process of figuring out what he needs to bring home and what he's taking on the tour. Then he will get in the car and drive home to the cottage for his day off. When he leaves tomorrow, he'll  leave the car and go back by bus.
I haven't purchased any Roseville for a while, partly because of overpricing on eBay and partly because I just naturally seem to slow down after a while. Because I have a nice and varied collection, any new piece has to be something I really want. There are two patterns I really love that are hard to find and usually very pricey: Cherry Blossom and Morning Glory. I've had a couple of 'almost got it' experiences with Morning Glory, but alas, nothing yet.
But I finally got my piece of Cherry Blossom, which comes in two colors; a brown background and a blue background, actually closer to aqua.
I think you know which one I've been coveting.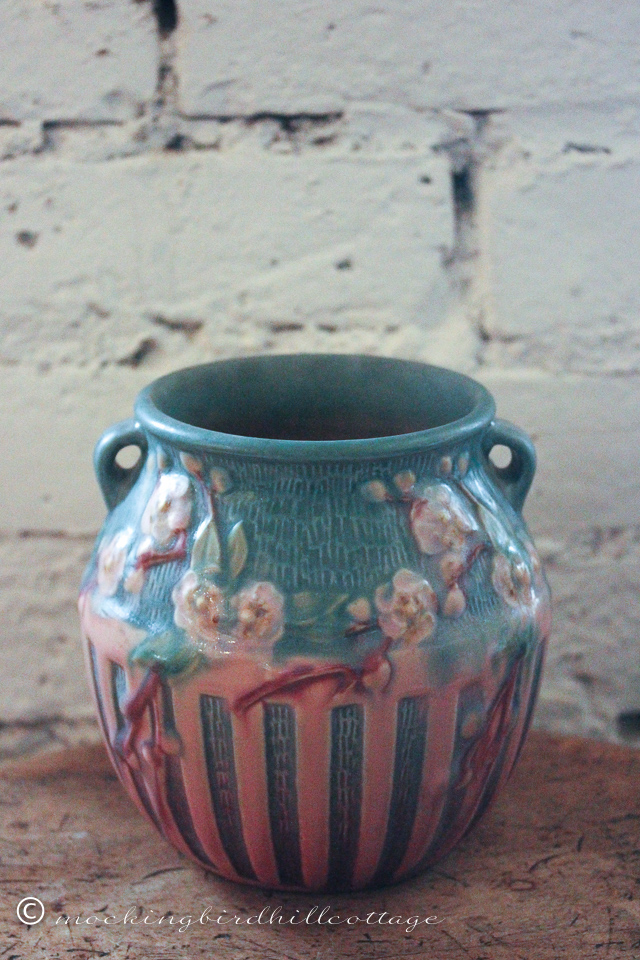 It was waiting for me when I got home last night. It's a smallish piece – it measures 5″ across. It's unmarked, as many of the Cherry Blossom pieces are.
Isn't it beautiful? I'm so happy to add it to my collection.
I'm struck by how much heavier Roseville pieces (and for that matter, McCoy as well) are than pottery made today. There's such a solid feeling. This small piece weighs three times as much, for instance, as a similar sized pot made today and sold at Anthropologie or West Elm. Another instance of 'they just don't make 'em like they used to.'
Also, that Ohio clay was perfect for pottery.
I'm going to enjoy this day with Don, as I won't see him for a few weeks after tomorrow. I have booked my flights to and from New Orleans. I'll be there from the 19th to the 27th. I'm very excited!
Happy Sunday.