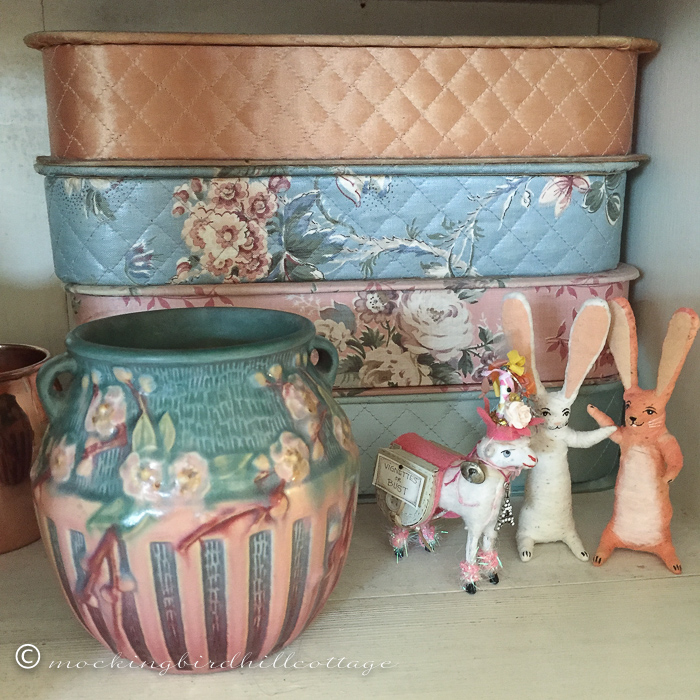 I owe you at least one pretty picture. I took this a few days ago as I was trying to find the perfect place for this piece of Roseville Cherry Blossom. I think this is it. It's in the pink cabinet in my office. I'm so thrilled to have this piece. I've searched for Cherry Blossom on eBay many, many times, and every time the piece has been priced way above my comfort zone. It's rarer and older than some other pieces and I think this particular combination of blue and pink is highly desirable. It's the most I've ever paid for a piece of Roseville, but I still got a great deal. And it's in flawless condition.
And now – the reality of my life: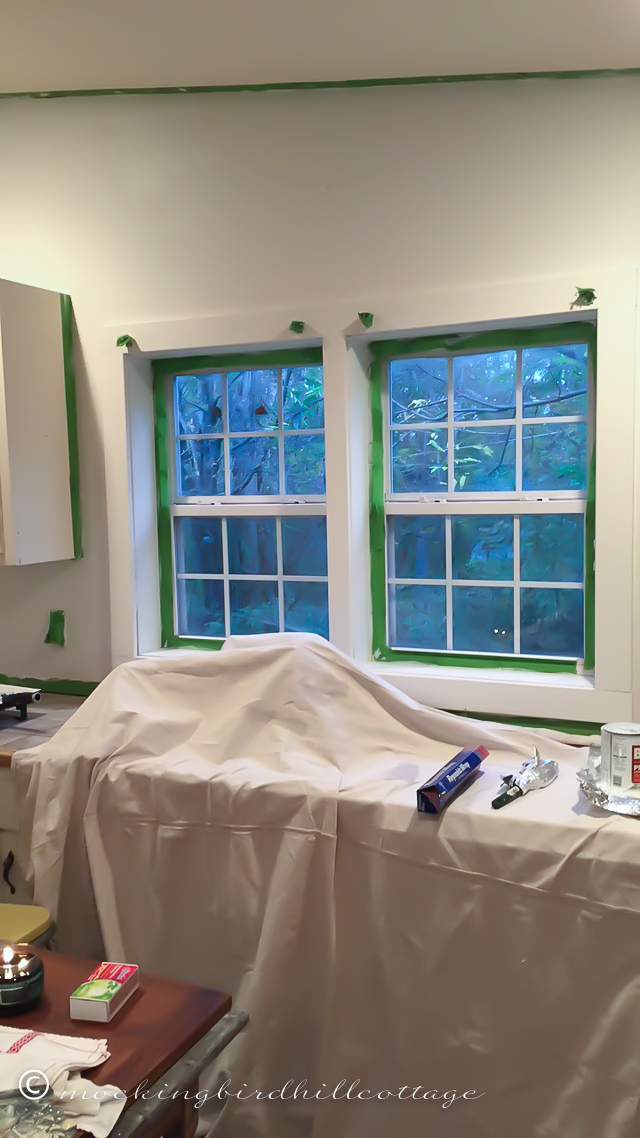 I'm painting.
Why now, you ask, when you're leaving for New Orleans in less than a week?
Because I got the fool idea in my head and I am stubborn that way. I was just going to do one wall at a time, but I thought to myself – why not two?
I'll tell you why not, Claudia, it's more work!
So yesterday morning, I cleaned all the walls with TSP. That took forever. Then I taped everything with Frog Tape. Keep in mind that this is not like the wall we painted before, which is a normal height. No, this is the wall that gradually gets taller and taller until it meets the wall that borders the living room. That wall is really, really tall. So I had to stand on counters, a stepstool, and eventually, I had to bring the ladder in from the shed to do anything in those areas. I had to contort my body every which way. It wasn't fun.
After about four hours of cleaning and taping, I cut in the primer. Then I finally got one coat – and that's all it's going to be, one coat – of primer on the walls and the window trim and baseboards. Paint had somehow managed to land on every inch of my exposed skin, so I took a shower and scrubbed and scrubbed at that stuff. I was still picking it off my fingernails when I finally sat down in the den.
Don's comment: "It sounds like something we should have done together."
Yes, it does, Don. But you won't be home long enough to do it, sweetheart. And therein lies the problem.
The kitchen will be a huge saga. The cupboards, which are chipped and need major painting, will be a winter thing, I think. A couple of cupboard doors at a time, with sanding and priming and painting, so that they match the trim color. As it is now, they just look cruddy. But I'll have to paint the fourth wall first (the wall where the door is) and that won't be for a while, given my trip to New Orleans and my even longer trip to Chicago.
So today I'll put on two coats of yellow and then hobble to my chair in the den – oh yes, my muscles ache. Tomorrow, I'll paint the trim and the baseboards.
I still have to mow the lawn. I guess that will be on Monday. I'll be so exhausted when I get to New Orleans, I'll need a day or so to recover!
Happy Saturday.