Good morning! It's a rainy, windy day here in Chicago. It's the kind of day where I'd like to stay in and read all day, but I also know I'll get antsy. My niece and her youngest daughter (the same two who went to Anastasia) are attending today's matinee, so I'll make sure I'm at the theater when the show lets out to say hello.
Despite our hopes for more time together, Don had a rehearsal yesterday. It's called a Put-In rehearsal. When a cast member is going to be absent from a particular performance and it's early in the run, a put-in rehearsal is called so that the understudy can run through the show with the rest of the cast. In this case, it's the second male lead who will miss a show the day after Thanksgiving, so his understudy needed to rehearse with everyone.
And today, between shows, the cast is filming their segment of something to do with lighting the Christmas Tree tonight. Don was wrong – they aren't in the Thanksgiving Day Parade. It's this lighting celebration that they are a part of. They're pre-taping their segment because they'll be performing onstage at the time of the ceremony.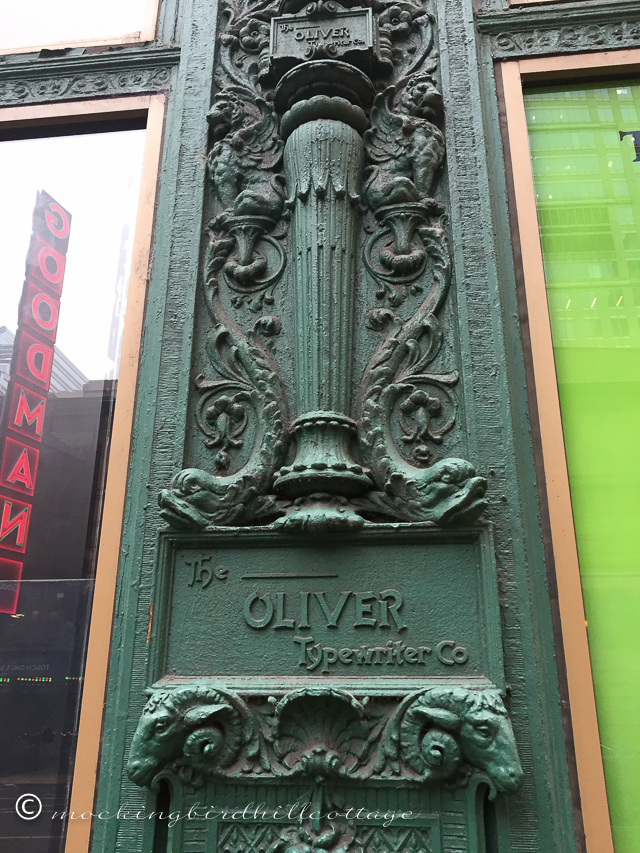 This ironwork is found in several places on the outside of the building where the theater is. Isn't it fabulous? It has a strong Art Nouveau flavor.
And next to the theater:
This charming building, which houses Argo Tea. I don't know the story behind it, I need to research that, but isn't it charming? When the hour strikes, music is played and it's perfectly lovely.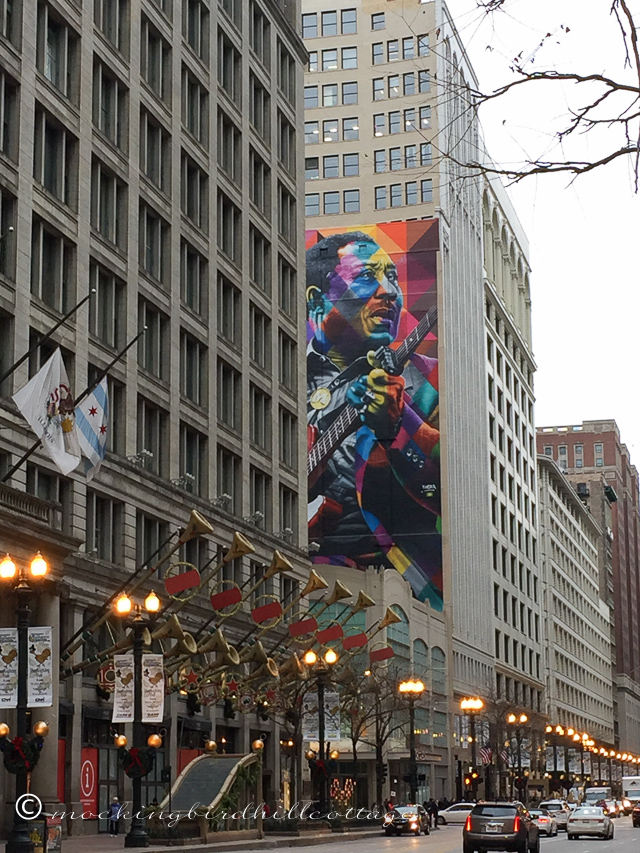 On a building next to Macy's – this incredible mural honoring the great bluesman, Muddy Waters.
By chance, we ended up having dinner at Harry Caray's restaurant. Harry Caray was the beloved voice of several ball clubs, but the last 16 years or so of his career were spent with the Chicago Cubs. The restaurant is in a historic building and it's filled with memorabilia and white-washed brick walls and loads of charm. Many of the waiters have worked there for years. They wear crisp white jackets and aprons.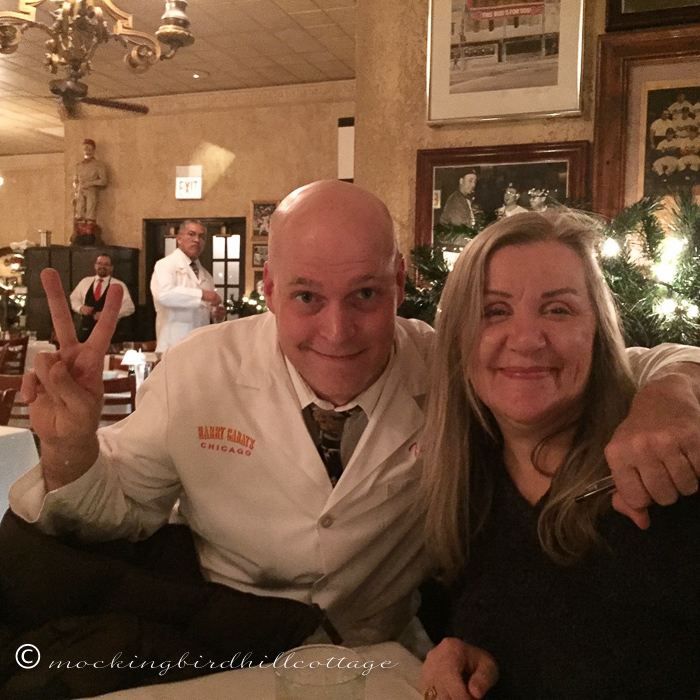 Here I am with our waiter who has worked there for 17 years. His name is Talon. Don't you love it? He was a fount of information about the restaurant and its history. At one point, it was a rooming house and Frank Nitti, the gangster, stayed there. While we sat there, we so enjoyed the music being played; the sheer variety of it – nothing new, everything old – quirky music pulled from everywhere. Turns out Talon put it all together over the course of five years. We had the best time. Talon recognized Don and, I'm sure, looked up his IMDB listing, because he remembered seeing him on many television shows. Next thing we knew, the manager was at our table greeting us and asking Don to pose for a picture with the bust of Harry Caray. They're going to put it on a wall somewhere! Here's my version of the picture: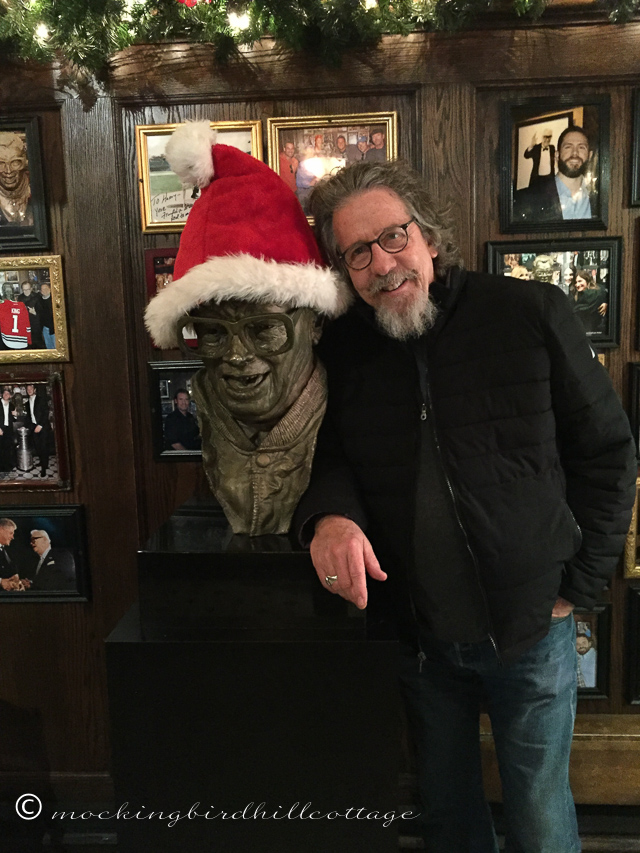 Okay. You wanted a photo of the coat. Looking at the coat, I'm not sure how glamorous it will be to you, but for me, it's all in the big shawl collar, which makes me feel glamorous. Normally, my hair is tucked inside the collar. It's big and slouchy and it's the perfect coat for me. It's by DKNY. (It looks a bit more glam when I'm not wearing sneakers.)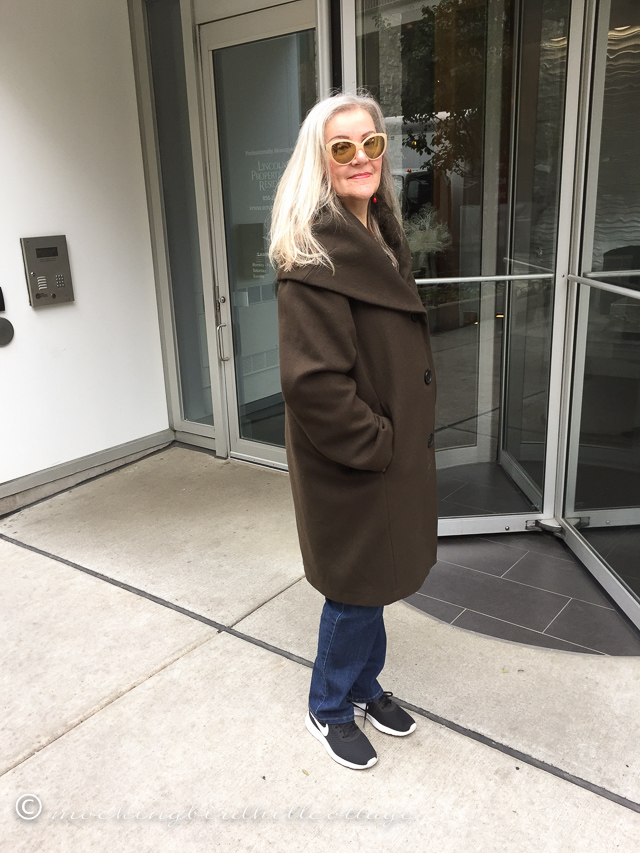 Boy, I look more and more like my mom.
Finally, my birthday is next week, and Don asked me what I wanted the other day. I thought about it and told him I'd like a citrine ring – it's my birthstone. Periodically, I look for one but I never find one that I like. I don't want the traditional cut or a setting that I would see everywhere. I wanted something that was more about the actual stone than lots of sparkle.
The back story: My beloved grandmother and I were November babies. In fact, our birthdays were three days apart. The traditional birthstone for November is topaz which has, over the years, changed to citrine because topaz has become rarer and more expensive. My grandmother had the most beautiful topaz ring, the setting was rather like a flower, very old-fashioned. I loved that ring and I inherited it when Grandma passed away. Several years later, when I was living in an apartment during my first year in San Diego, someone broke into my apartment and stole that ring, along with my great-grandmother's wedding band – both of which were priceless. I had almost worn them that day, but decided not to. I left them out on my dresser.
I was heartbroken. I didn't tell my mom because I knew she would be upset. My friend Rick (yes, the same Rick) came over to the apartment and we installed window locks and dealt with the police, who informed us that they would keep an eye on the pawn shops. I never heard anything again.
I'm still heartbroken about that loss, 24 years later. I've been looking for a ring to love for 24 years.
So Don said, let's go look. (He was excited that I actually had a concrete suggestion!) We went to Macy's – and I saw what I'm used to seeing, a citrine surrounded by lots of diamonds. That looks too glitzy to me. I wanted something simpler and I resigned myself to a search that would most likely go on for weeks. The lovely woman who helped us at Macy's mentioned that there is a Jeweler's Row on Wabash and that we should look there. So we did. I found one ring that I loved, it turned out to be vintage, but the gold was so thin that they wouldn't have been able to size it. I was disappointed but Don reminded me that it wasn't meant to be my ring. We were tired and about to give up when Don went into one store and I went into the one next door and I found it. It was exactly my size, no sizing needed, and it's the only one in that design.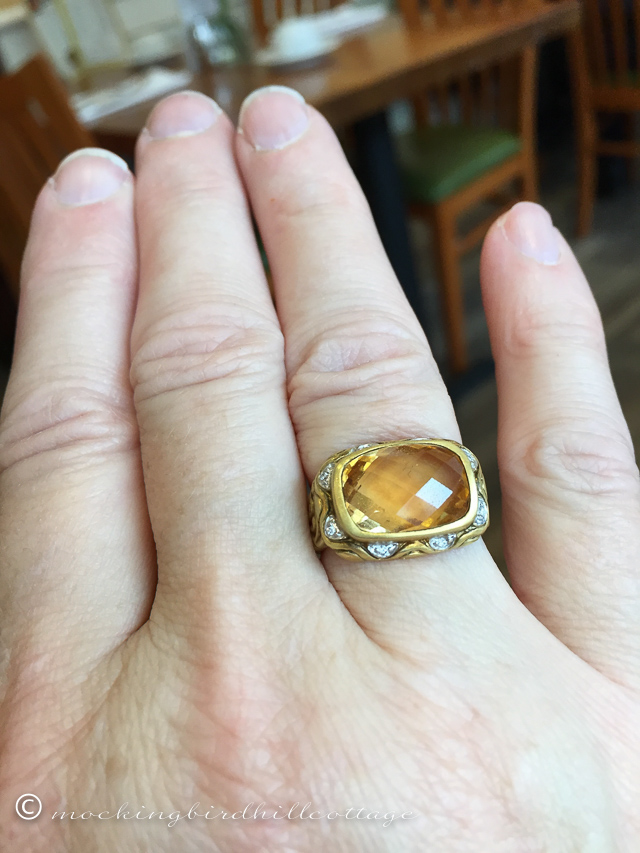 It does have some very small diamonds, but what you really see is the stone, which is bezel set. I love a bezel setting. The 14k gold has been sandblasted so it has a distinct finish.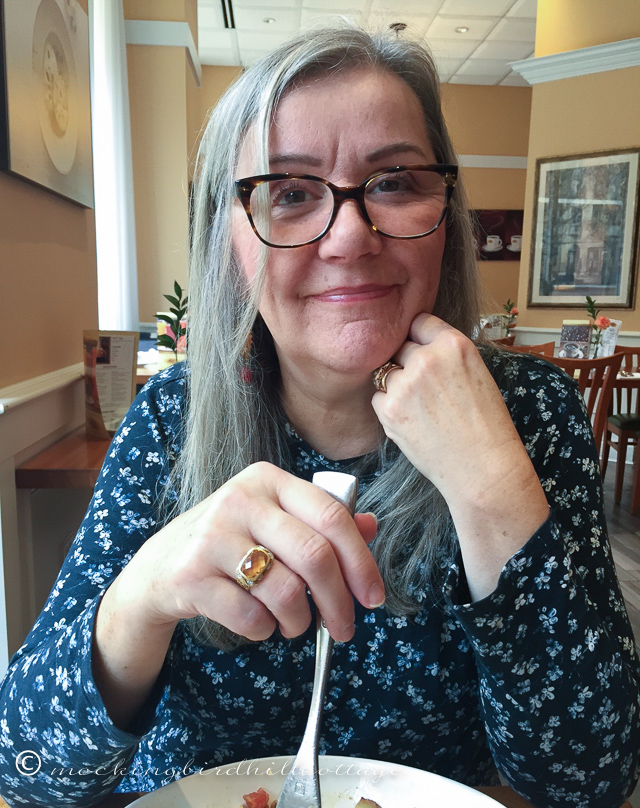 At breakfast yesterday. Isn't it beautiful? It's slightly different than I had imagined my dream ring to be – it's even better! It was meant for me.
This birthday is a big one, so Don wanted to give me something memorable. And he did. I love it so much and I hope Grandma loves it, too.
Happy Saturday.