Breakfast yesterday was at the famous Lou Mitchell's. In business since 1923, it's a Chicago legend. While you're standing in line, you are served a donut hole. You get a little box of Milk Duds. And the food is fabulous. Truly the best omelet I've ever had. (Obviously, I'm not vegan on the road.)
We have a new favorite.
We walked across the river to Randolph Street where the theater is located.
And then walked over to Macy's (formerly Marshall Fields – I still mourn that loss to this day) and did a little shopping. I needed a winter coat, a cloth coat, so that I wasn't limited to my very casual jacket. They had a big, big sale going on and I found a dreamy coat – very stylish – from DKNY. I'm in love with it. Sometimes, there are pieces of clothing that make you feel glamorous. That's how this coat makes me feel.
I also bought some Frango Mints; my favorite chocolates, and a must buy when I visit Marshall Fields. There, I said it. Marshall Fields. It will always be that for me.
Then Don had rehearsal and I walked to Whole Foods to get some much needed groceries.
Then dinner with the family, which was sheer heaven. I cannot tell you how much it mean to me to see so many of my family members gathered together. My brother and parents were smiling up there in Heaven, of that I am sure. We had a great evening together and Don managed to spend a good hour or so with us before he had to leave for the theater.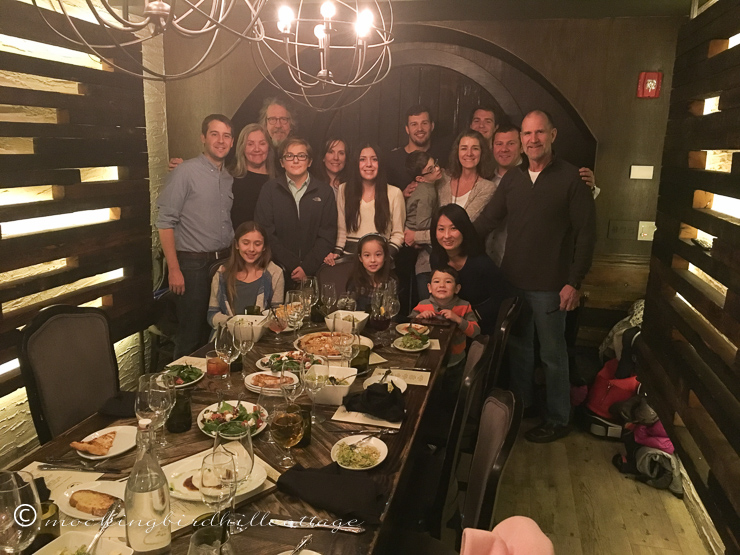 What a handsome group! Today I'll spend some time with Mere and Little Z. He, unfortunately, didn't feel at all well last night, he's coming down with a cold. So he wasn't his usual funny, bouncy self. Poor guy. But Uncle Don and Aunt Claudia managed to make him laugh a wee bit.
Don says the audiences here in Chicago have been fantastic. Last night's lucky audience members got to see Jimmy Buffett and Lin-Manuel Miranda watch the show and join the cast on stage for the curtain call and a round of Margaritaville. (Wish I'd been there!)
Happy Sunday.