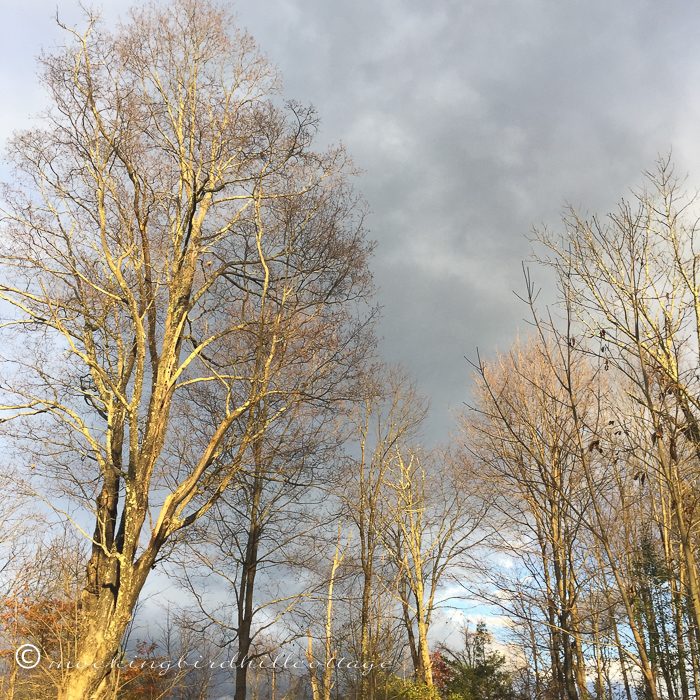 As you can see, most of our trees are leafless. Because we are situated in such a way that we get a lot more wind on those windy days than others, we seem to lose our leaves pretty quickly. I have to re-learn that every year. The only upside is that I'm done with raking until Spring. It was a very dramatic day yesterday, with sun, then heavy clouds and sudden showers, then sun again.
I was going to recycle but I decided to do something I'd been wanting to do for a few months. I figured it was now or not until next spring because the chances of me driving there in the winter were nil. I decided to drive to Westport, CT to walk through Terrain. Terrain is a shop full of plants and hip plant-related accessories, as well as kitchen items, stationery, candles, and items for the home. They are a  part of the Anthropologie empire, so the fact that they are beautifully designed is a given. There are two locations out East – Connecticut and Pennsylvania. And two more on the West Coast, in Walnut Creek and Palo Alto. Like Anthropologie, items can be pricey. But I found some very good buys as well, which I'll share with you soon.
It took an hour and a half to get there and when I arrived the parking lot was full to the brim so I had to maneuver into an adjoining grocery store parking lot.
It really is gorgeous. I didn't take many photos because my battery level was low after using my phone for navigation purposes on the way there.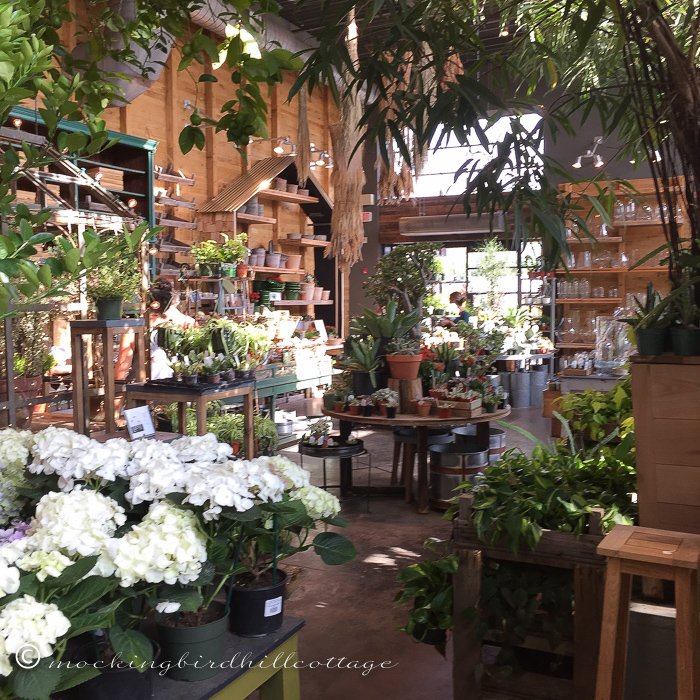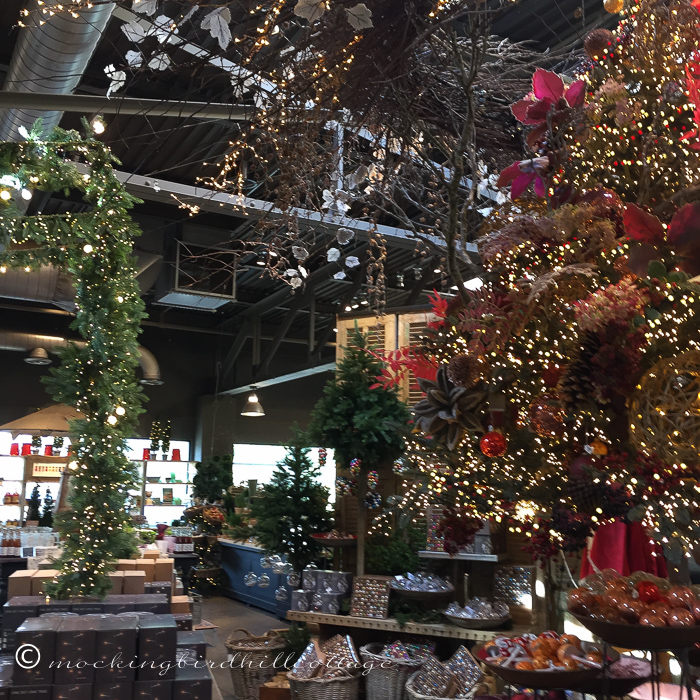 A bit blurry, but it's the best I could do. Several employees were up on ladders, decorating for the holidays. Though I can and do appreciate the beauty, it's too early for me. Plus, I have more than enough Christmas decorations!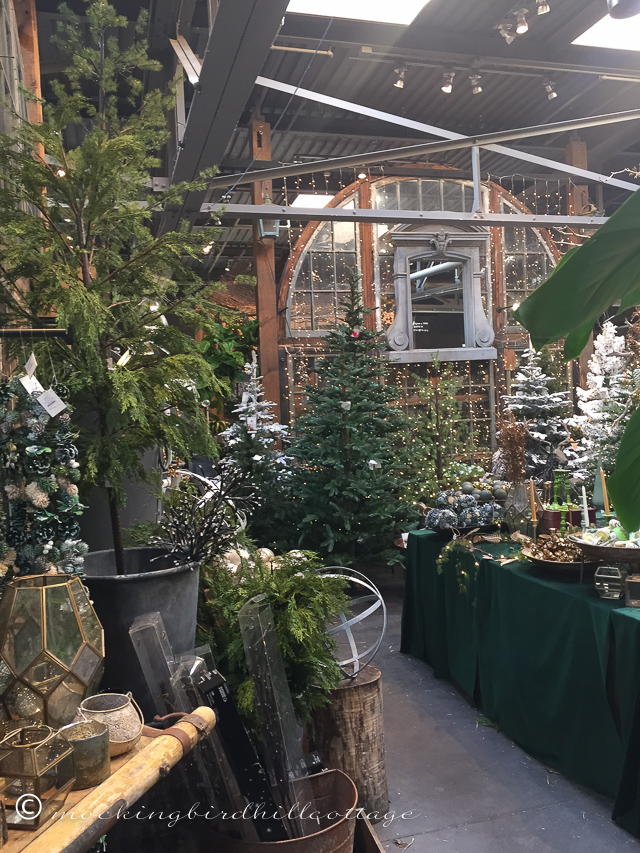 I spent most of my time looking at the houseplants that were everywhere. I bought one – another rescue. It is a split-leaf philodendron and it was in the sale area and extremely  root bound. I repotted it, but I might have to go back in and release a few more roots. I've never seen a plant as root bound as this one was. Nevertheless, it was in the process of unfurling new leaves and looks healthy. More research on what to do will be done today. I also bought a couple of pots and some very small sansevierias, which I have potted.
You remember my pilea peperomiodes? It's currently the plant that everyone wants but its scarcity makes it a bit pricey. You can find it on Amazon and at certain shops for a somewhat reasonable amount of money. I saw it in Terrain: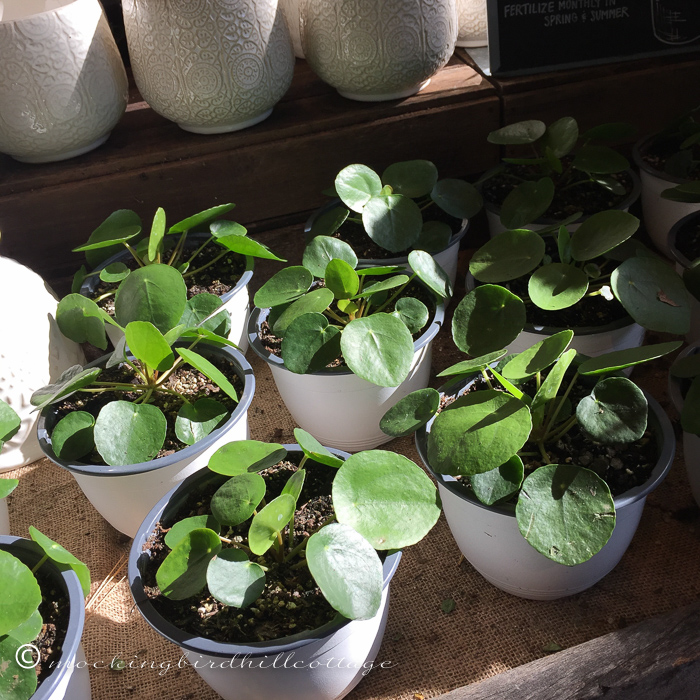 Nice, healthy plants in small pots. Over $50. Yikes! I will say this for them, they had a lot of pilea on hand and I rarely see it. But I admit to gasping when I saw the price.
They have a wonderful café, so I had some lunch.
Headed back home and did some repotting before settling down for the evening. Today, I do  have to recycle as well as mow the lawn – probably for the last time.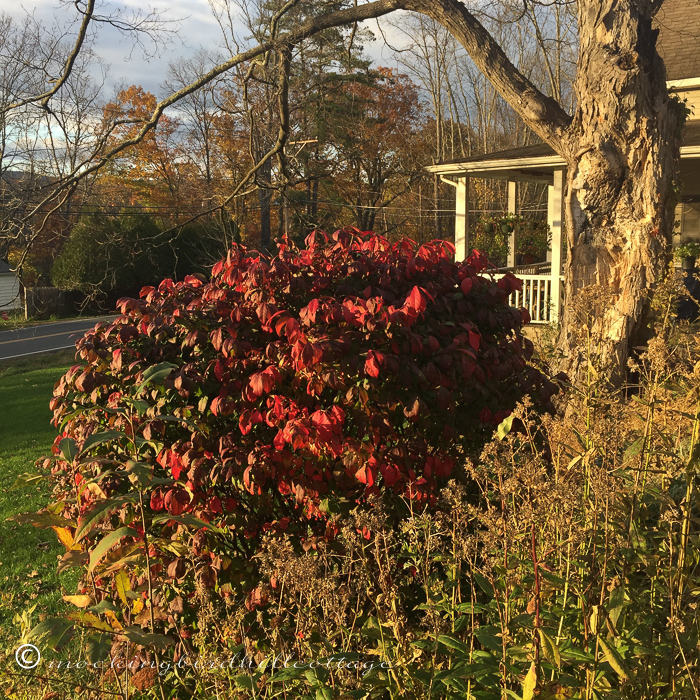 My bush is turning a vivid red. I love that.
Temps at night are supposed to dip into the twenties later this week, so I am bracing myself to say goodbye to my porch plants. Ah, well.
Happy Saturday.