A quick reminder: some of you are still attempting to comment via the email version of posts. I am unable to respond to you via those emails. So please, if you have a comment, come to blog and comment on the actual post.
Okay. I mowed and mowed and mowed yesterday. Since it's going to rain today, it had to be done. But it left me feeling tuckered out by the end of the day. Maybe that's the last mowing job for the year?
I don't like the time change. Never have. The whole 'gaining an extra hour' thing has never impressed me. I still wake up when I wake up. I know it gives those who have to be somewhere this morning a little extra time, or in the case of someone like my husband who has five show weekend, an opportunity to catch a few more minutes of sleep. But when it gets dark way too early tonight, I'll be cursing the whole thing.
This is the split-leaf philodendron that I nabbed at Terrain. I've repotted it, but I have some concern about the roots, which were completely coiled around the soil in the original pot. I'm wondering if it needs an even bigger pot. Like I said yesterday, I've never seen something so completely root bound. Maybe they'll relax and sort themselves out.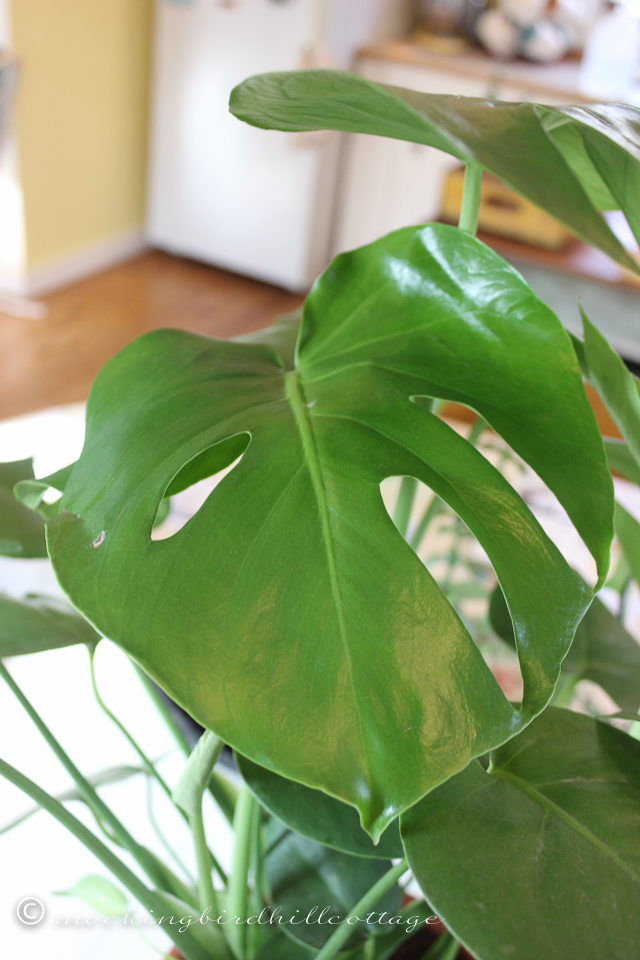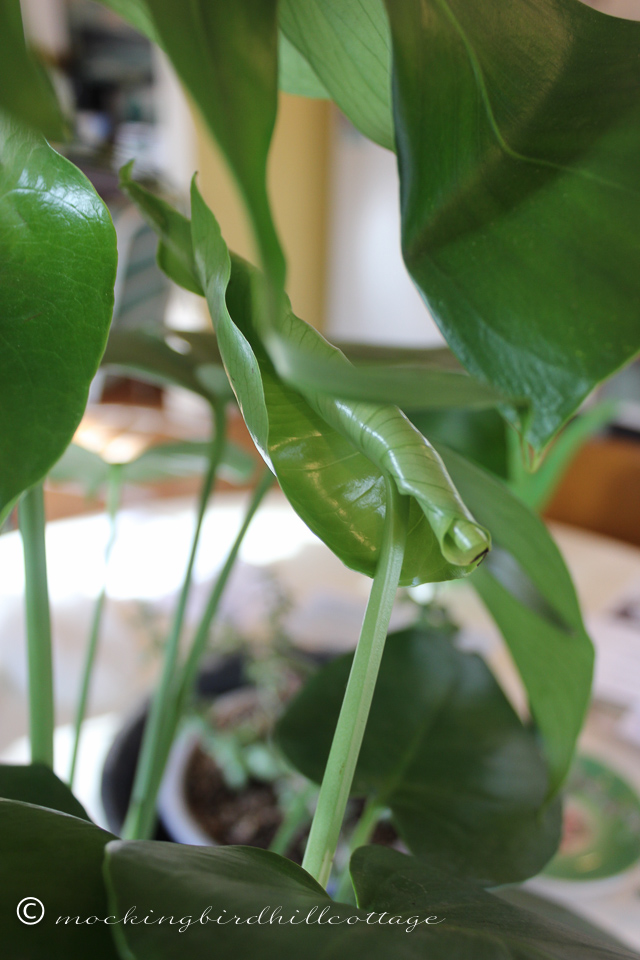 I love the glossy quality of the leaves.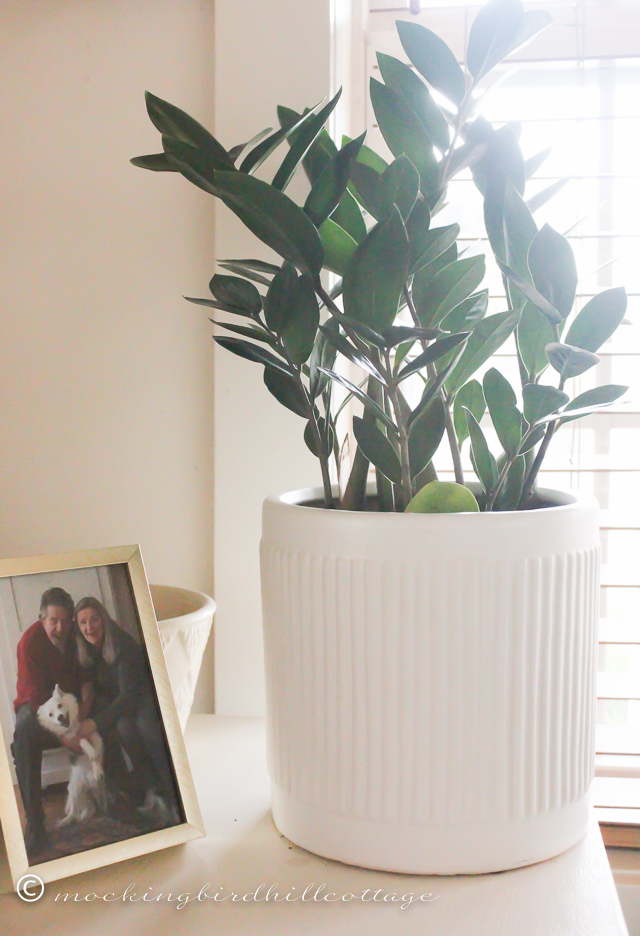 This pot is also from Terrain.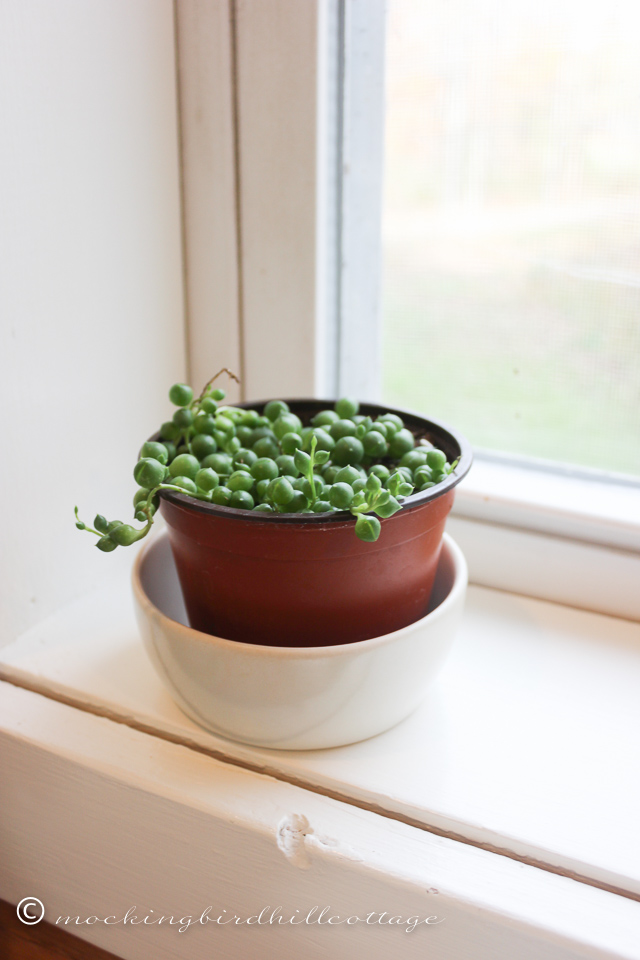 And the succulent called String of Pearls. Because who could resist?
I have been casually mentioning houseplants to Don to prepare him for the decided increase in green things he will see when he gets back home. Thankfully, Don likes plants (especially if I'm the one watering them!)
Checking in on the rescue dieffenbachia: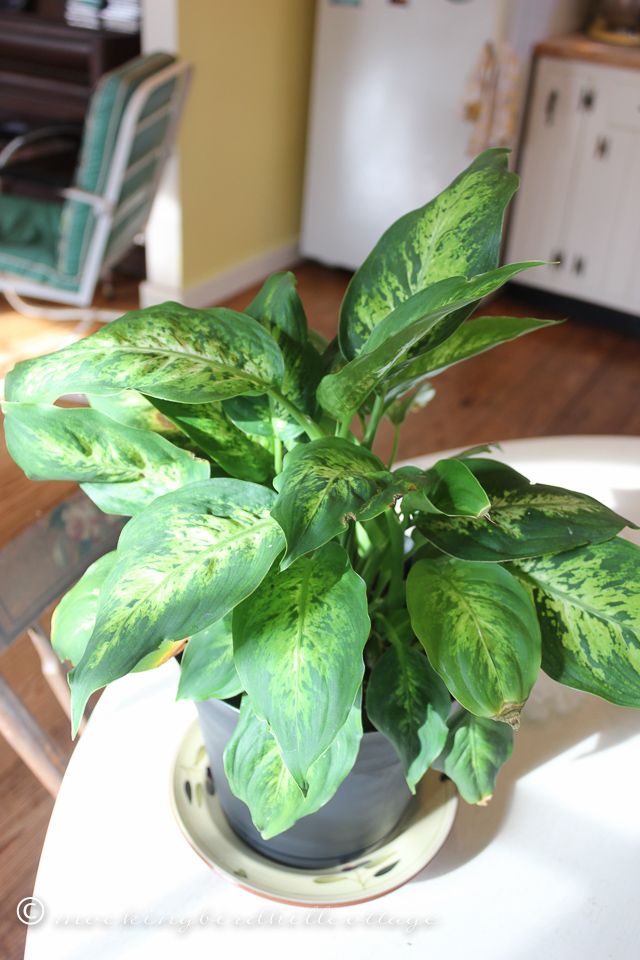 It's looking better all the time.
Clearly, I'm transitioning from the outside to the inside. The last morning glory bloomed two days ago. Sigh. But I have nothing to complain about. It kept blooming into November and that's the first time that has happened. I am grateful. So, ever the nurturer, I'm concentrating on my houseplants now as I prepare to say goodbye to my porch plants later in the week.
I'm having breakfast with Rick and Doug this morning. (Rick loves to eat out.) And then I'm trotting off to get my hair trimmed and, boy, does it need it!
Happy Sunday.