A little late getting this post up as I SLEPT IN!! I am a happy camper. The time zone changes I've been dealing with – while only an hour difference – have seriously screwed up my sleep. Now, thank goodness, I'll be in the same time zone for the foreseeable future.
The UPS truck arrived in my driveway yesterday morning. The driver was bring my new iPhone to me! Did I absolutely need a new phone? No. But I've been looking at the larger sized phones and coveting them. While we were in Chicago, my nephew (Mere's eldest) showed me his iPhone 7+ and I seriously began thinking about a new one. I also knew that I was eligible for an upgrade on November 23rd. Mere and I (and Don, for that matter) said we wanted a larger screen with larger fonts and bigger pictures. Yours truly used to say that I didn't want or need a bigger phone. Oh yes, I was quite vocal about it. The photo below shows my ever-evolving thinking on that subject: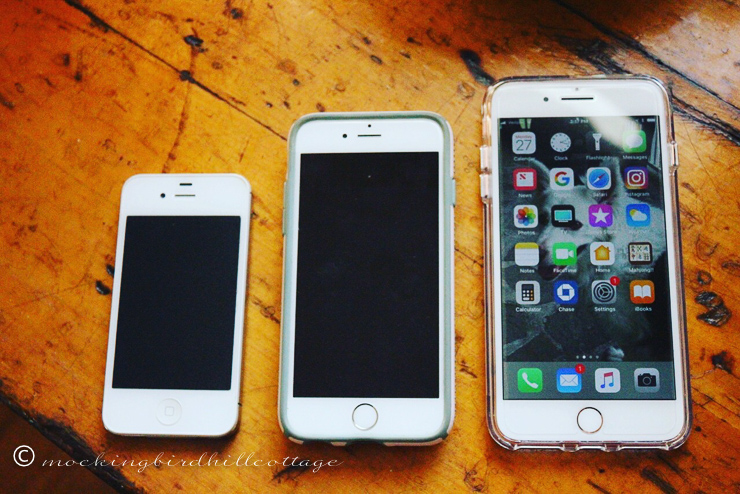 On the left, the iPhone 4. Middle: iPhone 6. Right: the newest phone, the iPhone 7+. I never buy the current iPhone; I always upgrade to a slightly older model to save money.
I love it, of course. Now I can't imagine how I got by with a smaller one. Isn't that always the case?
Oh, before I forget: Don got through the day yesterday. His voice was much better. My wonderful sister called to check on him in the morning and when we talked about steroids, she said he absolutely should take them, that they would really help, so I called him and passed that message along. He got 3 pills, two to take yesterday and one for this morning and then he'll be done. He thinks they really helped. (They're still recording and will do another stint in the recording studio today.) Thank you for all your positive thoughts and prayers! He sounds a lot better.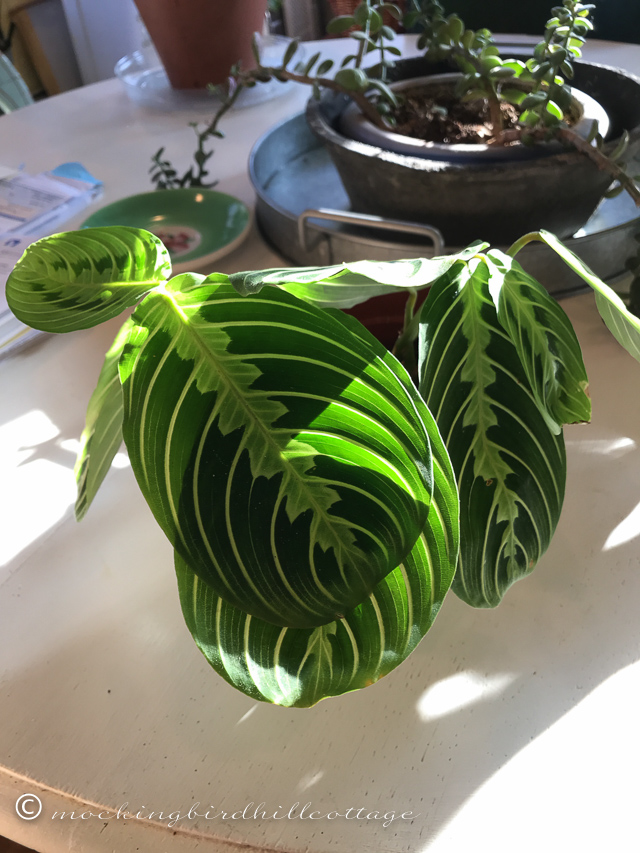 I put this maranta in my grocery cart on Sunday. I like to rescue plants from stores like Lowes and my local grocery store. This one needs humidity and it's always dry in here during the winter, so she accompanies me into the bathroom when I take a shower.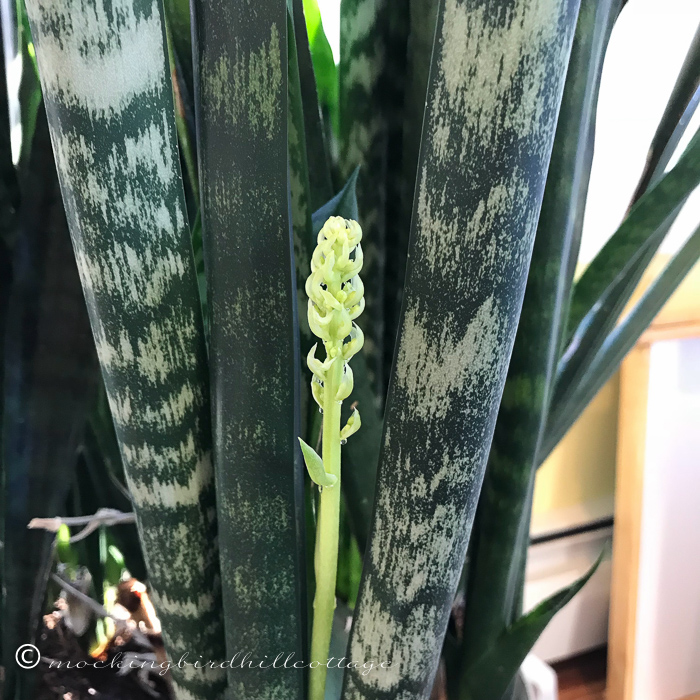 My sansevieria is going to flower again this year! There's another flower stalk on the side facing the window. Hey, Mom and Dad, your baby is thriving!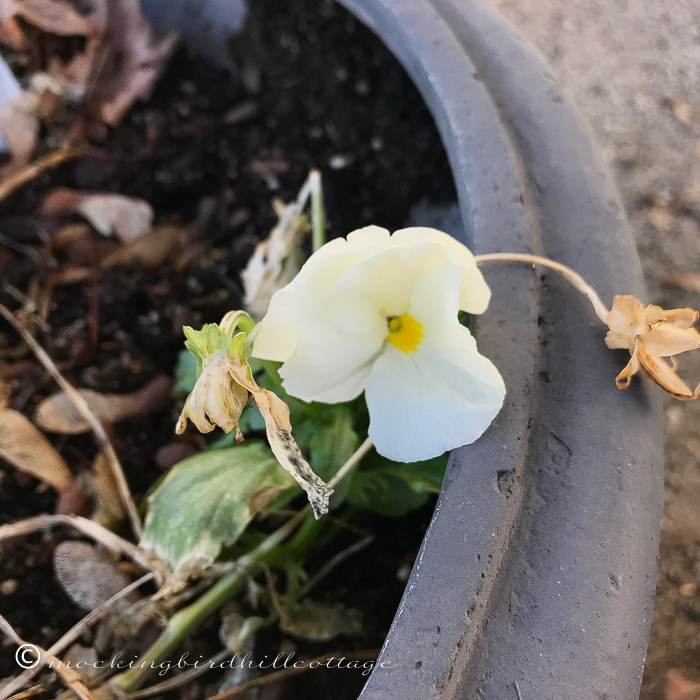 Still hanging in there despite freezing temperatures. Oh, pansies, I'm going to plant more of you in the spring.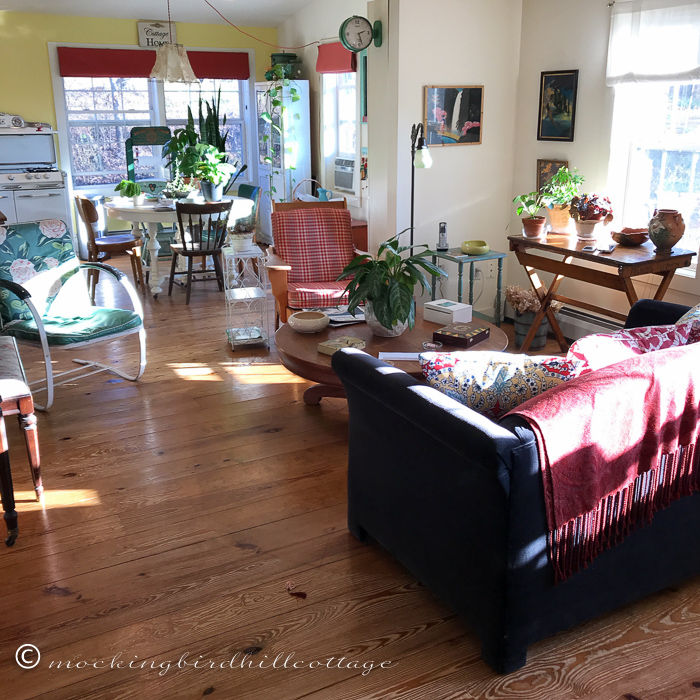 The living room yesterday afternoon. The light that comes when the trees are bare is so bright. I love it.
I've been having some trouble with AOL lately. Judging by the complaints I've seen elsewhere, I'm not the only one. Anyway, I subscribe to the email version of this blog via three different email addresses: gmail, AOL, and Yahoo. I get the gmail and Yahoo posts like clockwork. But delivery to the AOL address has been all over the place; sometimes it comes on time, sometimes it comes 10 hours later and sometimes it doesn't arrive at all (like yesterday). Hopefully, AOL will get its act together, because it's my main email address and I don't want to have to deal with changing to another one. So, if you subscribe via AOL and haven't been receiving posts lately, that's why.
If you don't like political commentary, stop here. I'm currently careening back and forth between happiness at being home and despair about the country. Last night, despair won. When the people running the country defend a pedophile in order to keep power, we are in desperate trouble. When that sorry excuse for a man calls a sitting Senator "Pocahontas" (meant as a racial slur) in the middle of a ceremony honoring Native American heroes while standing in front of a portrait of Andrew Jackson (of Trail of Tears infamy) – there are no words. Well, there are words, but I can't print them here. But don't let that distract you from the battle over the tax bill and net neutrality. Make your calls. We're in a battle between the 1% and the rest of us. And I'm pretty sure none of my readers are in the 1%.
Happy Tuesday.