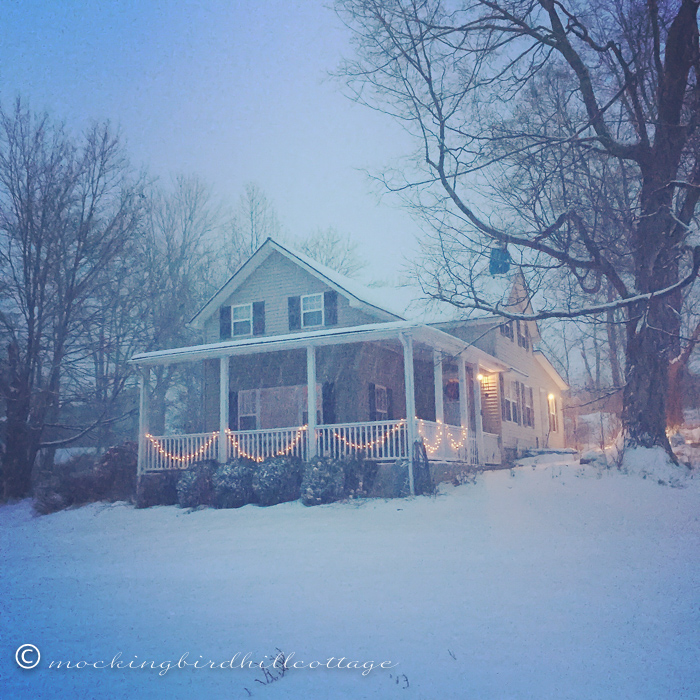 Though the snow hasn't arrived yet, it will begin falling tonight. And the house will look much the same as it did when I took this picture last year.
It will be beautiful. It is  beautiful.
Today is a day for Christmas music and baking (the annual Christmas coffee cake), some cleaning, some laundry, definitely some wrapping, and we'll top it all off by watching It's a Wonderful Life  this evening. Last night we watched A Christmas Story.
Dear friends, I hope you have the most wonderful of Christmases. We've been through an extremely stressful year politically and it has taken its toll. And many of us have had personal stresses, challenges, and loss, as well. I hope that for this pocket of time – these two days – you can find some peace and joy and simplicity. Turn off the television news. Keep off Twitter (a message from me to me). Don't let anyone steal your joy.
Concentrate on love – expressing it, revelling in it, sending it out to everyone, even those we have reason to dislike or despise – knowing that, in the end, there is only love. And if there is only love, then love indeed trumps hate.
Be a warrior for love.
May the coming year bring peace and resolution and healing.
And as we count our blessings today and tomorrow, I am well aware that one of my biggest blessings is you. Thank you for being here and for being a part of my life. My cup runneth over.
I'm taking the day off tomorrow, so I will close by wishing you a heartfelt Merry Christmas!
May blessings and good and love and joy surround you and envelop you.
Happy Christmas Eve.