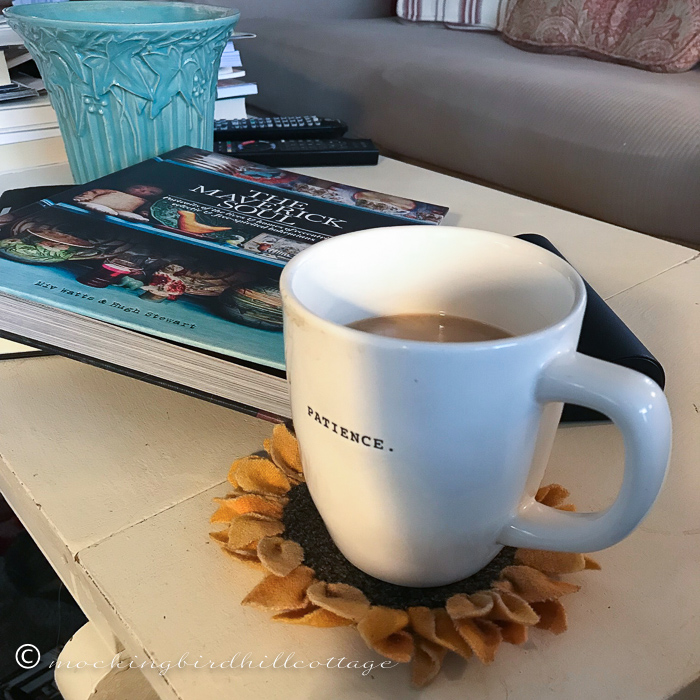 We're going to get our first snow today, somewhere around 1-3 inches. My discovery of that bit of information while making a quick check on the weather app on my phone changed our plans yesterday.
I had to hold off on removing our window air conditioners until Don got back – too much heavy lifting and carrying down the stairs for one person and besides, Don got mad at me when I put them in all by myself last summer. We held off another week because I was sick. But news of snow coming propelled us into what I call Winter Shift mode. That's when, in addition to removing the A/C, we shift things around in the shed. This involves storing all my gardening pots in the shed, putting the A/C units into their individual bins, moving the lawn mower to a less accessible position and moving the snow blower into prime position. Oh, and stowing rakes, brooms, etc., and replacing them with snow shovels and containers of salt. We also had to do a bit of refiguring.
Anyway, after that, I was tired. So that was my 'drive.' We'll do it another day.
It felt good to accomplish something, even if it wasn't very exciting.
Come spring, we're going to rent a dumpster and toss much of what is in the shed. We put things in storage there when we first moved in 12 years ago and most of them have been attacked by mice (before we knew any better) and many of them have been hit with damp (also before we knew any better). We want all of it out and gone, so we can refigure the shed and make it a much more usable space – a place for the lawn mower and snow blower and garden tools and maybe a little potting bench and that's it.
I always look forward to the first snow. It's a lovely change. And we have more coming on Monday. It's when Christmas is past and the long winter lies ahead that I become less than thrilled with snow shovels and salt and dirty snow.
Our friend Vicki has checked in from California. I urge you to go over the comments in the last few posts to read her harrowing accounts of what they are going through right now. It's simply unimaginable. She, and everyone in the path of the wildfires, needs our prayers and support. It's not over yet, not by a long shot. But so far, they are safe and so is their home and we are so grateful for that news.
Happy Saturday.