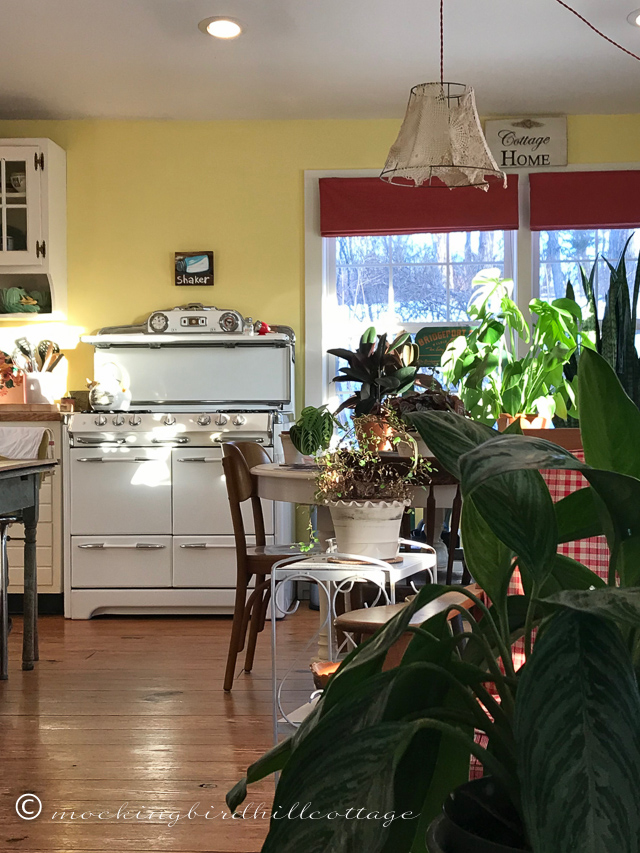 A jungle of green.
I wouldn't have it any other way. Hey, it's will be positively balmy today as the temperature hits the mid-thirties! I won't know what to do with myself. Wear shorts? Go for a swim?
We had the most marvelous time with our friends Trish and Colin yesterday. We gathered at Rick and Doug's home for lunch and great, great conversation. Before we knew it, five hours had passed. All the while, snowflakes were slowly falling and deer were feeding on the hill behind their house and it was magical.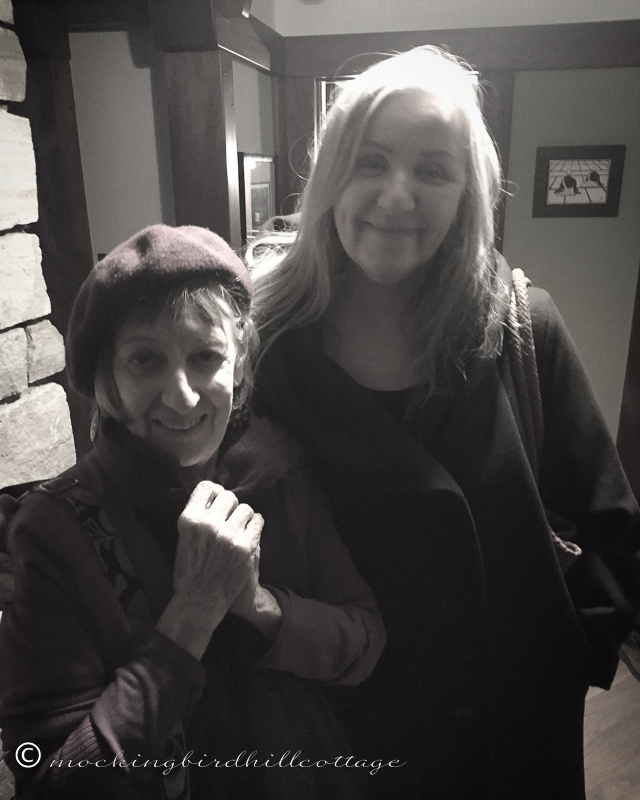 Don took this photo of Trish and me. She is very tiny and full of energy. She has so many wonderful stories about a life spent in the theater, working in England, her native Australia and here in the States. Her husband Colin is also a terrific raconteur and between them, we were entranced. Don has worked with both Colin and Trish.
Warning: If you don't want to read my opinion on a film you may not have seen yet, stop here!
We came home and had some dinner and then watched Three Billboards Outside Ebbing, Missouri. We are bucking the crowd on this one: we didn't like it. We were really looking forward to it as we're both fans of Frances McDormand. But the script was badly written and it was badly directed. It's what I am calling a Coen Brothers Wannabe. Since we, and Don especially, love the Coen brothers, we were sure we'd love the film. But, the more we talked about it afterwards, the more examples we came up with where the scenes and dialogue were shaped – actually, contrived – to further a weak story line that left too many things unexplained and veered all over the place. I'm all for some ambiguity at times, but this wasn't ambiguity, it was just poor writing. Frances McDormand was okay. It's the kind of role she can do well. Sam Rockwell was very good; his was the most effective characterization in the movie and, given the script's deficiencies, he worked wonders. We accepted that it was rather stylized and were willing to go with it but, in the end, it was hard to like any of the characters and we just felt manipulated. It seems to be the flavor of the moment, but I'm darned if I can figure out why.
We feel much the same way about Call Me by Your Name, which elicited yet another long conversation after the end of the film where we kept coming up with contrivances that were glaringly obvious and never rang true, along with many moments in the script that were never explained and never followed up on.
When the viewer has to do a lot of work to try to make disparate elements of a film come together to make some sort of sense, the film has failed.
Loved, loved Get Out. I can't say enough about that film. Jordan Peele is brilliant.
We have The Shape of Water  on the docket for tonight and Mudbound  slated for tomorrow. Ahead: I, Tonya, Lady Bird, and The Darkest Hour.
We're having fun watching all these movies and want to finish up in time for Don to vote.
Thank goodness it's warmer outside!
Don wants me to keep the tree up another day. Okay!
Happy Tuesday.