Some late afternoon sun. It may be cold but I can handle it when we have a sunny day like yesterday. And today.
This will seem like a little thing to you, but to us? Big. When we moved in here there was a black microwave – a big one – from the previous owners. Since it worked perfectly well, we kept it. You might remember that the previous stove was black and the dishwasher is black. The refrigerator is white. Go figure. I never liked the black stove and we all know that Stella has taken its place. The dishwasher has never worked so we use it as storage and one of our goals this year is to buy a new one and have someone hook it up correctly. (The very first time I used it 12 years ago, it leaked onto the wood floor.)
So. We've had this microwave for 12 years – it still works – but it takes up so much space and ends up being a big black hole on our counter. And counter space is something we have very little of. Fast forward to Don and me in NYC last week as we realized that there was no microwave in the apartment and Don definitely needed one. We bought a small Sunbeam microwave in white from a local hardware store. Perfect size for that small apartment and, we thought, perfect size for us at home! I tried to buy another one from the hardware store before I left for home, but they weren't open. So I found one online via Wayfair and it was delivered yesterday. It's not particularly exciting looking, but I have more counter space!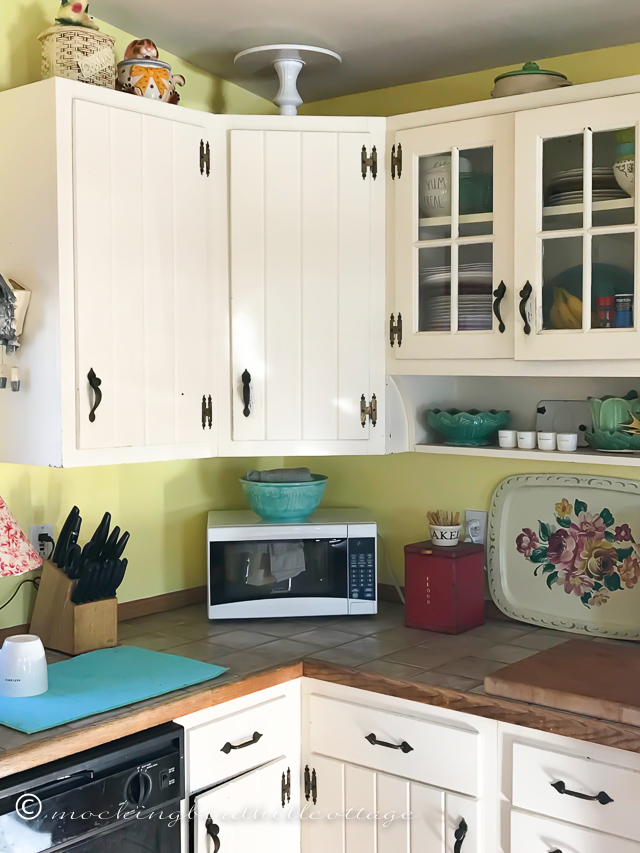 Once we get a working dishwasher, we can get rid of this black one and the dish drainer that lives on the counter and we'll have even more counter space! Whoo hoo!
Now I have to lug the heavy black microwave out of here and take it to the recycling center.
Also bought this the other day: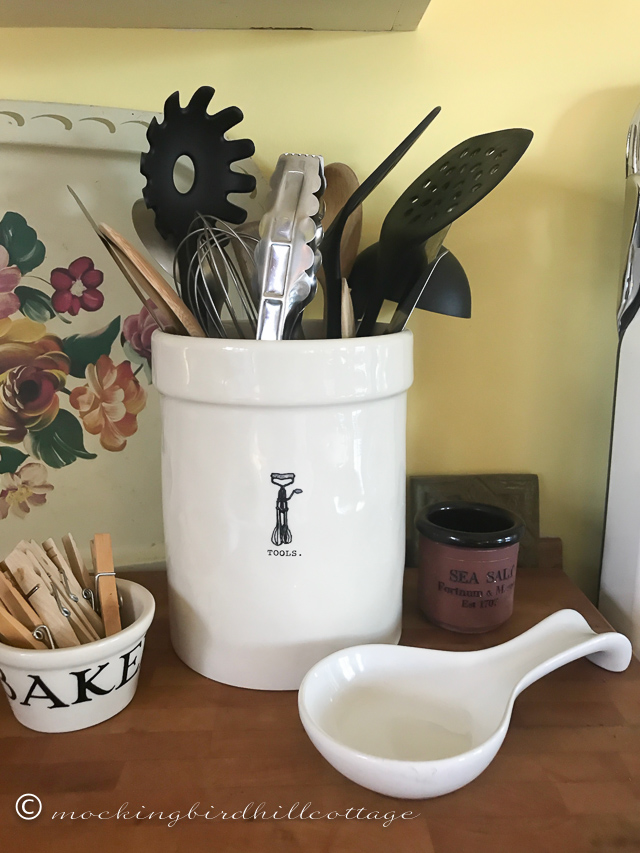 It's another Rae Dunn piece and I hadn't planned on buying any more of them, but I saw this crock at Home Goods. I can't resist fonts and graphics. This one is larger than the previous crock we had been using, which is a good thing. And I've repurposed the other crock as a pot for the ZZ plant I have upstairs.
I'm trying to figure out when I'm going to the city. I have to be here if the temperatures dip, which they will be doing on Tuesday. So I could go in for the weekend, right? But I've just heard from Anastasia  and they want me to check in on the show next week. So I may hold off and go in Tuesday or Wednesday. Then I have to be back by Friday as it's due to snow.
I can't wait for Spring when I won't be tied here due to weather. We're both frustrated by it, but it's the reality that comes with living where we do.
Happy Friday.