The subzero saga continues.
We ordered more oil on Friday. But it wasn't going to get delivered until the end of next week.
Meanwhile, I urged Don to check to see how much heating oil we had left a couple of times to no avail. I can't really fault him; I am also perfectly capable of checking on the level and didn't. Anyway, I was reading someone's Instagram account and they'd run out of oil yesterday, earlier than their scheduled delivery, due to the relentless cold temps causing our oil burners to use a lot more oil than usual.
When Don came home after running some errands, he announced he was checking the oil because he had just talked to a guy who had also run out.
He came back and said we had less than an eighth of a tank left – actually, about a sixteenth. Yikes. He immediately called the emergency number and told them we needed it STAT. But STAT won't be until sometime today. So we turned down the thermostat, bundled ourselves up in layers, and I found my fingerless gloves.
Don snuck in this photo of me in a baggy sweatshirt, wool cap, fingerless gloves, dinner tray on my lap and bundled up in a throw: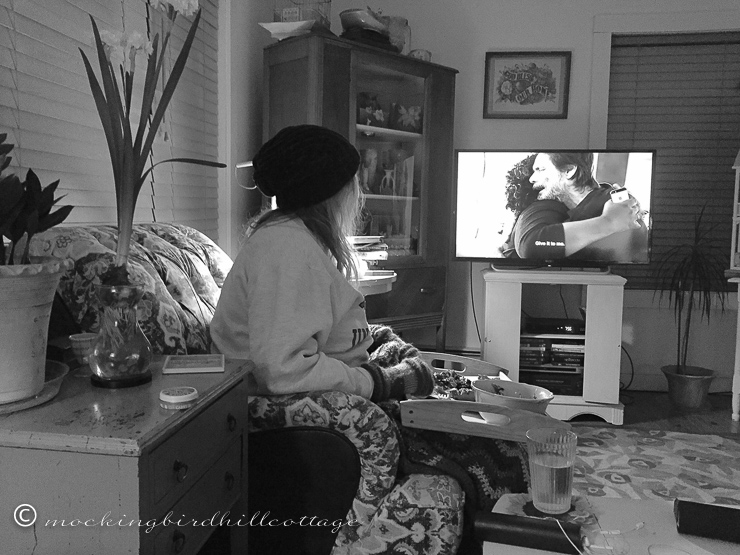 He keeps calling me Apple Annie, after that Damon Runyon character who was immortalized by Bette Davis in the movie Pocketful of Miracles. This morning, I'm in much the same attire, only the sweatshirt is over flannel pajamas.
The good news: we still have heat. We just don't know how long it will be before the oil is delivered today. These guys are working around the clock. There have been hundreds of emergency calls as no one was prepared for this relentless onslaught of subzero temperatures with dangerous wind chills.
One more day, and it will start to gradually warm up. Last night it went down to -12 with wind chills taking it down even more. Today, it's very sunny and we'll hit a balmy 18 degrees! Tomorrow, even warmer.
Yikes.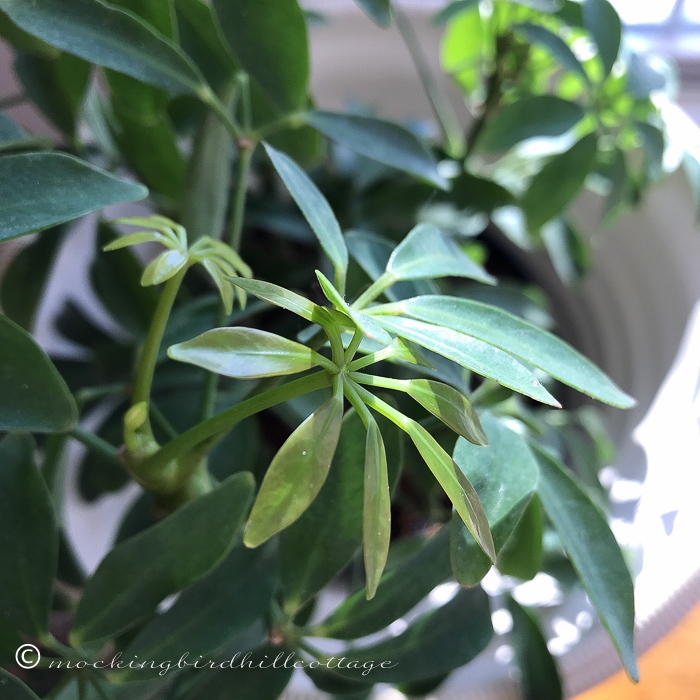 The obligatory greenery. Some new growth on the schefflera.
I'll be very happy when we don't have to run drips all day long. I don't mind doing it at night, but hearing them all day long, forever adjusting the stream, making sure we didn't accidentally turn off the water? I'm over it.
Happy Sunday.