Good morning.
It's going to be a bit warmer today and the sun is shining. Win-win.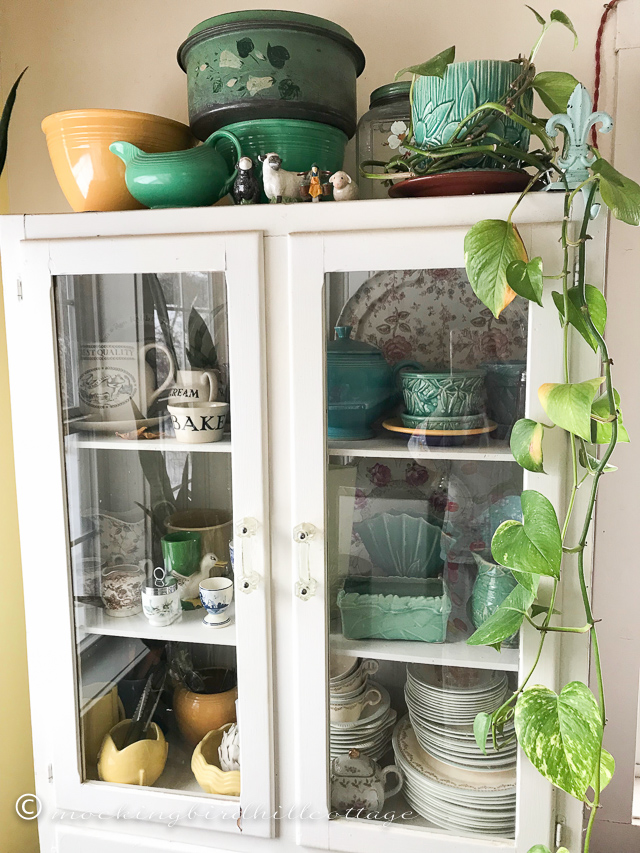 I've been puttering around the house, reading the Fusion GPS transcripts released by Dianne Feinstein yesterday (hero!), waiting to take down the trees (as of this morning Don said I could take them down tomorrow – not today.) His seat of choice is the old loveseat in the living room, where he gets a great view of the tree, so I don't blame him.
January is always a strange month. We've just come off the holidays and now the reality of winter and snow and gray skies and icy roads hits us. Decorations are put away. And we're faced with fact that winter will last well into March, sometimes even to April. Sigh.
Having Don around takes the edge off of January. We've been enjoying our time together before he heads to the city. And that's just around the corner – he starts rehearsals on January 22nd. When you're apart for a few months at a time off and on for the whole year, you don't take each other for granted, that's for sure!
Speaking of being together, we've been so grateful for our chance to watch several new movies via the SAG Awards screeners. So far, we've seen Get Out  (thumbs up), Call Me By Your Name  (thumbs down) , The Big Sick  (thumbs up), Three Billboards Outside Ebbing, Missouri  (thumbs down) and this one: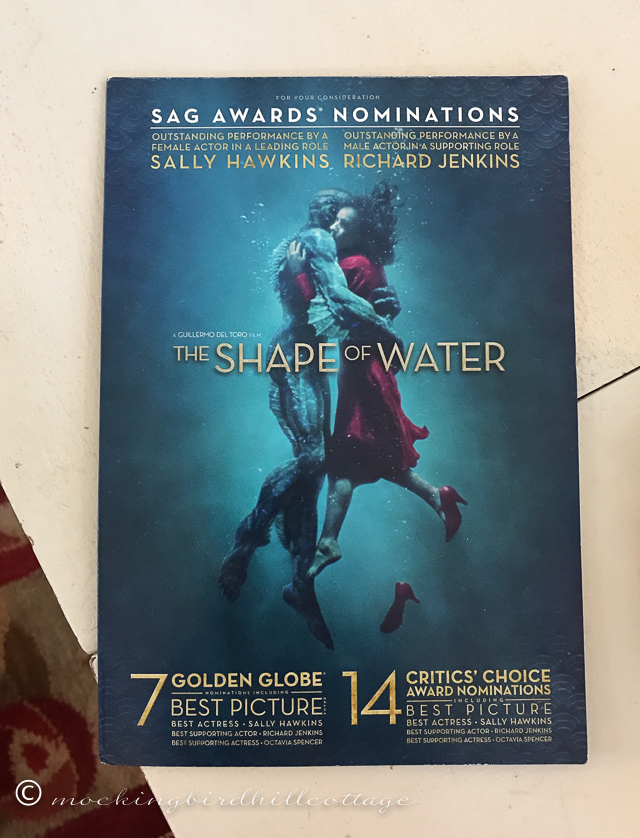 I will quickly run out of superlatives in describing this film. It's wondrous, it's stunning, it's beautiful, it's heartbreaking, it's life-affirming in the best possible way, it's healing. I've never seen anything like it and it has touched me deeply. Same for Don. We couldn't stop talking about it. Everything about it – the story, the production design, the direction, the acting – is superb.
Sally Hawkins is incredible in a non-speaking role that touches your heart. As for the wonderful Richard Jenkins; this may be his finest role to date. He is amazing. Michael Shannon, Octavia Spencer and Michael Stuhlbarg are brilliant. Such brave work from everyone.
The world that Guillermo Del Toro has created is rooted in the real while embracing the fantastical. I loved the look of the film, the world that has been created, the colors, the heightened reality. It's pitch perfect. And the screenplay is beautifully written.
So far, it's my favorite film in years. We're going to watch it again. And, I suspect, again.
See it, my friends, see it.
Today I'm going to clean out the cubbyhole under the stairs so I can put some of the Christmas decorations there and not feel like I'm taking my life in my hands every time I open the door.
Happy Wednesday.