After two days of shoveling 6 inches of snow with a half inch of ice on top (because even though the driveway was plowed, there are a lot of areas the plow can't get to that have to be shoveled) and then unearthing our cars, I went to bed last night wanting nothing but a good night's sleep. However, at 3:30 am I was awoken by the chirp of a smoke detector. We have a lot of them here because the person who flipped the house installed them and then the previous owner added more that are wired into the security system. There are too many of them.
I couldn't figure out which one was chirping. After ten minutes, it stopped. I remained awake for another two hours and finally got back to sleep when, at 6:30 am, it started again. This time I waited it out and fell asleep again only to be awakened at 8:10, when it started again.
I'm on my second cup of coffee and I have a lot to do today but you can be sure that I'm going figure out which one of these frigging smoke detectors needs a new battery.
Meanwhile, it's like Ice Station Zebra out there. Chicago and Michigan, I'm thinking of you. You're supposed to betting up to 20 inches of snow! Hang in there.
The FedEx guy just came and I opened the door to tell him to be careful – some areas are icy despite my best efforts – and he said he's seen much worse. Basically when he's not driving, he's walking on ice all day long. These guys are heroes. I saw the UPS truck delivering in the midst of the heaviest snow during Wednesday's snowstorm.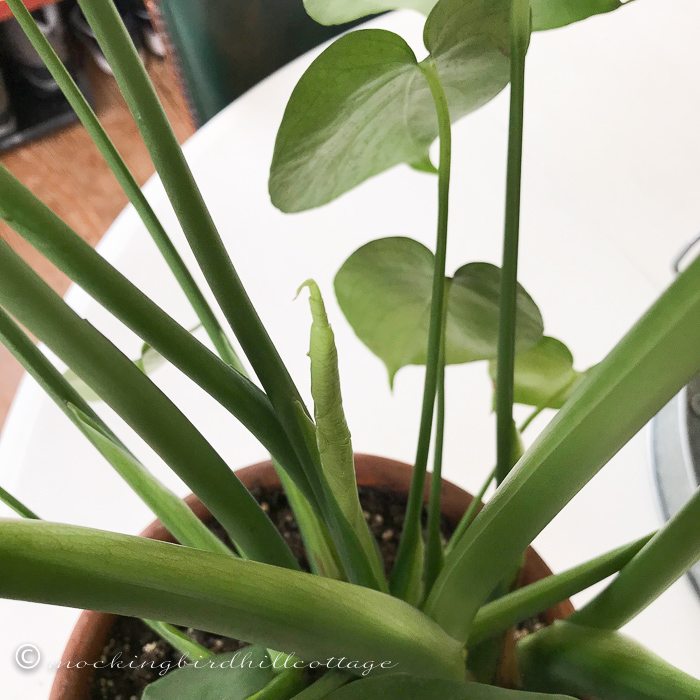 This is all I've got for you. The monstera is having yet another baby! My plants have been fairly prolific this winter.
Thank you for all your loving comments yesterday. It was a much tougher day than I thought it would be and I cried off and on all day long. Don had a hard time, too. But your support helped a great deal. Love you all.
Happy Friday.