As sleep deprived as I was yesterday, I managed to put in a couple of hours work outside. The annual "raking of the driveway gravel which has ended up on the lawn back to the driveway" event took place and I must say it was far less involved than last year. I'm not sure why, because we sure got a heck of a lot of snow and Don was definitely using the snowblower. Oh wait, I know why: we have hardly any gravel left.
Someday, someday, we want to pave the driveway. But that is really expensive.
I raked out the front garden bed – where the boxwood and some rose bushes reside. And I cut back some of the plant stems that were left in place for the birds to munch on over the winter. Then I went back into the house and slept for a half hour while sitting in the chair in the office.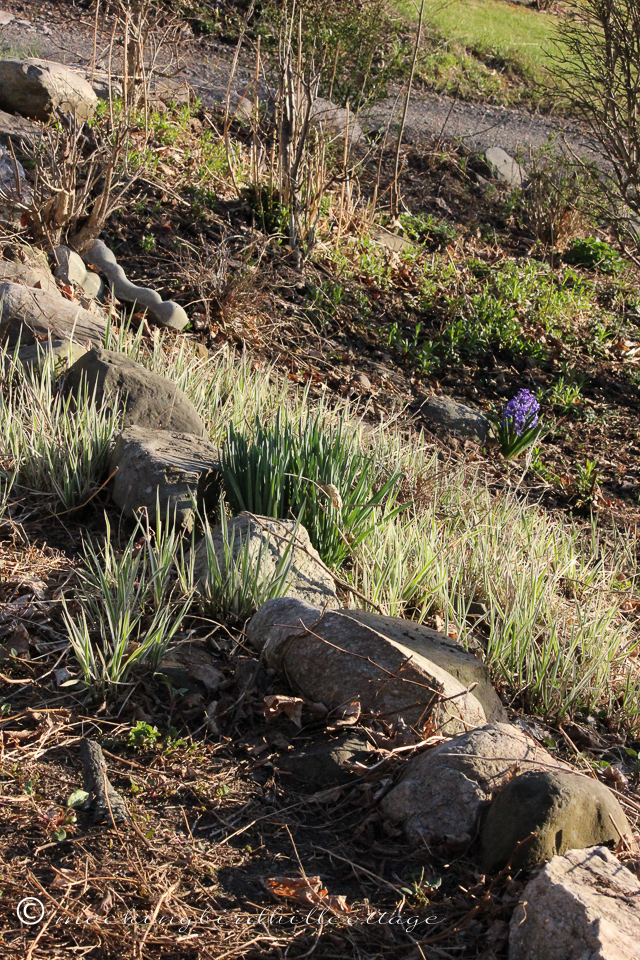 The grasses in the garden are growing by leaps and bounds!
The mail brought two packages I had been waiting for: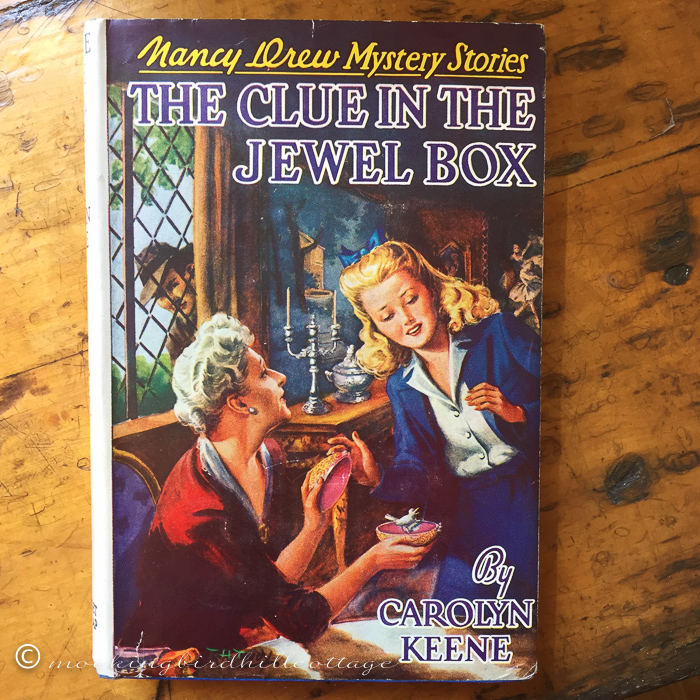 The Clue in the Jewel Box – Nancy Drew #20 – not my twentieth Nancy Drew, but number twenty in the series.
And these adorables: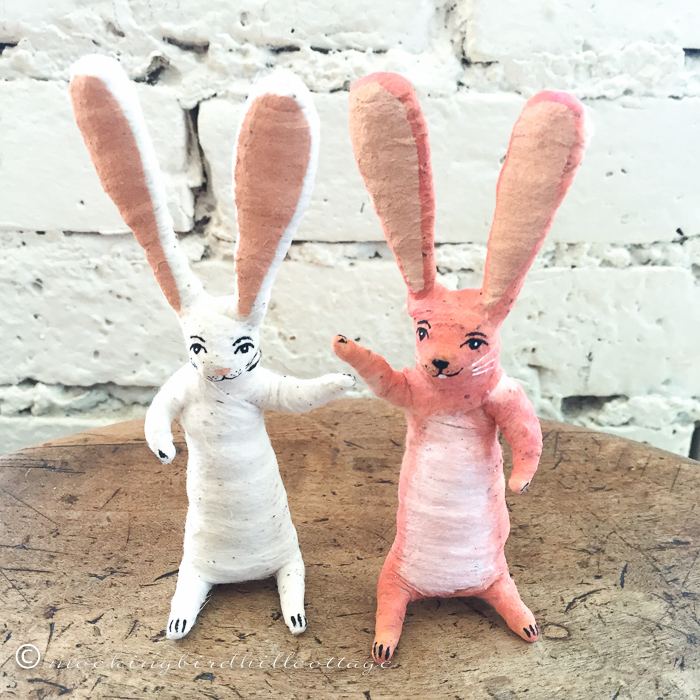 Spun cotton bunny rabbits from Vintage by Crystal – the link to her Etsy shop is here. She has a huge following, but I must have been in some sort of fog because the first I learned of her was last week when Mary Engelbreit posted a couple of Crystal's creations on Instagram. Off I hopped to the Etsy shop, where I was promptly lost in a land of pure whimsical delight. I see many more of her creations in my future because you know, dear readers, this kind of whimsey is right up my alley. And they're small – these are about 4 inches tall. Perfect for a collector in a small cottage.
After this photo op, I moved them – temporarily – to the sideboard.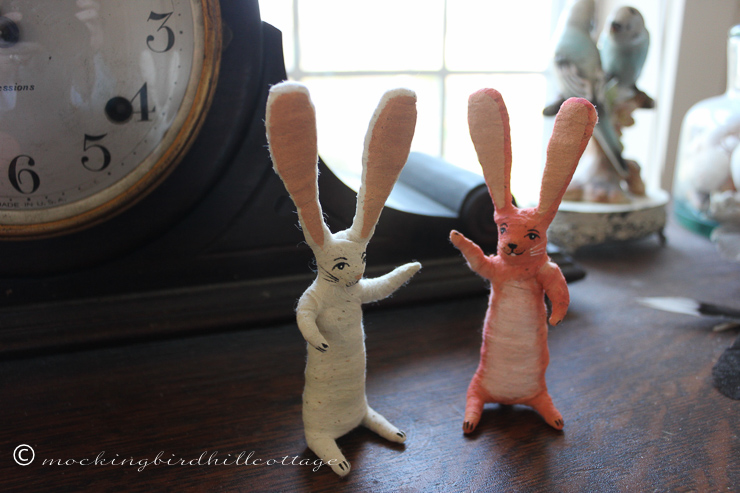 If you've been reading this blog for a long time, you might remember that my mom called me her "pink bunny" when I was a little girl. So, I had to buy the pink bunny and a companion, as well. (I have another wee pink bunny in the office.)
Then later in the day, I remembered my fabric eggs, which are usually stowed in the china cabinet in the den.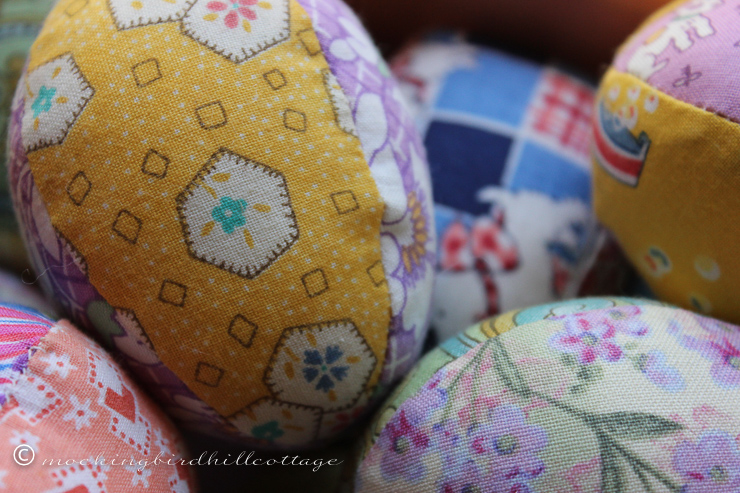 I made a slew of these – gosh, I think it was 8 years ago – when I was working in San Diego for six months. An old friend, who is a costume designer, loaned me her vintage Singer Featherweight while I was there and I proceeded to piece a quilt and make these. (Thanks, Ingrid! That loaner inspired me to buy my very own Featherweight several years later.)
One of the things I am going to do when I'm out in CA is visit my favorite quilt shop ever – Rosie's Calico Cupboard. That's where I got this fabric.
Even later in the day, I saw my favorite pair of birds.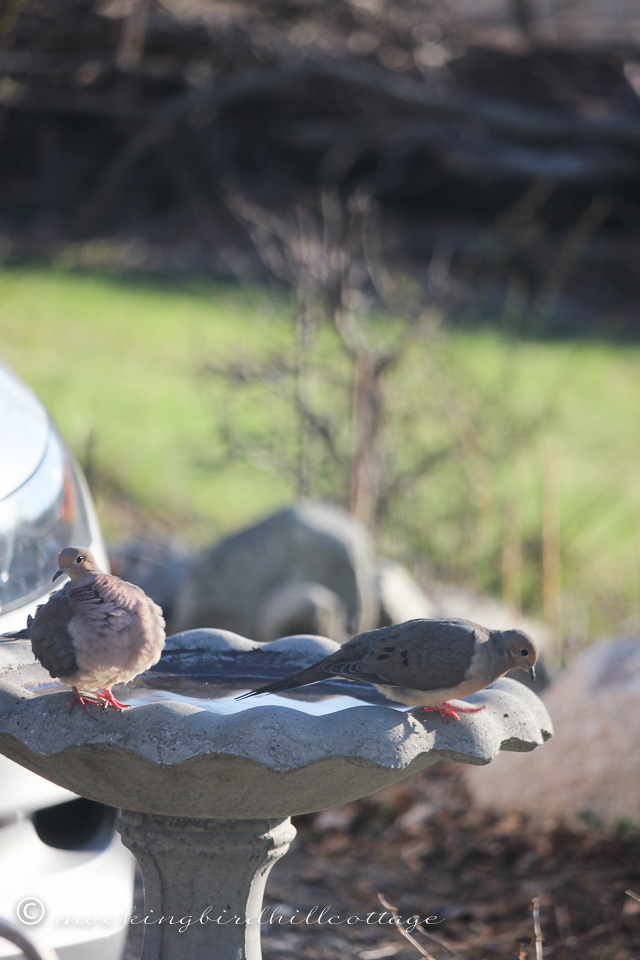 While they were perched on the edge of the birdbath, a blue jay kept squawking at them. I'm sure he wanted them to move so he could have a drink.
They completely ignored him. Bravo!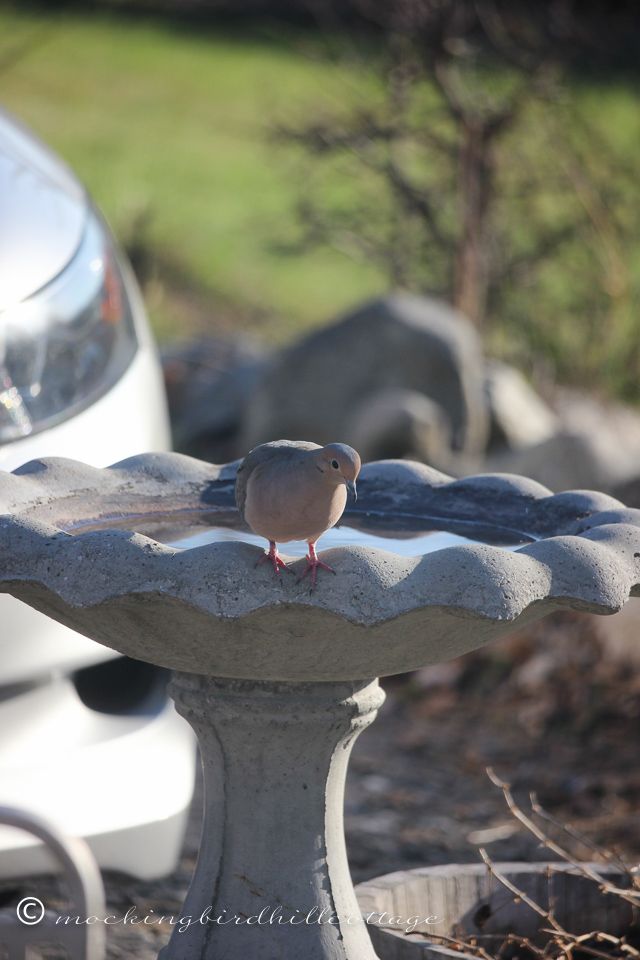 Eventually, one jumped down to the ground and the other prepared to follow.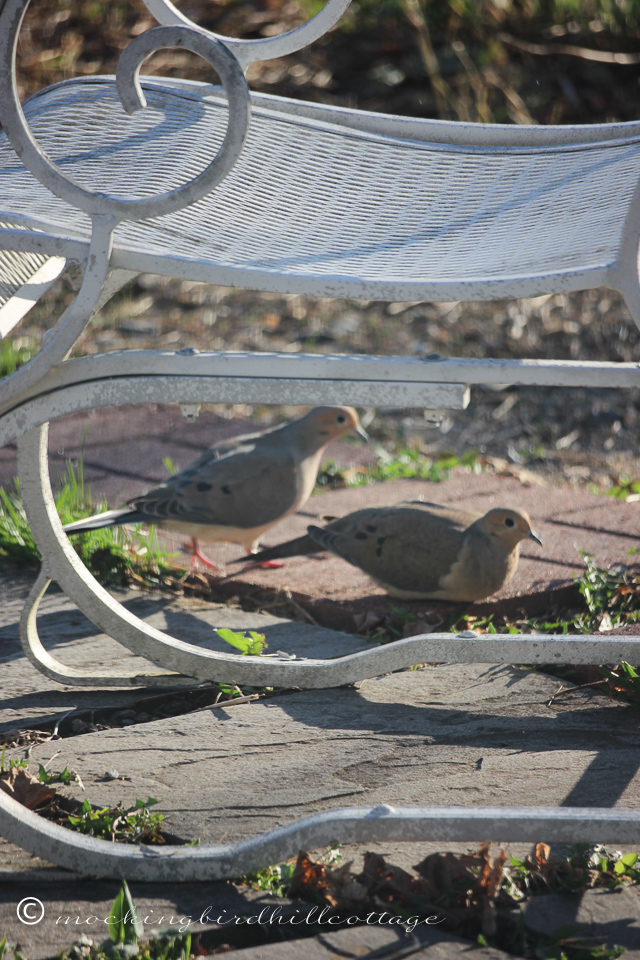 And then, to their perch on a catalpa branch.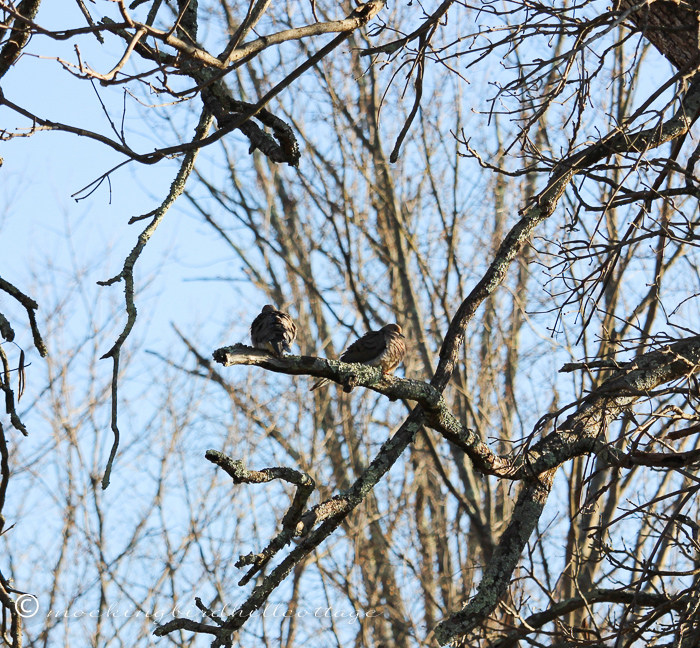 They stayed there, gentle and peaceful, for about an hour.
This morning, birds were everywhere: Canada Geese flying overhead, red house finches, robins, wrens, a starling with the makings of a nest in his/her beak.
Goodness, I love this time of year.
I'm off to gather together the trash and recyclables for a trip to the town transfer station. And then, I think, a visit to a plant nursery that I like over in Rhinebeck.
Happy Saturday.