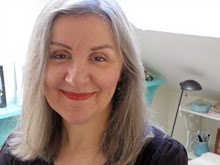 Welcome to Mockingbird Hill Cottage. I'm Claudia and I've been blogging for 7 years. I'm a former actress and theatre professor specializing in voice, speech, text, Shakespeare and dialects. I have been lucky enough to teach at two of the best actor training schools in the country. I now freelance as a Voice/Speech/Dialect/Text Coach for the theater. I've worked On and Off-Broadway, at regional theaters throughout the country and with private clients. My husband is an actor and a singer-songwriter. We live in the country with our dog, Scout. We said goodbye to our other beloved dog, Riley, in August of 2012. His photo will remain in its place of honor on my sidebar.
I'm not a niche blogger, nor will I ever be. That may not get me the stats I'd like, but it's the truth. I have so many interests and passions that I would be bored out of my mind if I had to stick to just one. I want to share it all with you: gardening, animals, animal rights, collecting, vintage anything, reading, on-the-road adventures, social causes I believe in, photography, decorating, crocheting, quilting, embroidering, DIY and re-purposing – along with an occasional plea for civility, kindness, and compassion. And all of it shared through a great passion of mine: writing. This blog, a glimpse into our life at Mockingbird Hill Cottage, gives me the opportunity to do just that.
I love reading and books, especially the three dimensional kind. I'm a strong supporter of libraries and Independent Bookstores. I also write book reviews. You can find the most recent ones under Book Reviews in the Navigation Bar.
I'm so glad you stopped by.
If you would like to contact me, drop an email to: Claudiasparks444(at)yahoo(dot)com
Please note: I do not accept guest posts. Since this blog is about my life, I have no need to do so. I am the sole author of this blog. Thank you.