I see Spring Home Tours sprouting up all over the Internet.
Here's mine: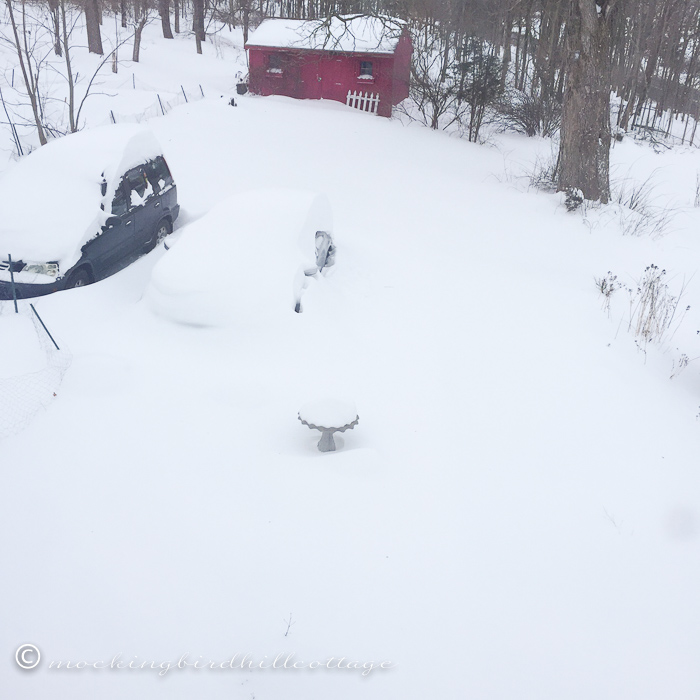 The car on the right, completely buried under the snow, is mine. When we moved some snow away from the kitchen door so we could fully open it, I grabbed the tape measure.
22 inches. Just under two feet.
All day long the winds blew, the snow fell – sometimes at a rate of 3-4 inches per hour – and it covered our windows so completely that we couldn't see outside.
We have a heck of a lot of cleanup to do today.
The good news: the aforementioned delivery of heating oil and…we never lost power. At one point in the late morning, the lights started to blink. Don was in the shower, so I shouted that he'd better finish quickly. (Since the water pump is electric, if we lose power, we lose water.) Amazingly, that was the only scare we had.
I know some places – NYC for instance – didn't get quite as much snow as expected. Trust me, we did, and then some. Toward the end of the week, the temperature is going to hit 40 degrees and it will start melting, but it's going to take a while for all of this to disappear.
Don's thinking he'll leave on Saturday. We need a couple of days to get him ready since we lost two days this week.
In the meantime, I added a few items to the gallery wall: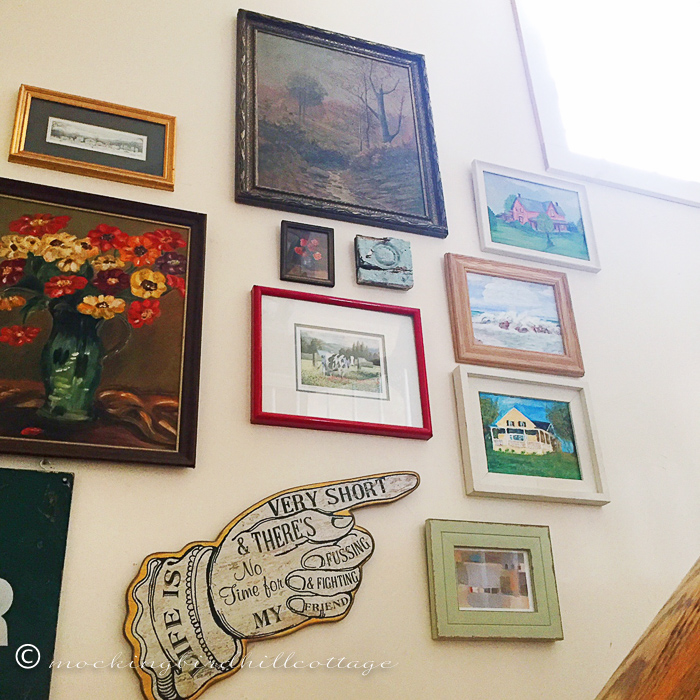 I read, I went online. I looked out the window repeatedly. I ate: apple pie for Pi Day.
And I finally did some hand quilting: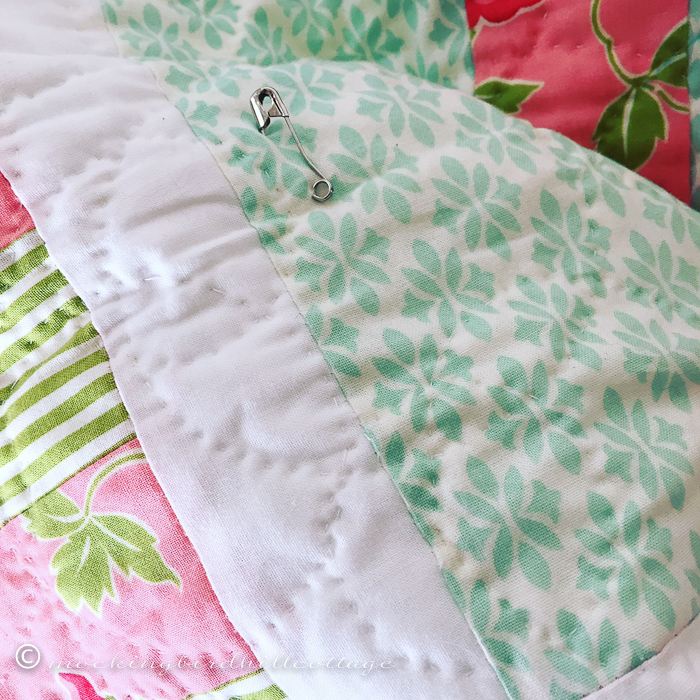 Since the quilt design is very linear, I'm quilting interlocking circles of varying sizes. Nothing plotted out, just whatever I want to do at the moment. It's taking me a bit of time to get back into that hand quilting rhythm. I like my stitches to be fairly even, but it takes a while to get there. I don't know how long it's been since I worked on this, but I know that at the very least, it's been since last year. When I opened up the quilt, my 'memory' of having done a fair amount proved to be untrue. I have a lot to do! A good project when I get back from NYC and have to fill my evenings without Don.
Okay. Have to eat some oatmeal and suit up for shoveling.
I have some gardening books that I'm going to review over the next week. First up: tomorrow.
Happy Wednesday.