A low-key day yesterday – just me, myself and I.
Since I was so pooped from the air conditioner/mowing saga on Saturday, I took the opportunity to relax. It was very, very warm outside and, as seems to be the case when it gets too warm too early, the winds picked up in the late afternoon, getting stronger and stronger until a storm finally came through.
Now it's twenty degrees cooler.
I watched my man Fred Astaire in Easter Parade  on TCM. I own the movie, but love it when I come upon it unexpectedly. Fred Astaire, Judy Garland, Ann Miller, Peter Lawford – wonderful cast, beautiful Irving Berlin songs, "Steppin Out With My Baby" – what could be better?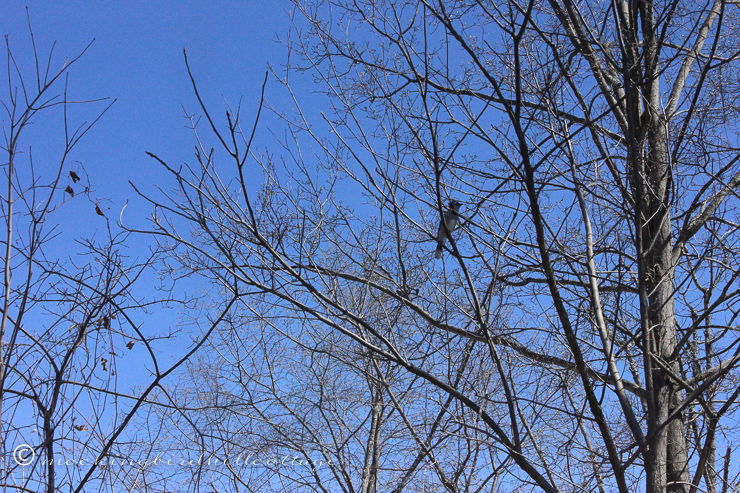 The blue jay that kept squawking at the mourning doves. From his perch in this tree behind the kitchen, he had a perfect view of the birdbath.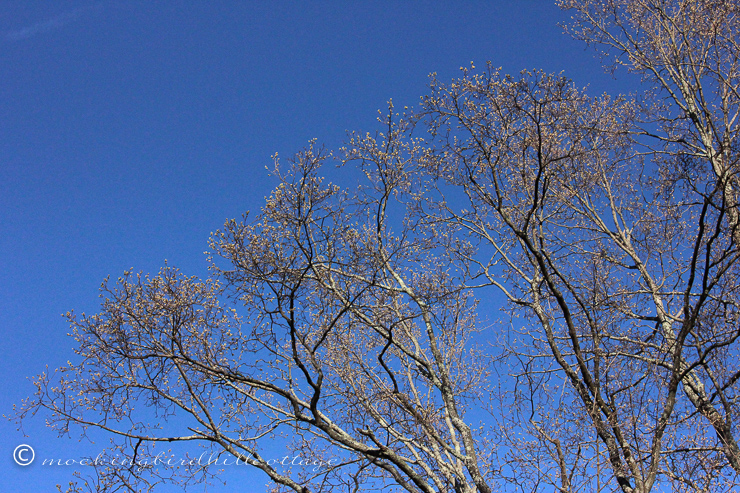 The maples are budding.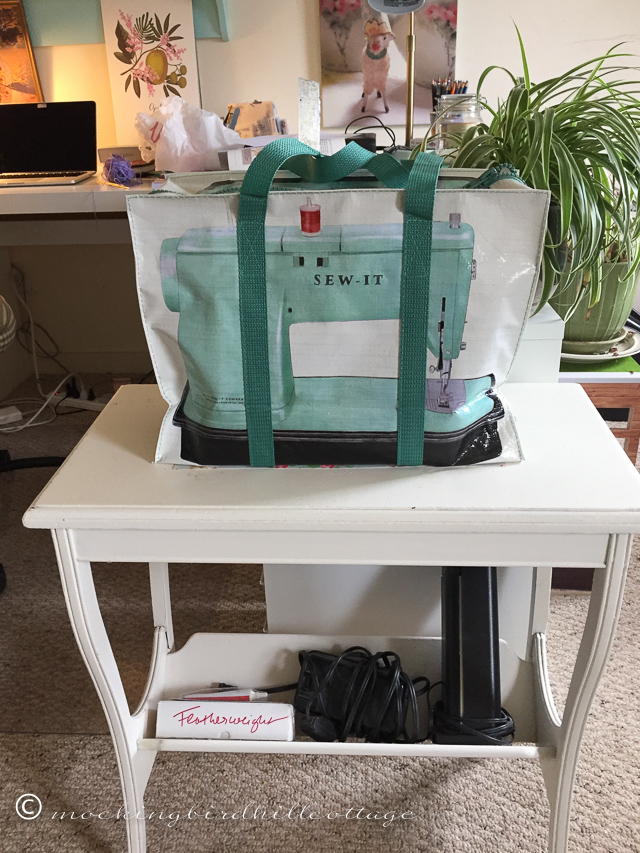 I saw this bag at my local yarn shop. It's made by the same company that made my new pencil bag – they're out of Pittsfield, Massachusetts. I thought it would be perfect for Mabel the Featherweight. Even though I made a cover for Mabel, because of the way it's made, dust creeps in at the sides of the cover. I don't want to put Mabel back in her original case because, like most Featherweight cases, it is musty after years of being stowed in someone's attic.
Isn't it cute? I'd secretly love an aqua sewing machine, but I already have two sewing machines, so I think I have to let that idea go.
The bunny egg cozy so far: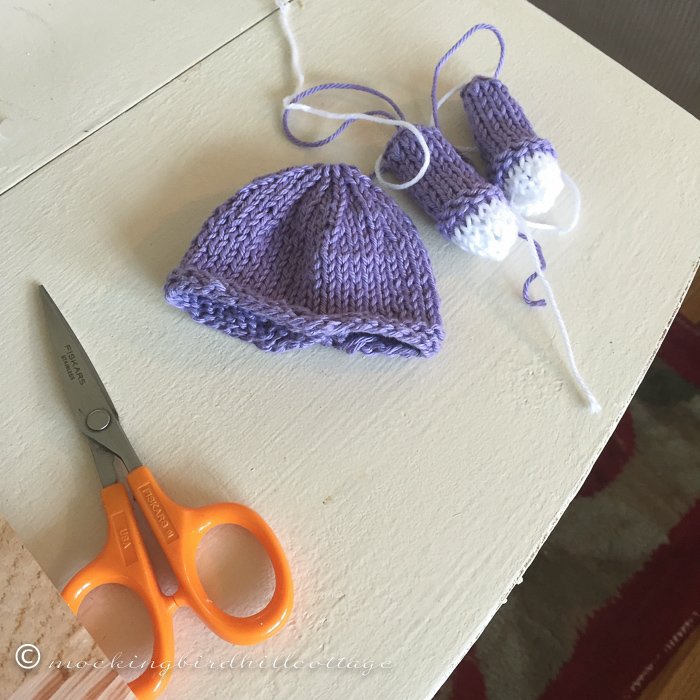 Body and arms. I'm using tiny needles – number 2 – and have to keep looking up how to execute a stitch or an increase or a decrease because I haven't knitted in a long time. My bunny will be white, simply because that's what was available at Michael's. I wasn't about to use expensive yarn for this experiment!
Anastasia opens a week from today. Yesterday, while HGTV was on as background noise when I was knitting, I heard the opening notes to Journey to the Past  and my head shot up. Yay! It was the commercial for Anastasia, which has just started airing. Christy's glorious voice singing and very simple and powerful – I'm very proud to have been a small part of this show. And it is a small part, given how much goes into producing a big musical. I'll be going to the opening and I think I'll try to book a hotel room in the city for Monday night.
Speaking of HGTV, despite my unhappiness with most of the programming, I do have a fondness for Erin and Ben, the couple behind Home Town. I've read Erin's blog for years, so I've been pulling for them as this opportunity came their way. They're just so genuine – not an ounce of slickness or artifice – and I really like the fact that Erin's decorating style honors the house they are rehabbing and isn't something she imposes on the house, if you know what I mean.
Okay. At some point this week, I have to find shoes to wear for opening night and when you're someone who lives in sneakers and hates heels, that is a challenge.
Happy Monday.