We're in a fairly humid stretch here in the Hudson Valley – I thought those days were past, silly me! And we're due for some very warm temperatures for the rest of the week. Oh, September, you fickle month, you!
A big chunk of time was spent in the waiting room of the car dealership yesterday. Oh, how I wanted to escape! The television was on – turned to the NYC Fox affiliate – as news was breaking about the capture of the man who was behind the bombs in the city and in New Jersey. I was happy to know he'd been caught, of course, but I had to listen to endless filler as the anchors 'guessed' and 'supposed' to fill time until they actually knew the facts. When an 'ex-FBI agent' got on the horn and decided to use his questionable expertise to attack Democrats and Obama when the breaking news had nothing to do with them; and said something like 'they let this guy in this country,' when in actuality, he immigrated with his family at the age of seven, I had to get up and move far, far away. Too many people with a political agenda spouting off when they don't know what they're talking about.
Another reason I don't watch that crap at home. Being a captive audience did not make me happy. Fortunately, just after I moved, a woman asked one of the staff to change the channel. To Seinfeld. Sigh of relief.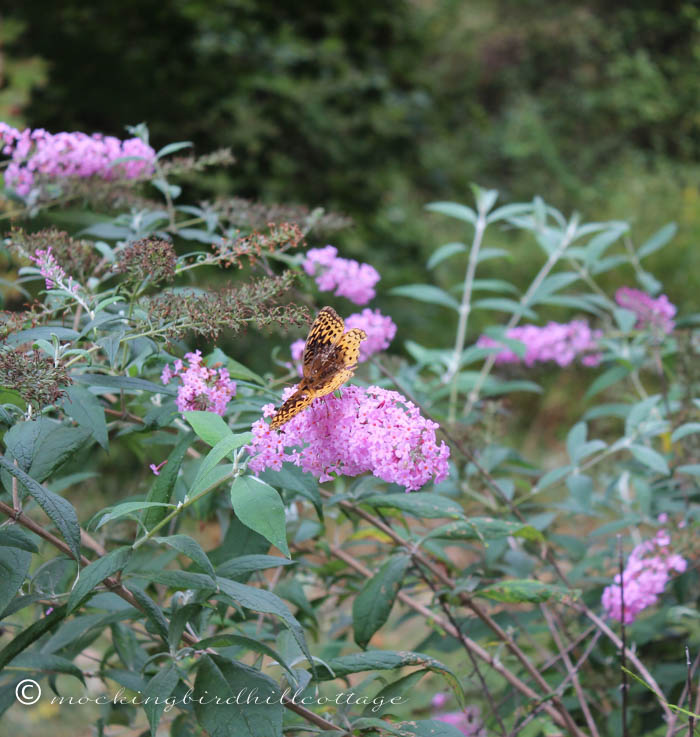 A great spangled fritillary on the butterfly bush yesterday afternoon.
And this guy spun a complex web that extended from the porch railing to the gutter.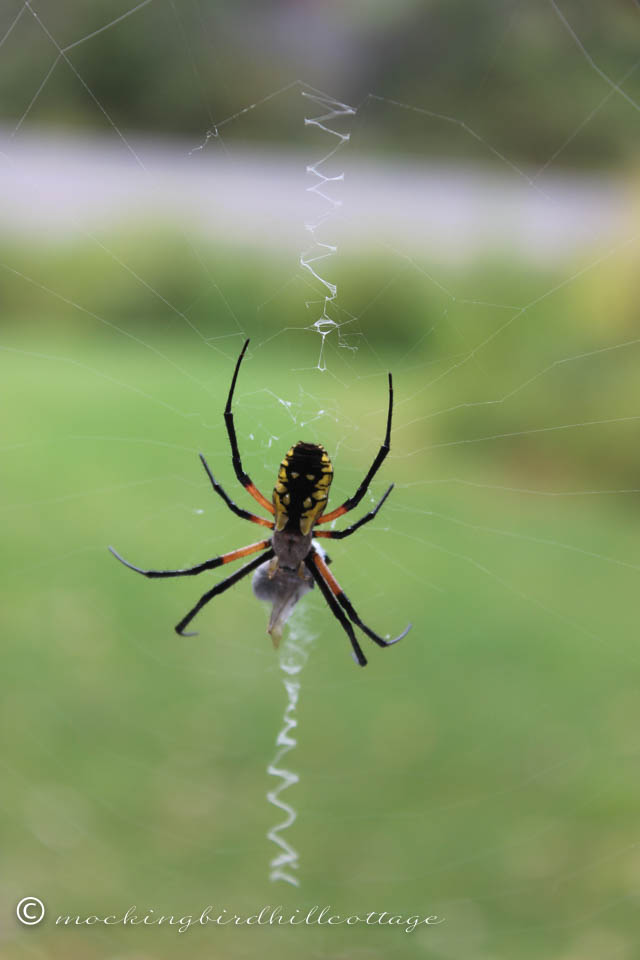 The black and yellow garden spider. You can see that he'd caught his prey and was protecting it. I saw a little gnat caught in the web, over on the edge, so I freed it. That didn't make my spider friend happy, but I figured he had enough food for dinner.
He promptly moved very quickly to the edge of his web, presumably to guard against intruders.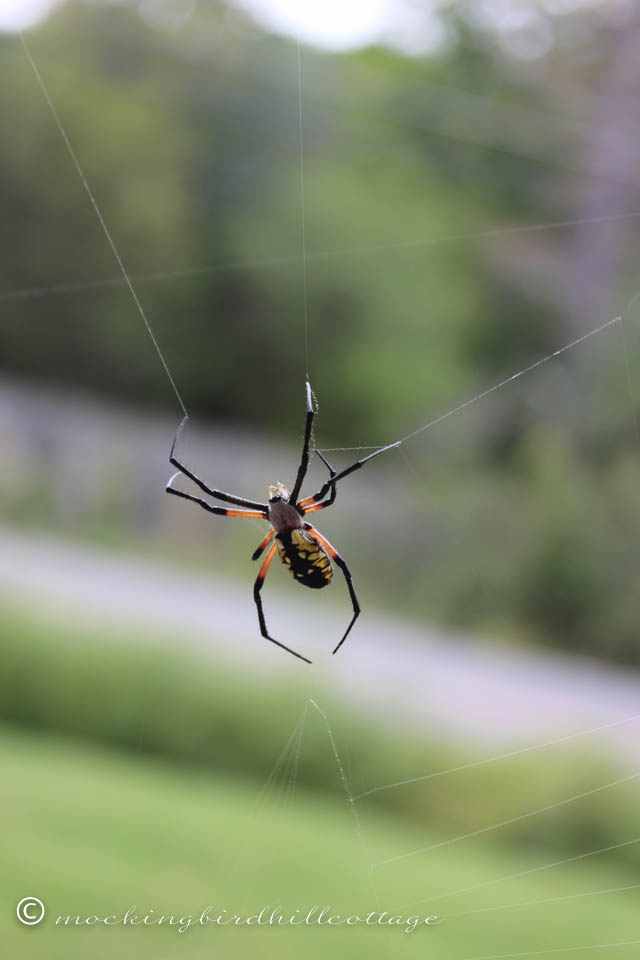 Don came out to take a look. These guys are fascinating. I usually see them in the garden or down by the culvert. They spin this complicated web, with that seam you can see in the first photo, and then take it all down again rather quickly. I checked this morning. It's gone.
If you're squeamish, sorry! But really, you're looking at a photo. Not the real thing!
Morning Glories to soothe the soul: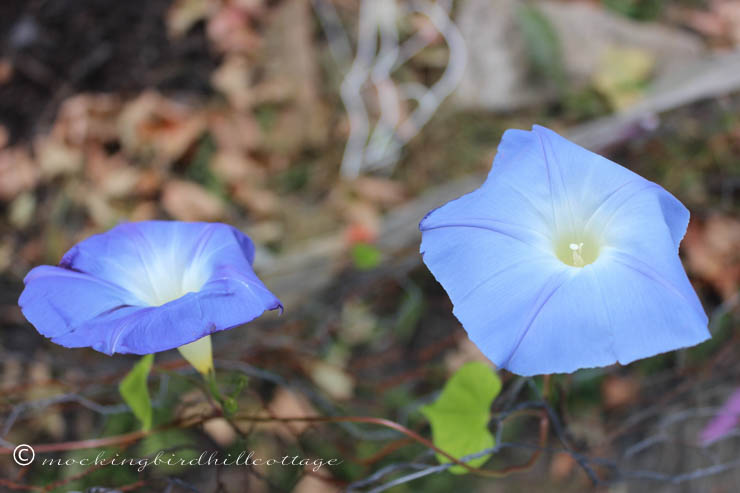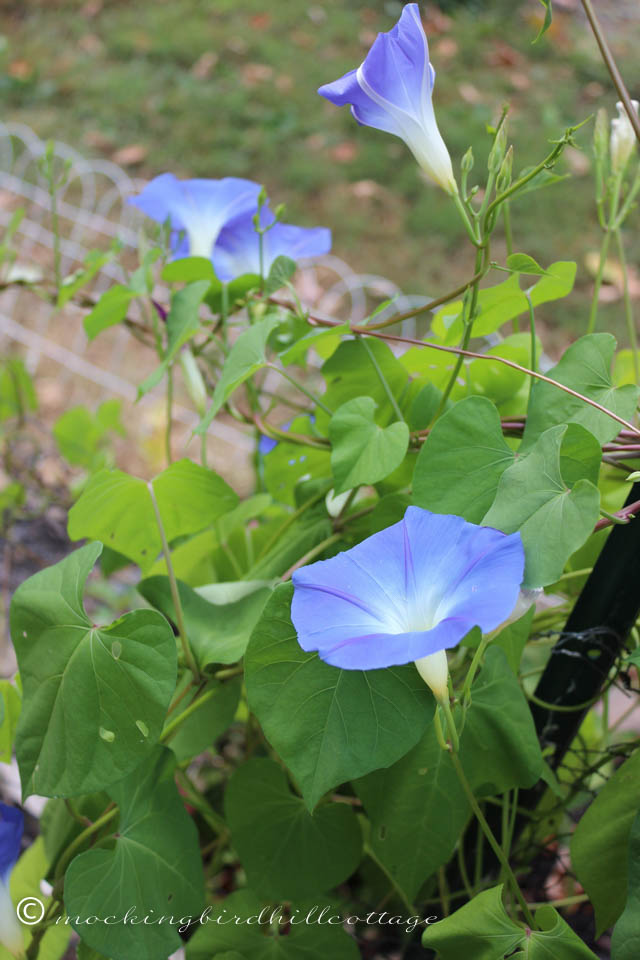 They're still blooming!
Louise Penny's beloved husband, Michael, passed away yesterday after a long battle with Alzheimer's Disease. Louise and Michael showed us what true love is throughout this challenge, with a steadfast devotion that was unending as they made this journey together. May he rest in peace.
Happy Tuesday.