Tarts.
And congestion. And Christmas lights. Those three things were the theme of the day yesterday. (I'm feeling a bit better this morning, by the way.)
Side note: Why is it that I can't go two Christmases in a row with all the lights on the strings actually working? I bought lights last year that would keep shining even if one or two stopped working and that's good, but nonetheless, they look uneven. I'll probably replace them this week.
Anyway, I ran to the store to buy Karo Syrup and some regular corn syrup because I wasn't sure which one I'd use. I had only made my grandmother's recipe once but Karo Syrup kept coming back to me as something that was on that recipe card. I've spent the last several days researching anything and everything butter tarts and I finally found a recipe that uses corn syrup. I pulled my leftover half of the pie dough out of the refrigerator, rolled it out, and started cutting out 4″ rounds with a cafe latte mug I have on hand because I don't have a cookie cutter in that size. And then I made the filling using the karo syrup. After they were done, I let them cool for quite a long time and then…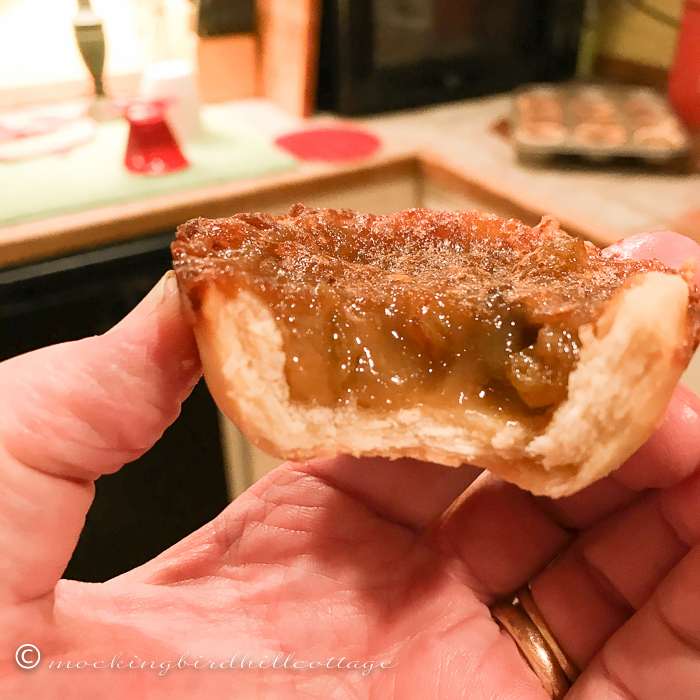 Danged if I didn't make a tart just like my Grandma's! I was so happy! I immediately texted a photo of the tart to Don, who is now looking forward not only to coming home today, but to eating one or two tarts.
Much was said on the internet about Canadians being divided about whether they liked their butter tart filling firm or slightly runny. Gram's were slightly runny and that's what I prefer, so it's all in the length of time you cook them.
Okay. I've pieced together a recipe and credit goes to LittleSweetBaker for the crust and Genius Kitchen for the filling. You can, of course, use any pie crust recipe.
Butter Tarts a là My Grandmother
Pastry
3 cups all-purpose flour, more for dusting
½ tsp baking powder
½ tsp salt
¼ cup lard (I used vegetable shortening – lard is made from pig fat)
¼ cup unsalted butter
1 large egg
1 tsp white vinegar
about 1 cup of cold water
Filling
½ cup raisins
¼ cup soft butter
¼ cup packed brown sugar
1 pinch of salt
½ cup corn syrup (I used Karo Syrup)
1 egg, lightly beaten
½ teaspoon of vanilla
Instructions for pastry:
In a large bowl, toss together the flour, baking powder and salt. Cut in the lard (shortening) and butter using a pastry blender or two knives until mixture resembles coarse oatmeal.
In a measuring cup, combine the egg and vinegar. Add enough cold water to make one cup.
Gradually stir in the liquid, adding just enough to make the dough cling together. Gather into a ball and divide into two equal portions. Tightly saran wrap both portions, place one in freezer for later use. Place the other in the refrigerator and chill for one hour.
Roll out the dough on a lightly floured surface to about 1/8″ thick. Cut out pastry circles using a 4″ pastry cutter and fit into your muffin cups. Place back into the refrigerator until ready to fill.
Instructions for filling:
Place raisins in a small bowl and cover with hot tap water. Let stand on the counter for 30 minutes.
In large bowl, using a wooden spoon, mix together the soft butter, brown sugar, salt and corn syrup; stir well until sugar is dissolved and butter is creamed.
Add egg and vanilla and mix well.
Drain raisins.
Retrieve tart shells and divided raisins equally into all shells; then divide butter mixture into all tarts.
Bake at 400 degrees for 15-20 minutes; filling will be lightly browned but still bubbling.
If you like runny, gooey filling bake them for less than 20 minutes. I baked them for 15 minutes. If you like a firm filling, bake them for the full 20 minutes.
____________________________________________
A few notes: This recipe specifies raisins, but I know some prefer pecans or walnuts. That's up to you. Raisins, or currants, are what my grandmother used. (That reminds me, she also made something  called Currant Cakes which were my absolute favorite. I, of course, no longer have that recipe, either! Time for another search.)
The recipe calls for dividing the dough into two sections and freezing one. I didn't have enough dough for 12 muffin cups when I did that. So next time, I will keep all the dough on hand, use what I need and freeze what remains. Gram's always had a thickish crust, but I found myself having to roll them into an even thinner crust because I'd divided the dough and only had so much on hand.
Be careful how much butter filling you pour into each tart. I poured a bit too much, probably because I had less tarts to fill, and it ran over in some cases. I'd say to go for about half full.
There you go. Enjoy! I know I am. (They're very rich, by the way.)
Happy Sunday.