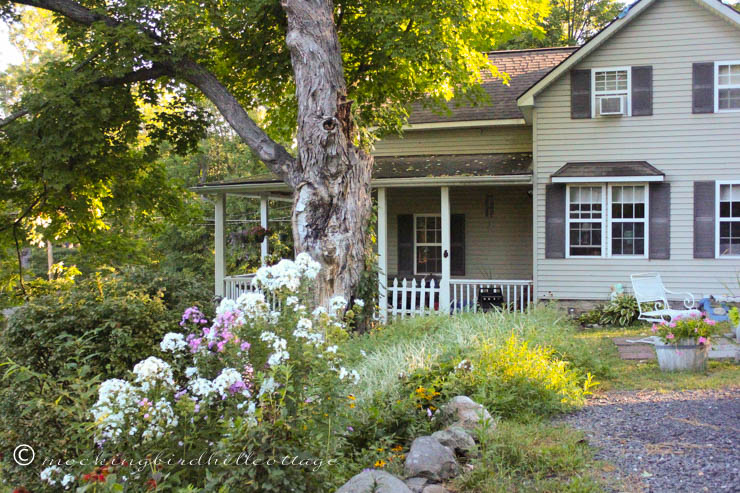 I popped outside in my pajamas to take these photos on this very morning.
Because we moved into this cottage eleven years ago today.
What???
It doesn't seem possible. Don had a very tough time as a kid, with several moves to increasingly less-than-welcoming places to live, then went on to live the life of an itinerant actor for many years, living a year or two here, a year or two there. When I met him, his possessions were contained within exactly two boxes.
I, on the other hand, lived in my childhood home for a long time, but once I moved out, I was also rather nomad-ish. The dorm, of course, then an apartment and then a house during undergraduate years. Then a house rental with friends after graduation. Then another rental until I moved away to grad school in Philadelphia. Five years in Philadelphia all told (three different apartments during that time), and five years in Boston (two different apartments), then a move to San Diego (one apartment, and a house rental – the house rental occurring when Don and I moved in together.)
I'd lived in thirteen different abodes, three of them the tiniest studio apartments you ever did see.
Then the big move out East and another rental for four years (that made fourteen for me) on the other side of the Hudson River.
We worked in the Arts. We freelanced. Our income fluctuated from month to month. Nonetheless, we wanted a house. We couldn't even begin to contemplate how much money we'd sunk into rent over our lifetimes. We didn't want to. So we started our search.
Then by the skin of our teeth, after looking everywhere north of pricey Westchester County where we had been renting, we ended up in a new-to-us area of the Hudson Valley. We found this cottage.
We had looked at countless houses – most of them incredibly disappointing, some downright scary. We had a tight budget – you're not surprised by that, are you? We were discouraged. And then, one Friday, our realtor emailed us the listing for this cottage. We saw the wide plank pine floors. We saw the porch. The price had just been reduced. We wanted to see it right away. But we had to wait until Monday.
When we finally pulled up to the property (owned by a weekender) the grass was way overgrown, and a tree had fallen across the area where the corrals are. We made our way to the front door.
On the way to the front door was the wrap-around bluestone porch and I stopped in my tracks. An inveterate porch lover, I couldn't believe my eyes. Don, on the other hand, had gone into the house, making a beeline for the kitchen where the high ceilings made his 6′ 4½" heart sing. Light was pouring through the windows.
We had a list of absolute necessities. Attic, three bedrooms, basement and garage.
It didn't have an attic. It had a barely functional wet basement that was entered from outside. It didn't have a garage, though it did have a shed. It didn't have three bedrooms. It had two.
But we fell in love.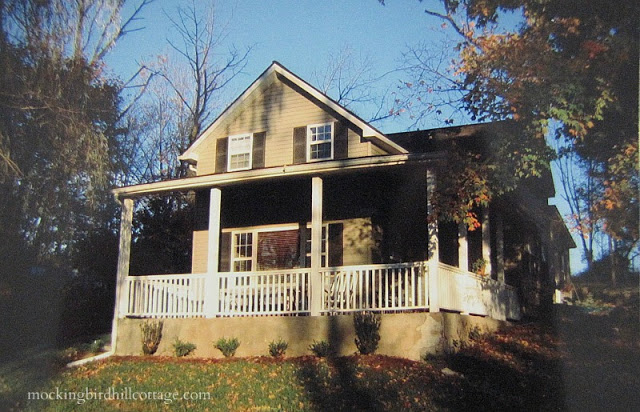 The cottage as it looked a couple months after we moved in – in 2005.
And now: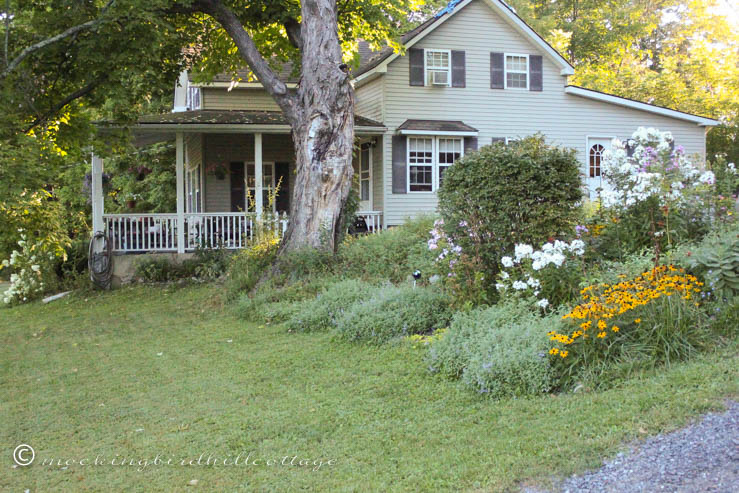 The fact is, we probably couldn't have got that loan for the mortgage after the market crashed. We got in just in time. Our mortgage payment is hefty. And our house isn't worth what we paid for it.
Those are things that can drive me nuts if I let them, but I don't. Because we're so damned grateful for this little haven of ours, this adored cottage that we christened Mockingbird Hill Cottage.
For Don, the very fact that he has lived in one place for eleven years is mind-boggling. For both of us, the fact that we have managed to come up with the mortgage payment every month for eleven years is nothing short of a miracle. And believe me, there were times when we weren't sure we could.
So today, I offer up a toast to Mockingbird Hill Cottage, our home. (It also spawned this blog, by the way; I doubt I would have started a blog without it.) It has made my nesting heart very happy, indeed.
Happy Anniversary, MHC!
Happy Tuesday.