• I'm not sure when this feature was added, but my iPhone 7 plus has a 'portrait' mode. I am quite taken with it.
Here is a normal shot: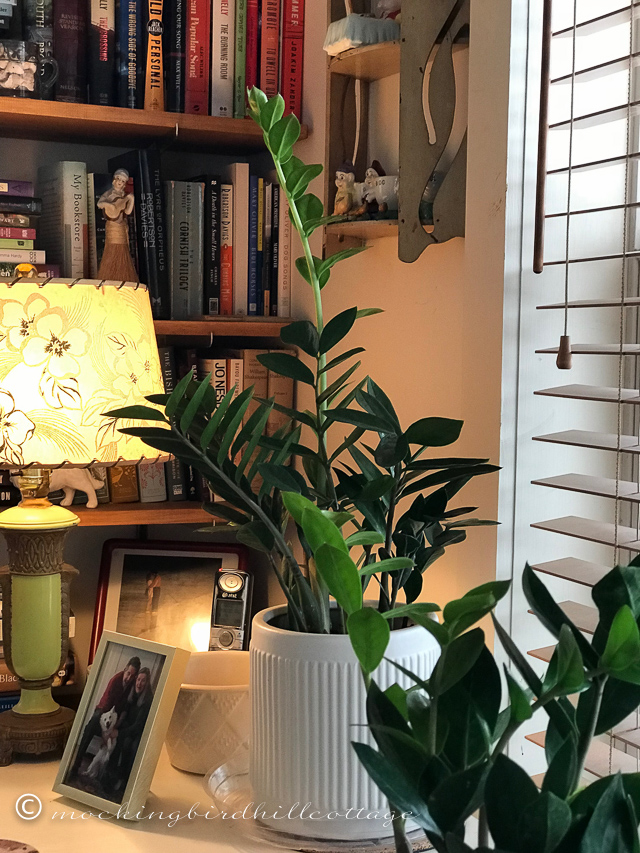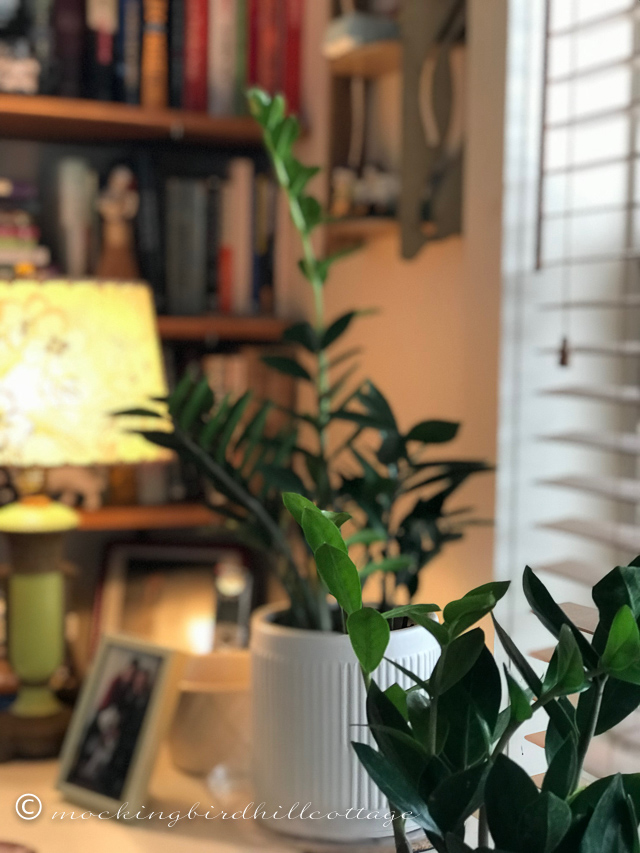 And here is portrait mode, which allows me to focus on the ZZ in the foreground. Everything else gets softened.
I like it.
• Rest in Peace, John Mahoney. He was such a wonderful actor. He didn't start acting until later in  life, gaining fame from a production of John Guare's House of Blue Leaves  that ran on Broadway in the 80s (also starring Swoosie Kurtz, Christine Baranski, Stockard Channing, and Ben Stiller.) That lead to his run on Frasier. Don worked with him on that show and said he was incredibly kind and nice; a good man.
• I managed to get rid of a lot of the ice on the driveway yesterday, enabling my escape to Lowes where I bought four 50 pound bags of salt. Needless to say, after getting them in my cart and then transporting them one by one to my porch, my back was in complaint mode. It's been snowing this morning, but tomorrow is the big storm, which will bring several inches of snow along with freezing rain and ice. Help!
• There is going to be revival of the groundbreaking play, The Boys in the Band,  which will open on Broadway at some point this year. I'm proud to say that two of the nine actors are former students of mine: Jim Parsons and Brian Hutchison. Actually, now that you 'know' Rick, I should say "former students of ours." We can't take credit for their talent, but we can take credit for recognizing it when they auditioned for our MFA Acting program. We accepted both of them without hesitation. I'm so proud of them and prouder still that they are my friends to this day. You'd better believe we're going to be in that audience.
• For those of you who are in the Resistance, I want to recommend a woman who has a page on Facebook. Some of you may already know of her – Elizabeth Cronise McLaughlin. She's a lawyer, an activist and very, very smart. I've found her daily Resistance Live broadcasts (at 11 am) to be a source of calm and lots of helpful information. She knows the legal world and she somehow manages to cut through all the speculation and fear that's seems to be a part of any given day in this administration with clarity and passion. Just go to Facebook and search for Elizabeth Cronise McLaughlin/Resistance Live.
Okay. it's stopped snowing. Oh goody, not only do I have to shovel tomorrow and Thursday, but I get to shovel today, as well!
Happy Tuesday.