I've been sticking close to home while the remnants of this 'whatever-it-is' are still hanging around. I'm finally feeling stronger and have more energy, so I was looking forward to getting out and running some errands yesterday. Don left the house first, then about 10 minutes later, I went out the door, only to find that the battery on my car had died. It was unbelievably cold out and I tried and tried, but I finally went back inside and texted Don and then called our emergency road service. About an hour after that, a guy arrived who jumped started the battery and then I spent the next hour at Mavis Discount Tire (about two miles from our house) where they replaced the battery.
Curses! Since my dad gave us this car, I had no idea how old the battery was, so my instinct was to just get a new one and then the guys at the shop confirmed it was bad, so now it's a done deal.
A day spent on car problems is never a fulfilling day.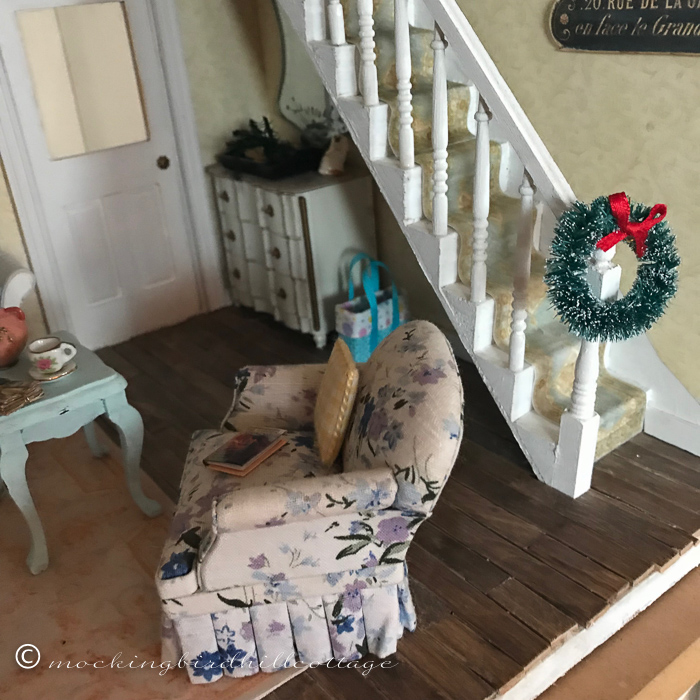 More pictures of Caroline's abode. There are some pine boughs on the cabinet by the door.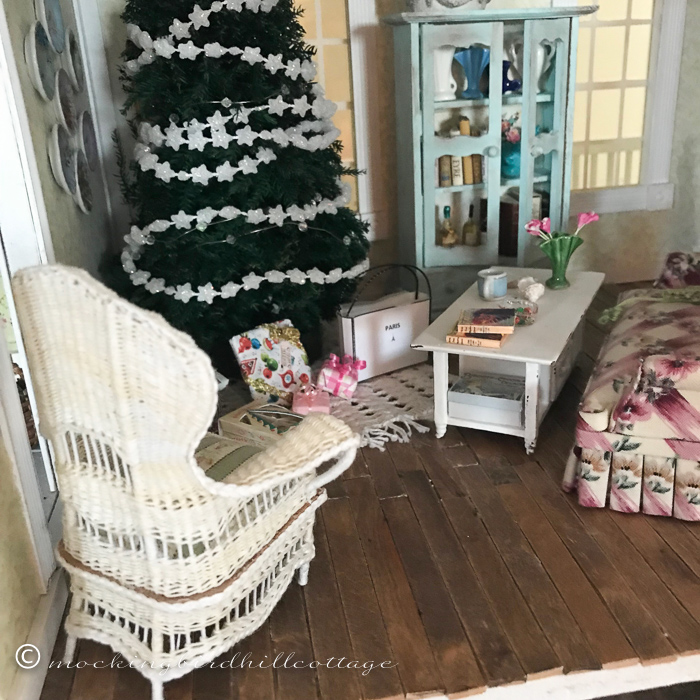 Another view of the den.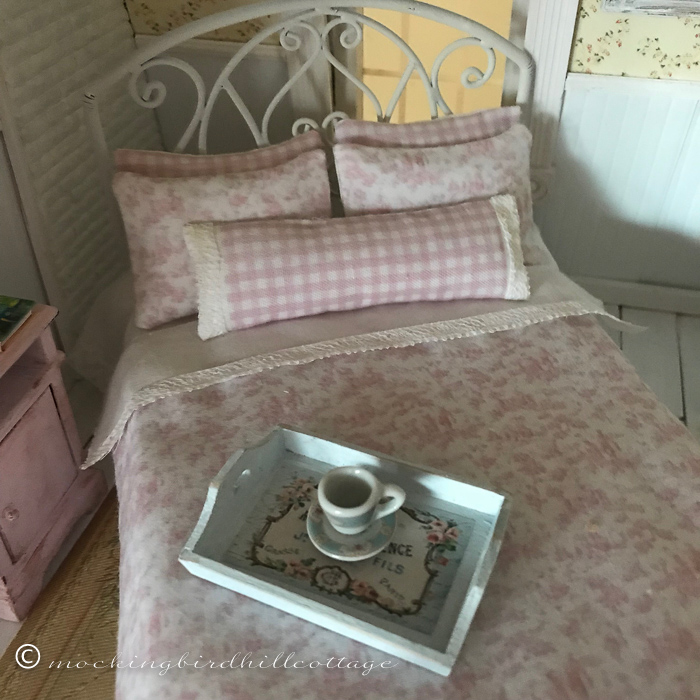 Caroline drinks her coffee in bed.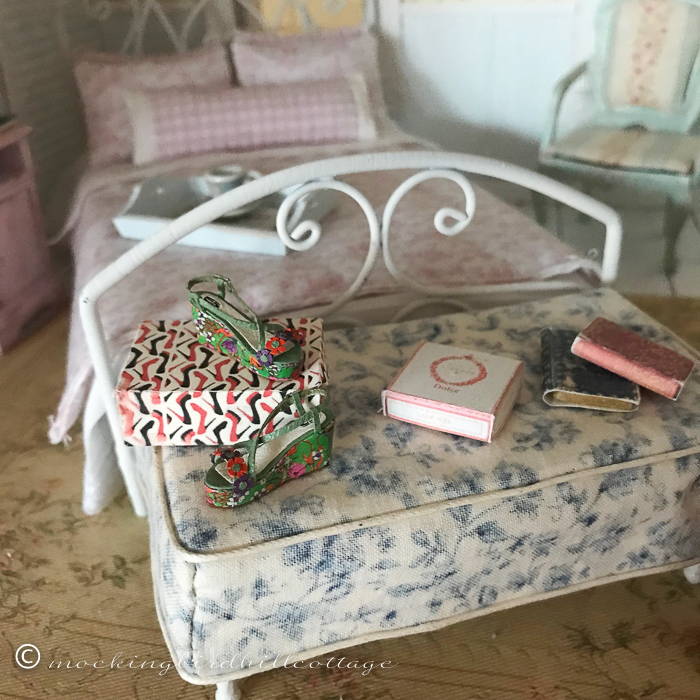 Caroline's new shoes, some macarons from Ladurée, and some Jane Austen.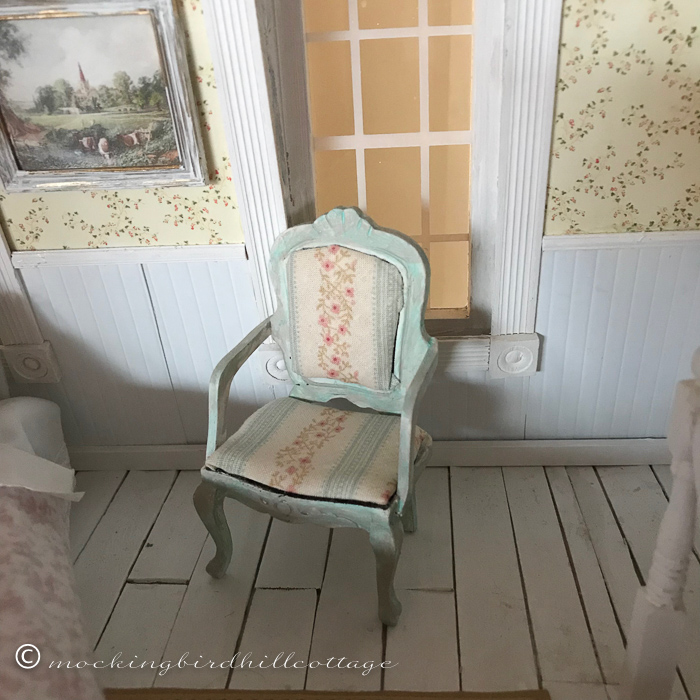 One of the very first pieces that I purchased for the dollhouse. The wood was dark and shiny, like a lot of dollhouse furniture out there and the cushions were white satin. I painted and aged it, and then I reupholstered the cushions.
For those of you who are newer readers, this was a rescue dollhouse. I bought it for $30 and it was in pretty bad shape. It had been assembled incorrectly and there was water damage on the bottom floors. I rehabbed the whole structure inside and out and then proceeded to decorate it. It took about six years. I didn't rush it and it was a sharp learning curve, but I really enjoyed the whole process. And so many of the pieces came from friends and blog readers. It's a true labor of love.
Anyway, if you're new and you're curious, there's a dollhouse category on the navigation bar just under the title of this blog. You can click that and read the whole story. I've also built and decorated a house for Don (his mini studio) which I gave him on his 65th birthday. And I'm starting, but just barely, a modern structure.
We watched one of my favorite movies ever last night – The Shop Around the Corner, starring Jimmy Stewart, Margaret Sullavan, Frank Morgan and a host of great character actors. I can't begin to estimate how many times I've seen it, but let's just say I know every inch of it. Then we got caught up in the next movie, Holiday Affair, starring a young Janet Leigh and Robert Mitchum and Wendell Corey. The real star, to Don and me, was the young boy who played her son. He was incredible – such a natural screen presence!
We couldn't get over how honest and charming his work was. So, after the movie, I googled his name – Gordon Gebert – and found out that he had gone to become an architect and has taught architecture at City College in New York for years. He's married to a professor at Vassar, and lives just across the river from us in Poughkeepsie! Go figure! It's so nice to read about a child actor who grew into a well adjusted adult. If you haven't seen this movie, you should watch it someday just to see his performance.
Okay. Have to go and run those darned errands!
Happy Saturday.