She's not here.
It really hit me last night and I cried and cried. Everything we do is linked somehow to a memory of Scout. We had to catch ourselves several times on the way home; we'd think of arriving at the cottage and then immediately think that Scout would be waiting for us.
Thousands of times a day. Thousands of times a day.
I truly don't know what to do with myself. For the past two years or so, most of my time was spent taking care of Scout. She was the focus of my days. I have all sorts of ideas floating around in my head about things I can do or projects I can start. But I can't go there yet. And so I do the obvious things like cleaning and making the bed and then I hit the wall. I hit the wall last night and Don held me in his arms while I cried for my girl, cried for the absence of the joy that made up every fiber of her being, cried for the child I mothered.
It's only been a month and half. I have to keep reminding myself of that.
Our vacation was wonderful and much-needed. We had a terrific time in Florida and on the road. But, here we are, back at the ranch – and our girl isn't here.
We're in the middle of that strange time when it's officially spring but nothing can be done outside for another month or so. I have a feeling that working in the garden will help me. Nurturing my gardens, watching things grow, taking care of everything – that's what I need.
But I can't do that yet, so I mother my indoor plants in the meantime.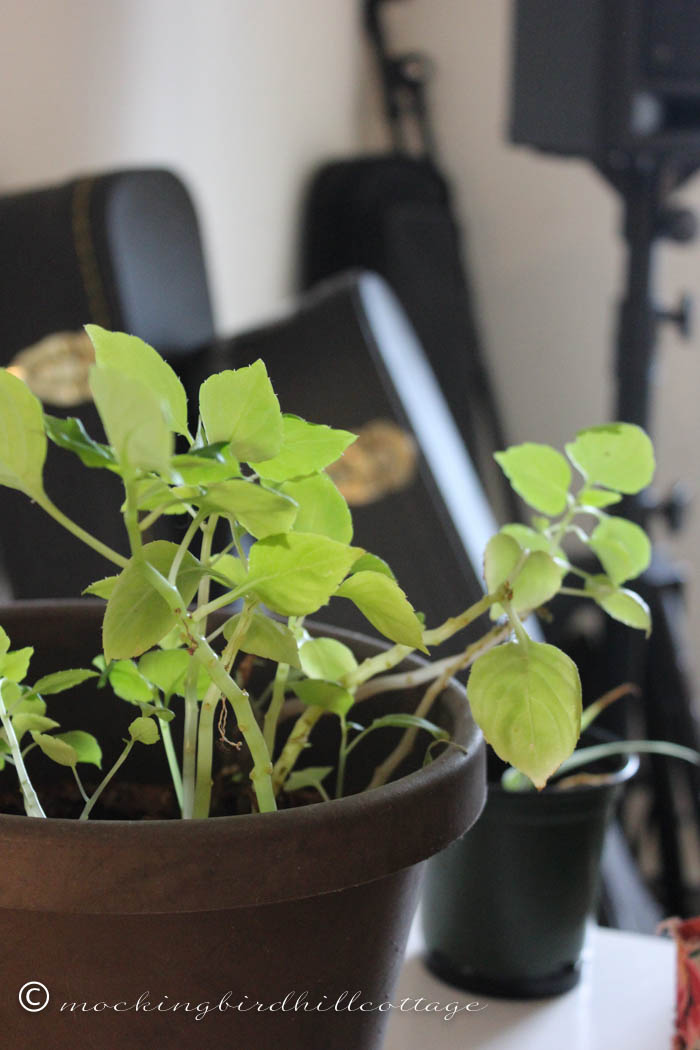 The overwintering impatiens and the baby spider plant that I potted yesterday.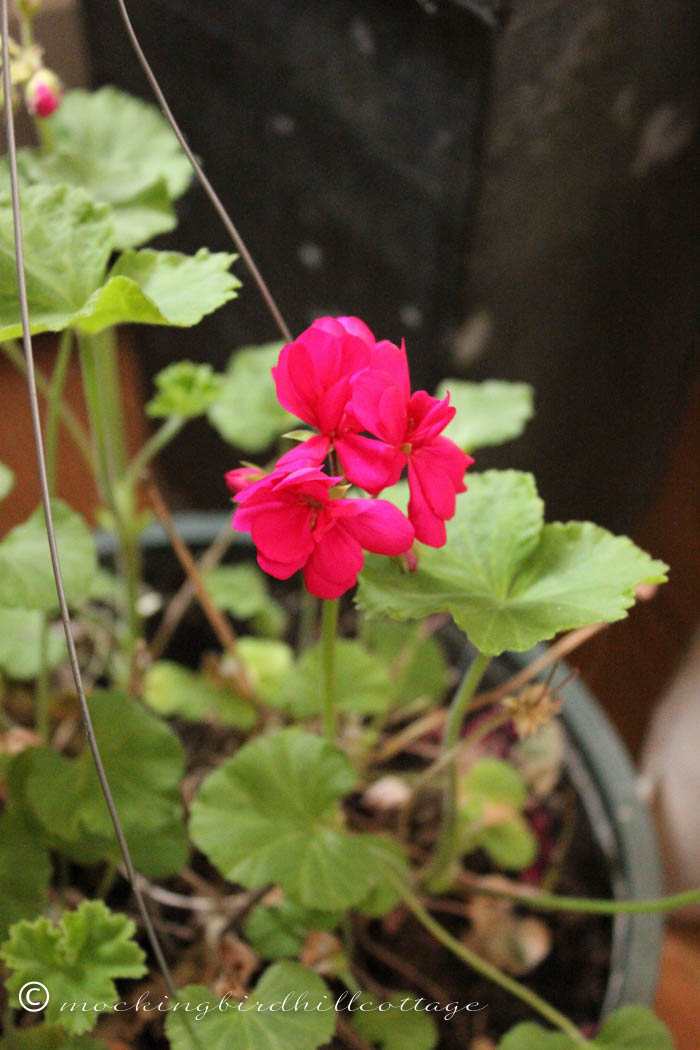 The overwintering geranium that has bloomed for the second time!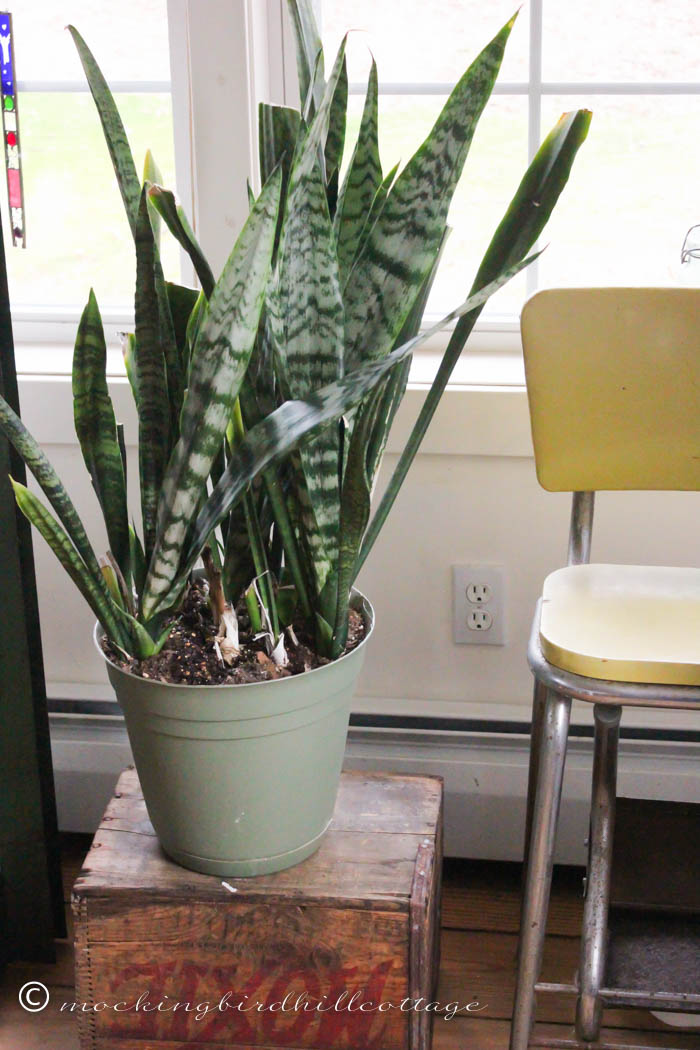 The snake plant/mother-in-law's tongue that I brought back from Florida. Meredith and I have determined that it's at least 45 years old. My parents had it in my childhood home, then it moved up to northern Michigan when they retired, then it moved to their condo in Florida, then it moved to Meredith's house and now it's with me. There's another one that is just as old and Meredith has it at her house. Nurtured for years by my parents, this plant is priceless.
That condo, by the way, is now on its way to being sold. We accepted an offer yesterday and Meredith signed the papers. I showed the condo to Don while we there. It was strange being there: empty, nothing left that belonged to my parents, echoing rooms. We're grateful that it has sold, but it marks the end of all that spoke of my parents' presence. Now, we tie up all the loose ends, send things to the lawyer, and divide the estate.
Too much change.
Pothos in the bathroom.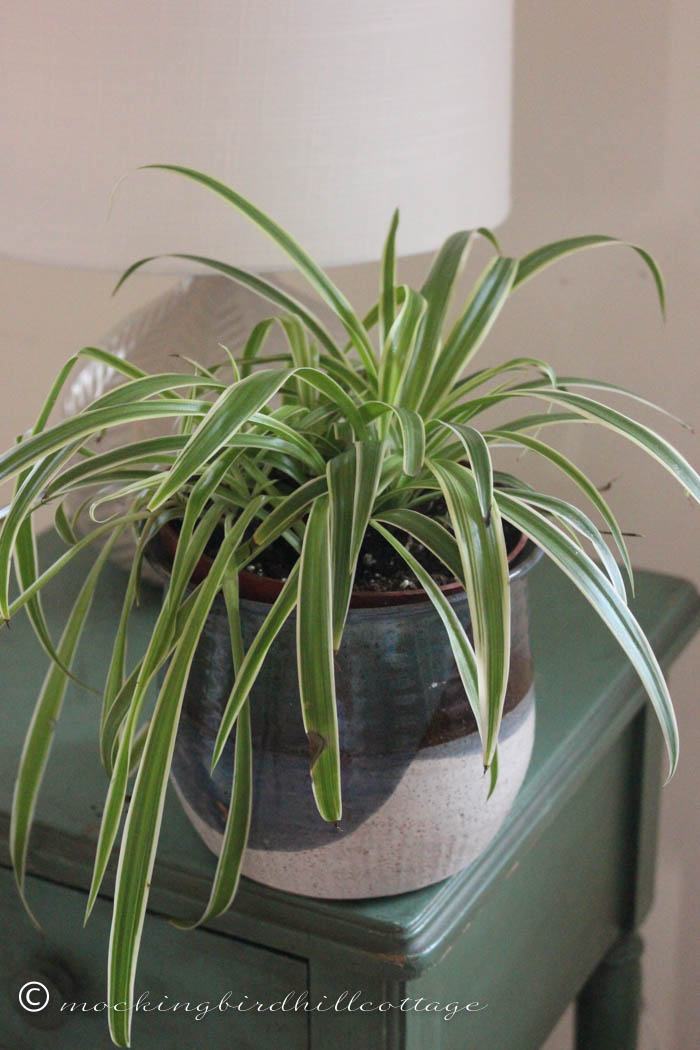 The little spider plant that I bought for my Hartford apartment. I repotted it yesterday as it was getting very root bound. It's nestled in a piece of pottery given to me by my mother.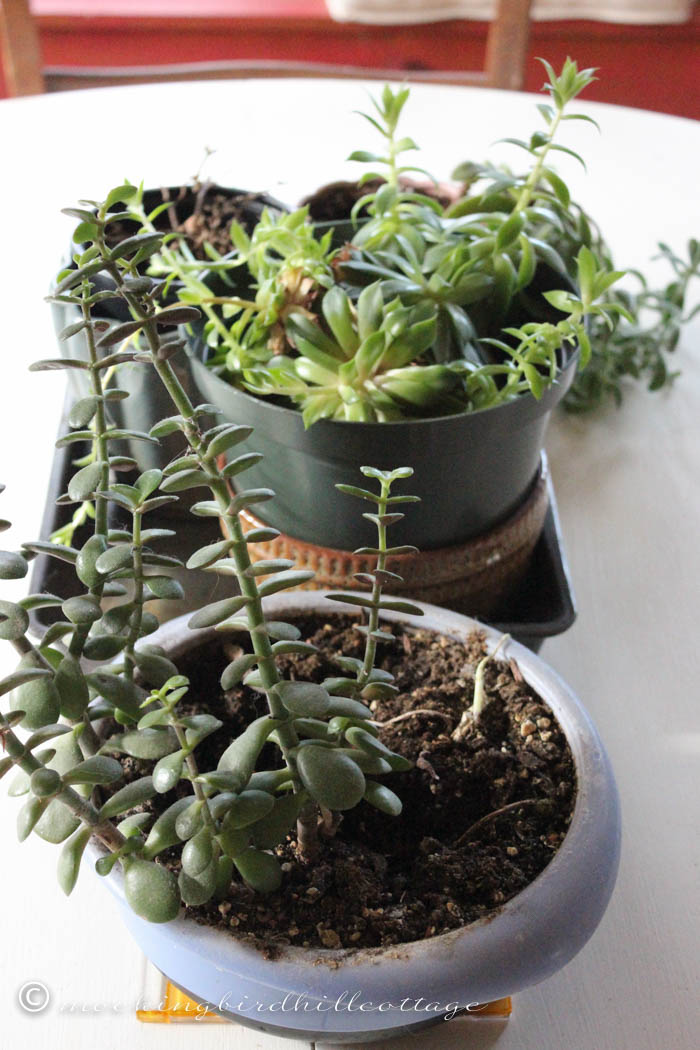 Succulents on the kitchen table, including Riley's Dish Garden.
There are more tucked in here and there. I'm feeling the need for even more houseplants, so don't be surprised if you see more in the coming days.
I didn't answer comments while I was away, but someone asked where I got the little acrylic tables that I'm going to use in my dollhouse(s). I didn't buy them, they were a gift from Barbara who lives in Canada. They are jewelry stands, so I imagine if you google jewelry supplies or jewelry display, you might find a source for them. I hope this helps.
Happy Monday.