We're due for a yucky day today: rain which will turn into ice and a bit of snow. There are winter weather advisories up.
Can I just go back to bed?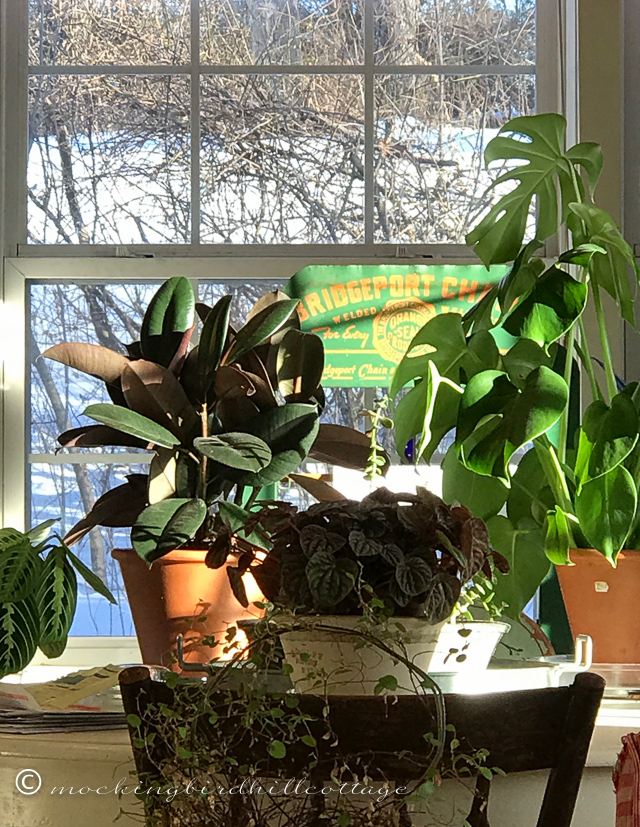 The snow on the ground that you can see through the window is gone now, due to higher temperatures and a heck of a lot of rain yesterday. Fear not, we're due for more mid-week. Note to self: take price tag off pot.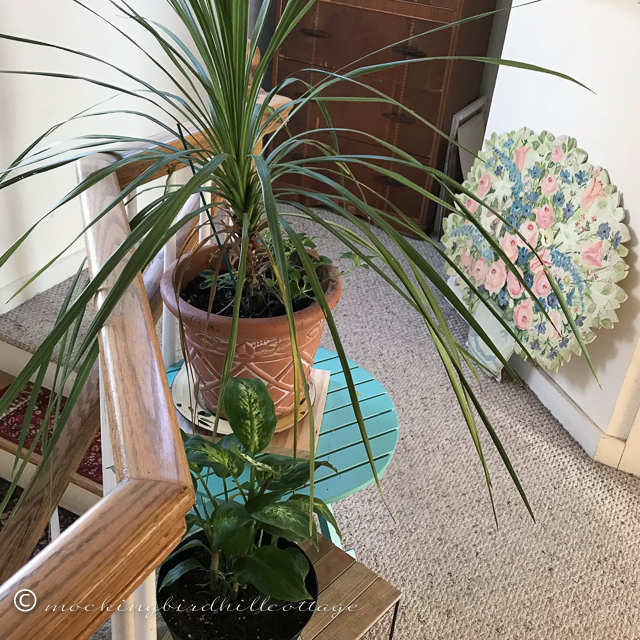 This is what happens when you bring your big old porch plant inside for the winter. I've forgotten what this is – a dracaena? an unknown grass? – but I've had it in this pot for several years and I bring it inside every winter. It's become so big that I can no longer just stash it on the floor in the office. So it's in the hallway. There are self-seeded impatiens surrounding it at the base. Hopefully, they'll bloom at some point this winter.
The contents of the cupboard in the office. There's some Roseville, some McCoy, an old candy box which holds letters sent to my grandmother by her adored little sister, who died in the flu epidemic of 1918. (She lost another sister as well.) Let's see, what else? Some glove boxes, some little pieces of pottery, a mug given to me by Christy, aka Anastasia, a putz sheep and two spun cotton bunnies made by Vintage by Crystal. Oh, and some crystal bunnies and a puff made by a former blogger who does beautiful work.
I took this yesterday as I sat at the desk for a spell, due to a desire to change it up a bit. The den seems to be my home lately, but too much familiarity can breed contempt, you know? Anyway, I hung the newest Nutting up in the office – I'll take a picture of it today – and I putzed around that space, listening to the Kenny Rankin channel on Pandora.
Happy Saturday.