And just like that, summer is here. Today the temp is going to reach 89° and the next two or three days will reach 90°. Plus, we're headed into about a week or so of rain and thunderstorms, starting on Friday.
Not quite ready for summer.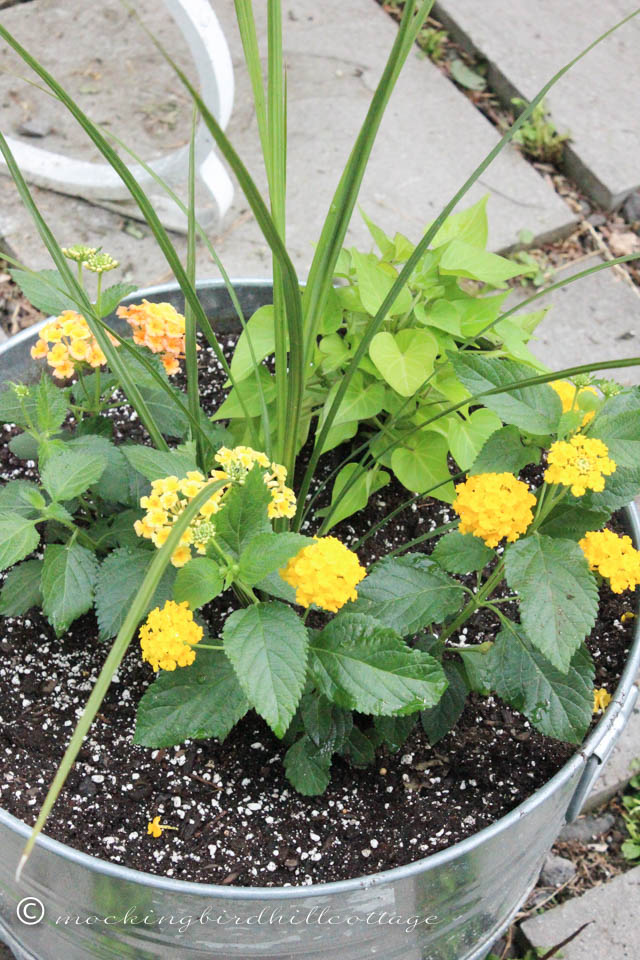 We went to our local nursery yesterday to buy our hanging plants for the porch. I also bought some  geraniums for the whiskey barrels and the lantanas, sweet potato vine, and dracaena for the galvanized tub that sits on the Funky Patio.
Having gardened here since 2005, the perennial gardens are now well established and I don't have to spend money adding plants every year (this is why I love perennial gardening.) The modest amount of money I spend is on a couple flats of impatiens for the pots (that I recycle every year) on the porch, some plants for the galvanized tub and the whiskey barrels, and a couple of hanging plants (scaevola) for the porch. I overwintered the hanging geranium from last summer, so I saved money there. I don't change out my hanging pots during the summer – I buy plants that I know will last through the season. The scaevola is gorgeous and it lasts until the first frost, as do the impatiens, which I often overwinter.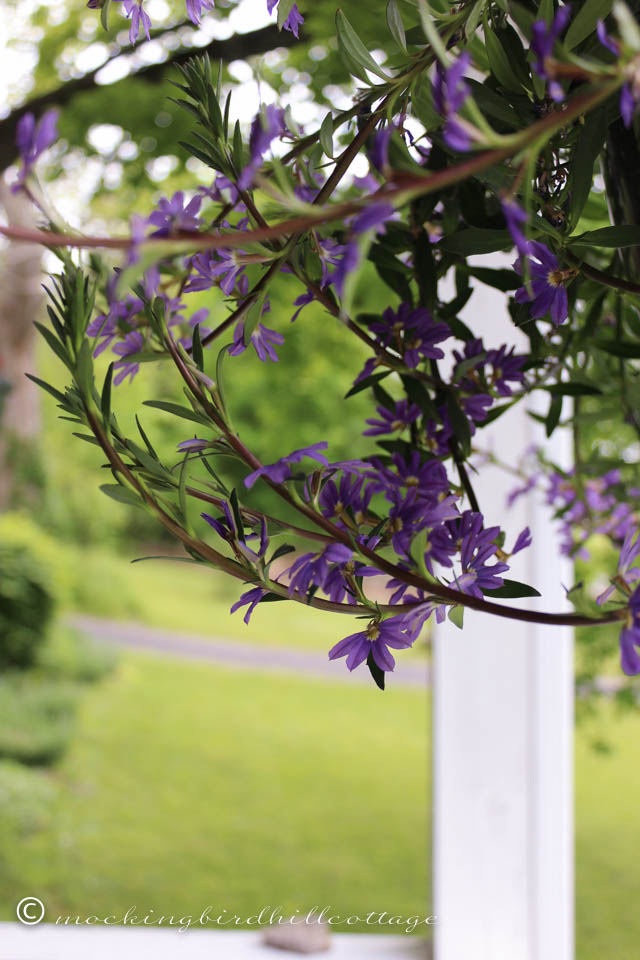 Getting the scaevolas from the nursery always seems to mark the beginning of porch sitting for me. They look so beautiful hanging on the porch.
Don: Stop Here.
In TSP news, a guitar that I ordered arrived in the mailbox yesterday.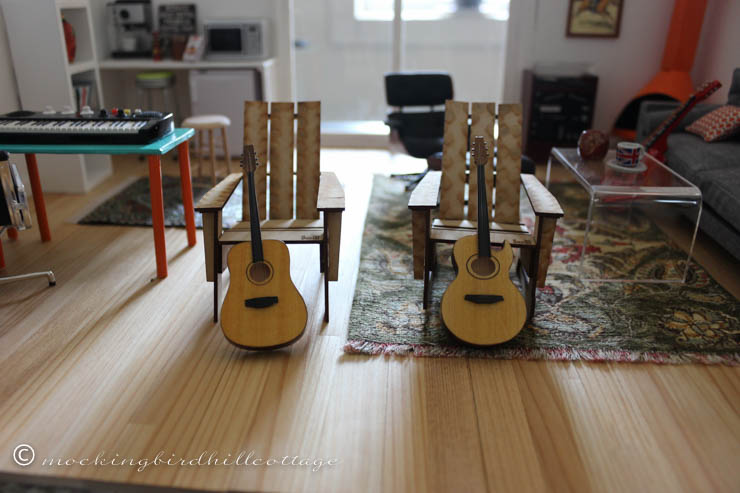 It's the one on the right. The guitar on the left was given to me by Barbara. I liked it so much that I was determined to order another version by the same Etsy seller, LA LittleArtist, who lives in The Netherlands.
They are beautifully made.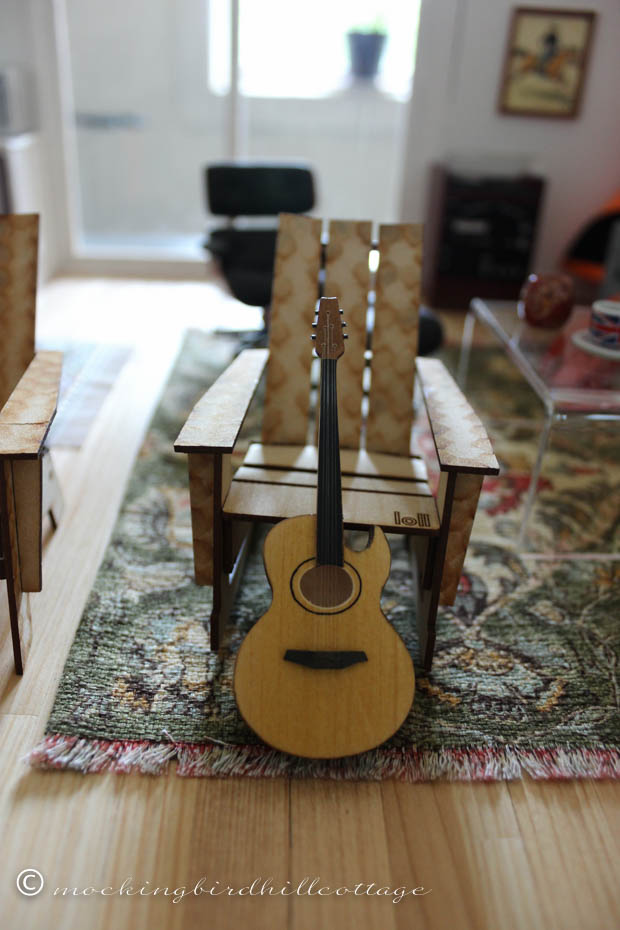 These look so much more realistic than any I've seen available commercially. And if I'm shooting for realism in the TSP, then there must be at least 3 guitars hanging around. After all, Don has about 4 or 5 of them upstairs in our office.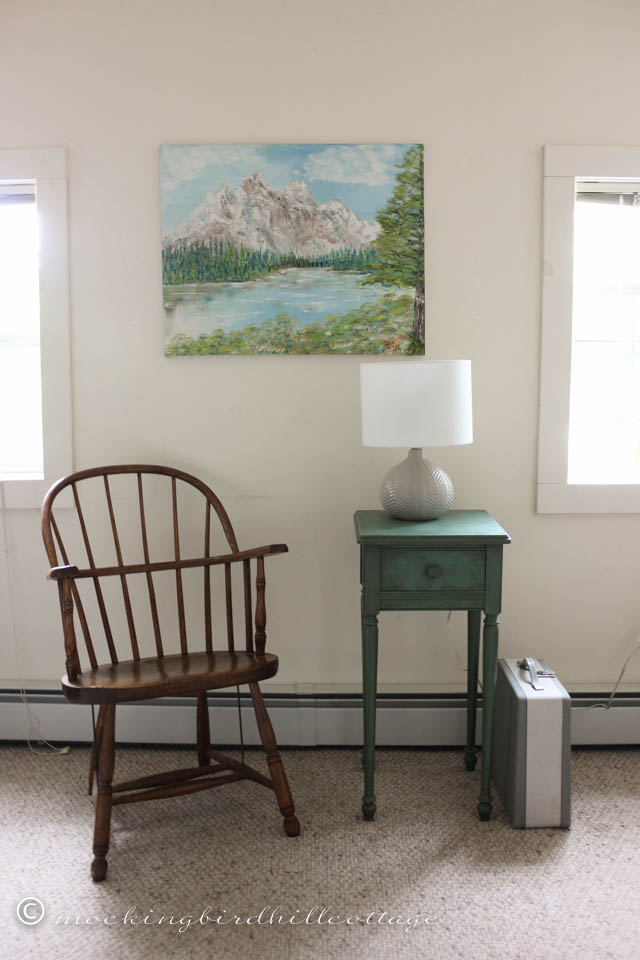 We just moved this chair up to the office. We had to do some chair maneuvering when we bought the vintage chair on Sunday. At some point, we'd like an easy chair in this space, but for now, this will do. It's actually remarkably comfortable. (The painting is an oil done by my father.)
Happy Wednesday.