Greetings from the land of abnormally warm temperatures! 77° yesterday, over 80° today. I've been cleaning out the garden beds (I'll be glad when I'm through with all the raking!) I ran to Lowe's yesterday for new garden gloves and also picked up a paver. Why? Because I'm tired of the bird bath being on a slant (the ground at the top of the drive slants downward) and thought I might be able to get it a bit more level if it was placed on a paver rather than the ground. Mission accomplished, with the help of two stone 'shims.'
Later in the day, I stopped and visited some friends: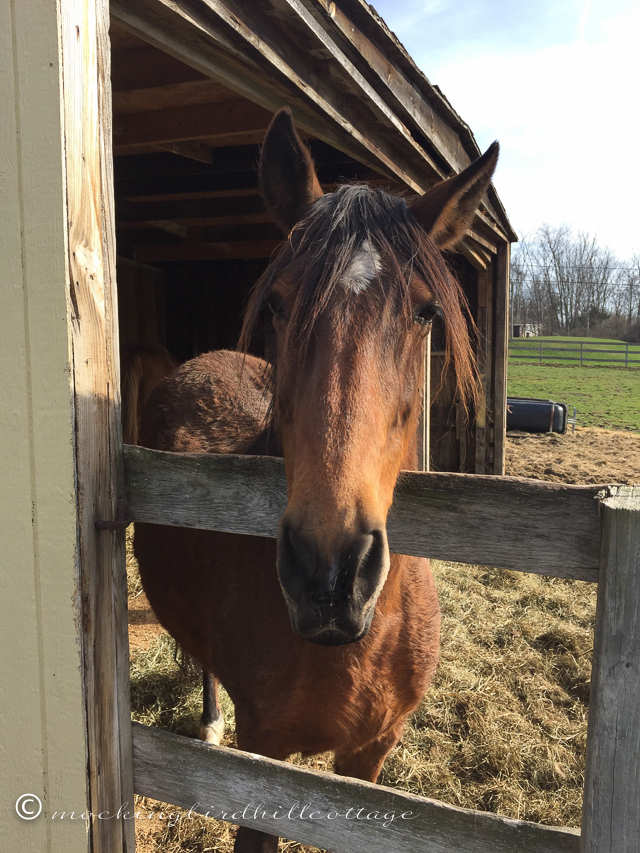 Hello, Emby! The sweetest horse in the world. I fed him lots of carrots, told him that his Uncle Don missed him very much and that I would be visiting him at least once a week. He gave me two kisses. I'm very honored.
That's Sissy in the shed eating her hay. When she has fresh hay, she has absolutely no interest in carrots. She lifted her head and gave me a look when I called out to her and then went right back to her supper. I messaged these photos to Don and, as I suspected, they made him very happy.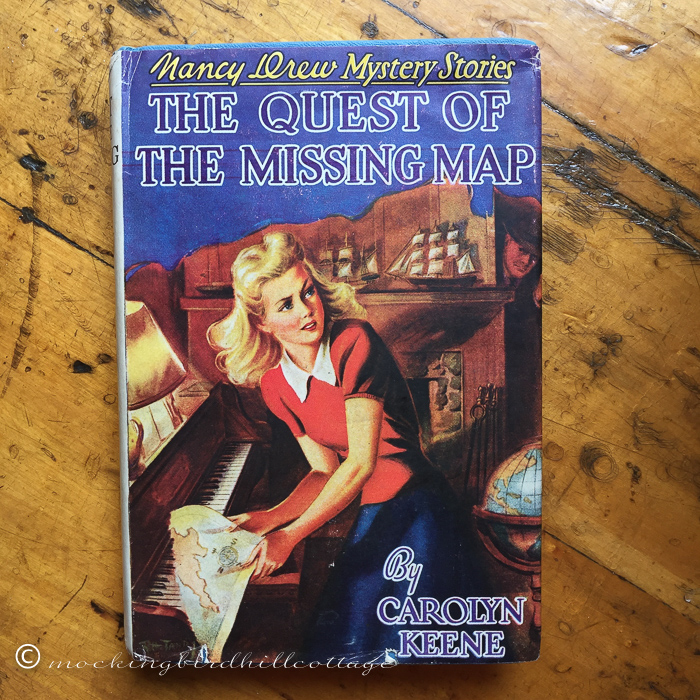 Hello, new Nancy Drew! This (#19 in the series) arrived in the mail yesterday (I have two more on the way.) Nancy is rocking a 40's hairdo. Love the map, the piano, the globe, the fireplace…all of it.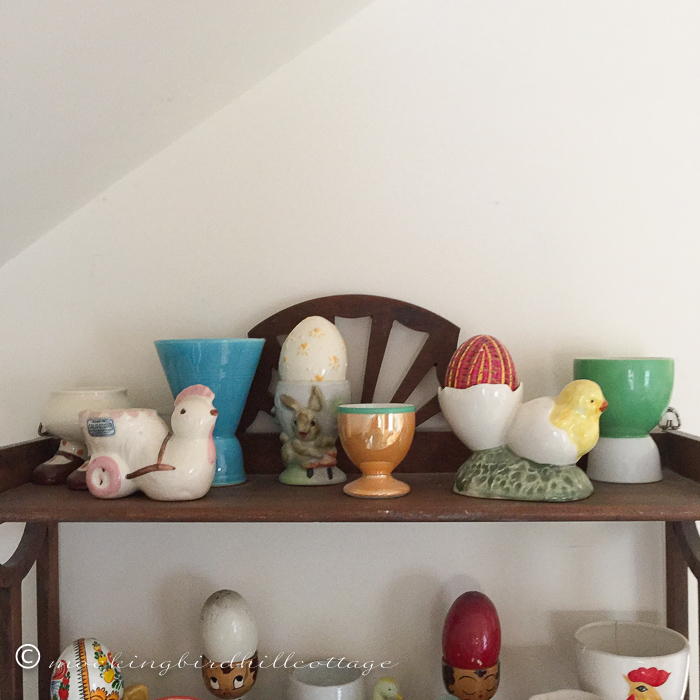 More egg cups. Walking ware, some California Pottery with the original sticker, Harlequin by Homer Laughlin, a bunny, lustre ware, a chick emerging from an egg and your basic green and white egg cup. The ceramic egg was a gift from my mom. The painted egg may have been, too – I'm not sure.
I have some more that are scattered throughout the house. I'll gather them together today and take a picture.
My Peet's is tasting especially good this morning.
Don drove to the desert yesterday on his day off to see the tail end of the wildflower bloom there. But he's very tired. These are long days in rehearsal and 6 long days a week with only one day off takes its toll. I find I always have to get back 'in shape' when I start rehearsals again after a period of time away from them. Don hasn't done a play in a long time, so it's a big change for him. And this is a new musical, to boot, with songs, dances, re-writes…everything.
We're both suffering from a big old case of the 'misses', as in "I miss you so much." It really hit him yesterday. It's lonely being on the road, even if you're in the midst of rehearsals with a lot of people. At the end of the day, you go back to your apartment and you're all alone. I understand, believe me. I'm going to try and get out there in May. We need some time together.
The Anastasia cast album has been recorded and will be available in June. Huzzah!
Happy Tuesday.