Good morning. I'm moving slowly because I slept in. It seems that the older I get, the more a change in my normal routine seems to throw me ever-so-slightly off for the rest of the day. Grateful to have caught up on some sleep, of course, but I'm just a wee bit behind.
It's turned very cold again here and will be for the next 3 days or so.
But it's sunny! Yesterday's dire predictions for ice and a wintry mix changed around noon and the sun came out. Immediately, my mood lifted. The sun makes an enormous difference, especially when you feel a bit housebound.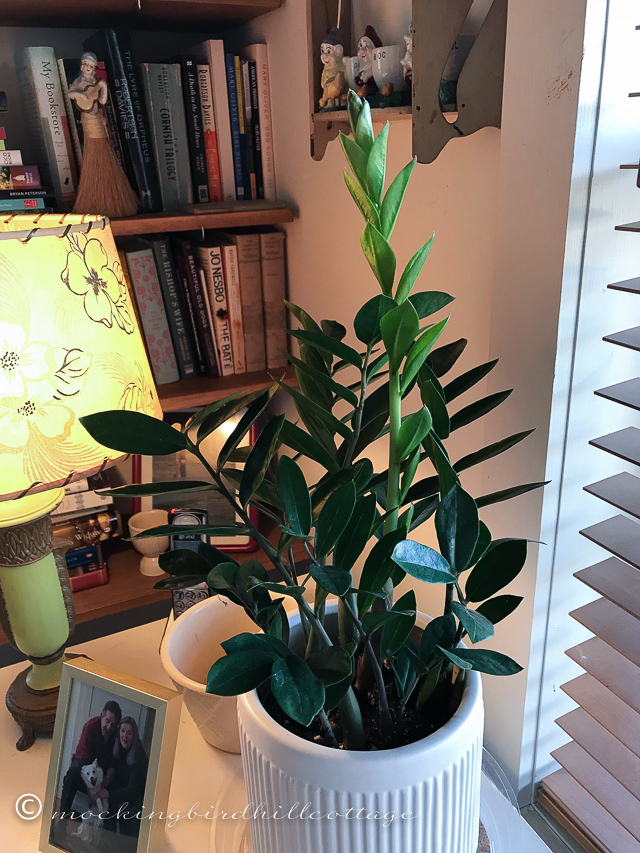 I just noticed how tall the new growth on this ZZ plant has become. Goodness! I love these hardy houseplants – any plant that survives in the shadows of the den is a winner in my book. I'm going to buy one more for my office.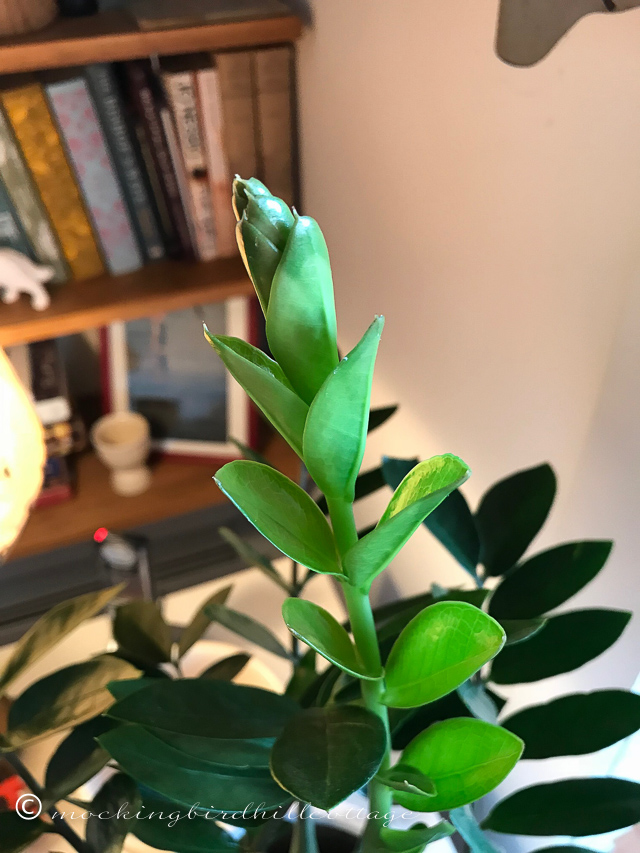 A closer look at the top of the new shoot. I love the glossy, thick leaves.
We watched The Darkest Hour  last night. It's the story of a few weeks in 1940 when Winston Churchill became Prime Minister. Riveting. Gary Oldman is brilliant as Churchill. I learned a lot, as there was much I didn't know about that particular time and its challenges for Churchill and Great Britain. I recommend it highly.
In a rare instance for us, we watched about 20 minutes of Mudbound  before we turned to each other and said, "Let's stop." There were too many directorial 'devices' and screenplay problems that didn't work and were annoying. Every time yet another character became a narrator, we groaned. So we moved on. I'm sure some of you have seen it and liked it and that's great. And I'm sure there's solid acting. But we weren't in the mood to put up with the rest of it to get there. It just wasn't our cup of tea.
So far, our favorites are The Shape of Water, The Darkest Hour,  and Get Out; each of them completely different, but all of them brilliant and inspired.
Oh! Forgot to add –  we enjoyed I, Tonya, as well. It's darkly funny and very well done by all. Allison Janney is wonderful.
Today? I might get out there and do something, but only if we can get rid of the ice surrounding my car. The warm weather melted a lot of snow and ice and then the sudden very cold weather promptly froze it all.
Happy Sunday.