Don't ask how cold it is here. Just don't ask. I feel like I should be wearing fingerless gloves at the moment. I know I have a pair somewhere. Since tomorrow morning will be even colder, I'll have to find them.
Don and I feel like we're trapped in a research station in Antarctica. Or a biosphere.
I did manage to escape for a few hours yesterday and drove to the bookstore. But along the way, my tire pressure warning light went on, so yours truly was out there in below zero wind chills trying to add enough air to my rear tires so the warning light would go out. It is impossible to do that with gloves on. Trust me. It eventually went off and I spent a bit of time at Barnes & Noble (being taken over more and more by children's toys and educational items, plus weird Manga stuff.) Somewhere in the midst of all of that, there are still actual books. It's not my preferred bookstore, but you take what you can get.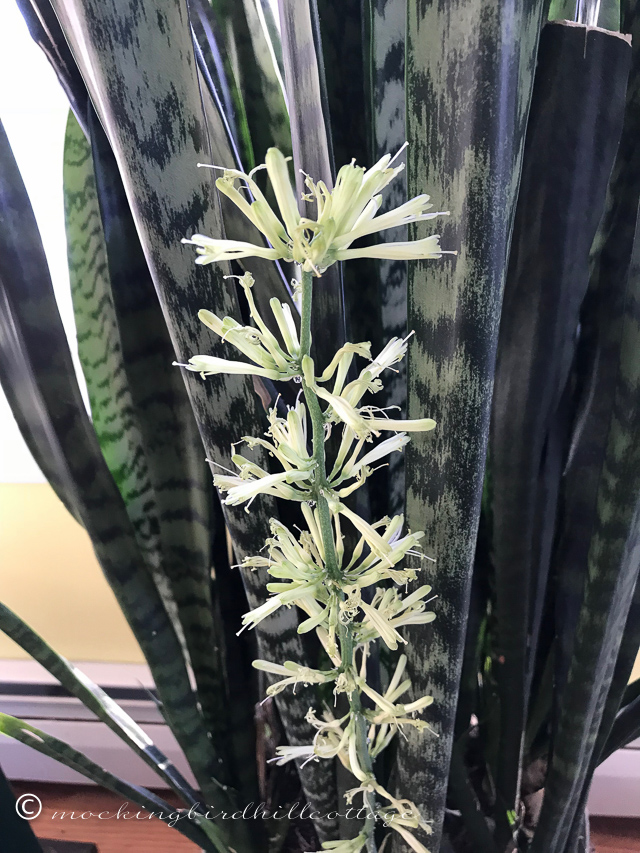 A closer view of the flowers on the sansevieria. They are so fragrant! Don loves them.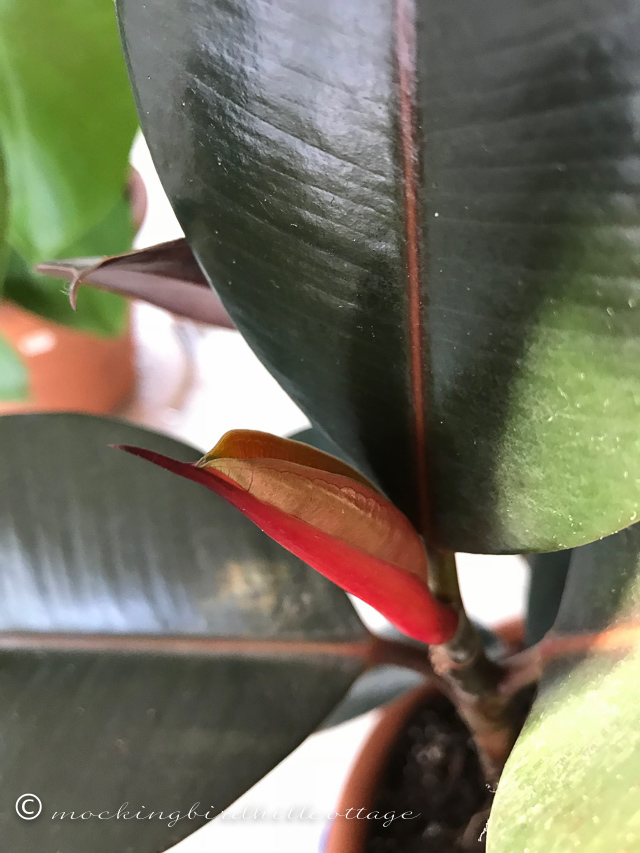 One of the rubber plant leaves is starting to open. This is my first experience with a rubber plant and its new growth, so I'm enjoying the unveiling.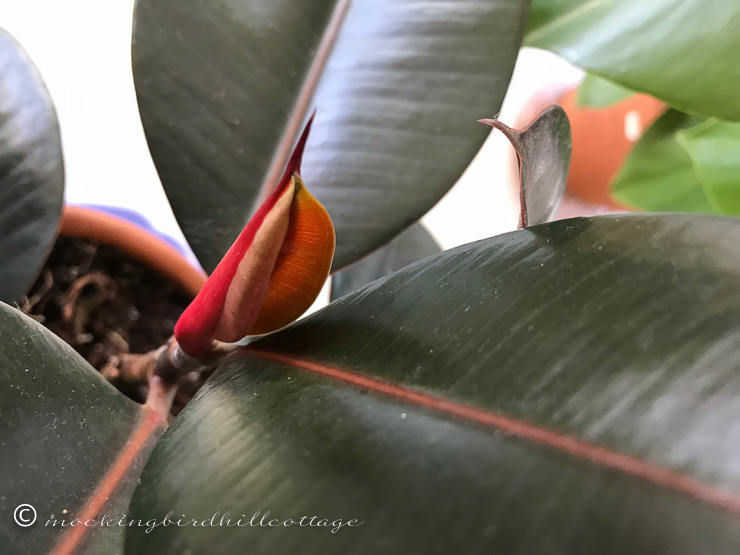 Thank you houseplants for giving me something to do, to nurture, and to observe during these winter months.
I'm sure you've noticed that I haven't done a book review in a while. As with some other changes, it just seems to be happening naturally at this point in my life. That's not to say I won't do more in the future, I'm sure I will, but the sheer amount of deadline-type reading I had to do for the book blog and for the reviews on this blog was too much.
I also think a good book review takes time and care. I see some book 'reviews' on blogs that consist of the publisher's blurb that gives you a hint of the plot, followed by an "I liked it, I loved it, or I didn't like it" and that's it. That's not a review. That's a thumbs up or down, more suited to Amazon or Goodreads, and it isn't the way I write/wrote my reviews.
Anyway, I seem to be at a point with this blog, as I've said before, where I'm happy with what it is, where I'm not trying to make it into anything other than what it is, and where anything that involves a deadline or trying to make more money off the blog or feels like a drain on my energy is being phased out. And it's all happening naturally. The only thing I made a conscious decision about was the deletion of my book blog.
I'm coming up on 10 years of blogging on February 17th. Ten years! And I think I've distilled the blog down to its essence, which is a good place to be as I prepare to celebrate that 'birth' day.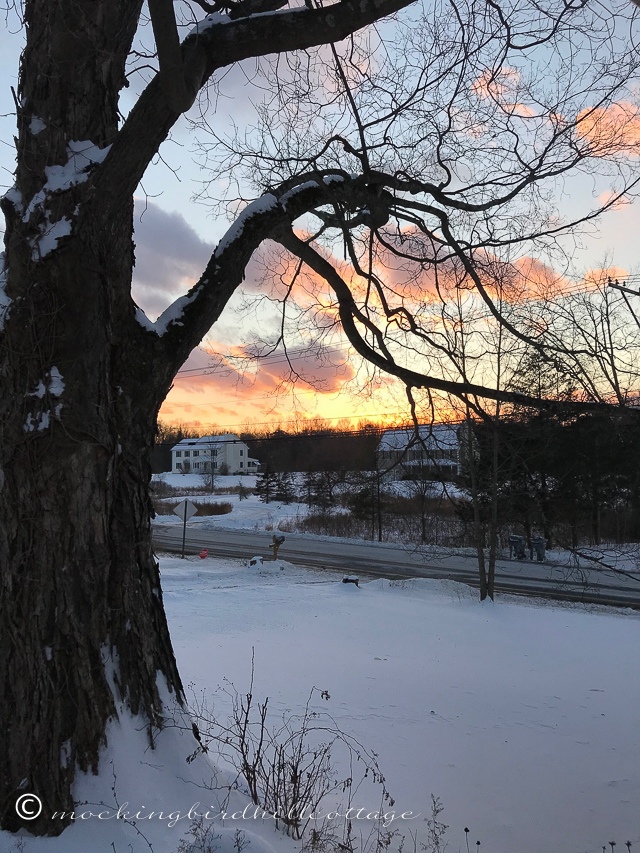 Last night's sunset.
The view from the kitchen was even more Maxfield Parrish-like: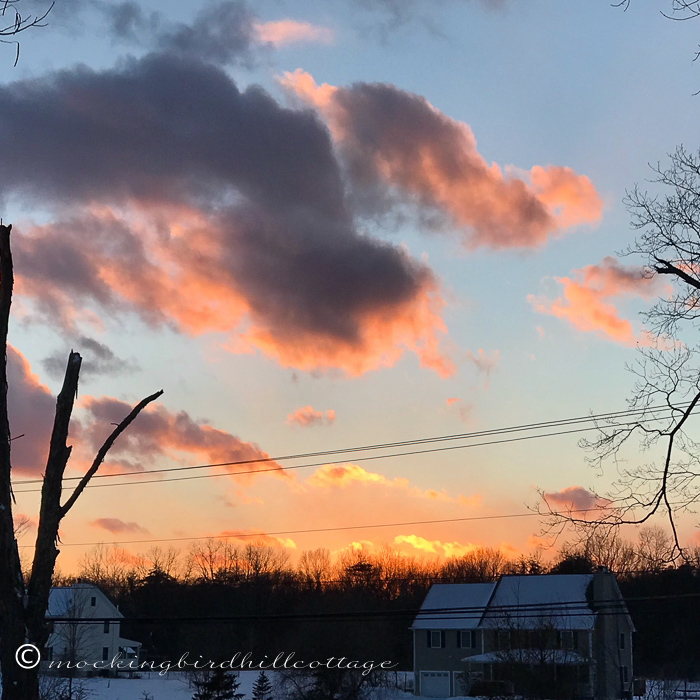 If we're going to be in this awful cold, it's the least that Mother Nature can do for us.
Happy Saturday.