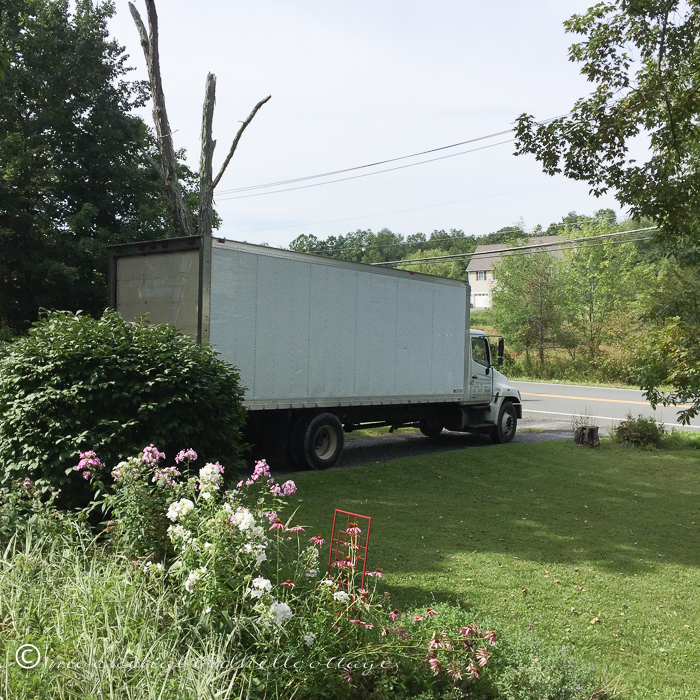 The arrival of the truck yesterday morning 'forced' me to call the car dealership and say I would be ten minutes late for my inspection appointment.
I mean…I had to get photos, right? I had to document the delivery for all of you and for Instagram.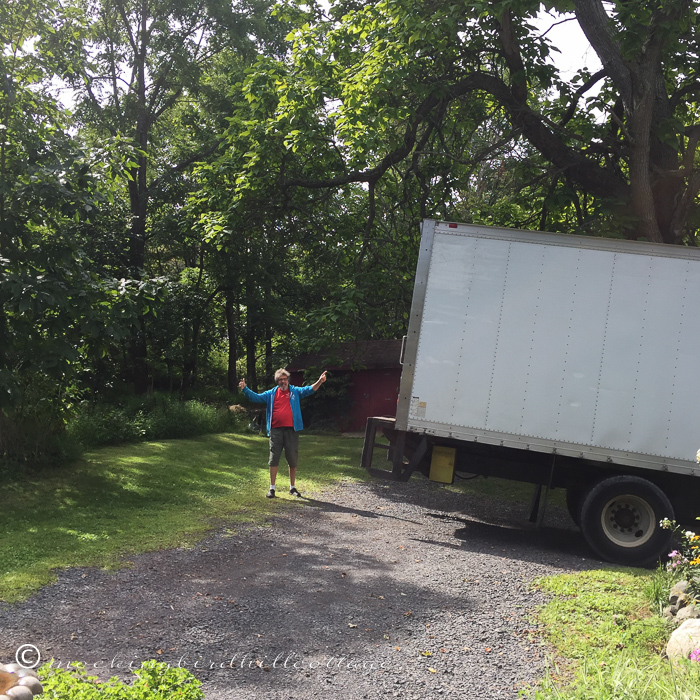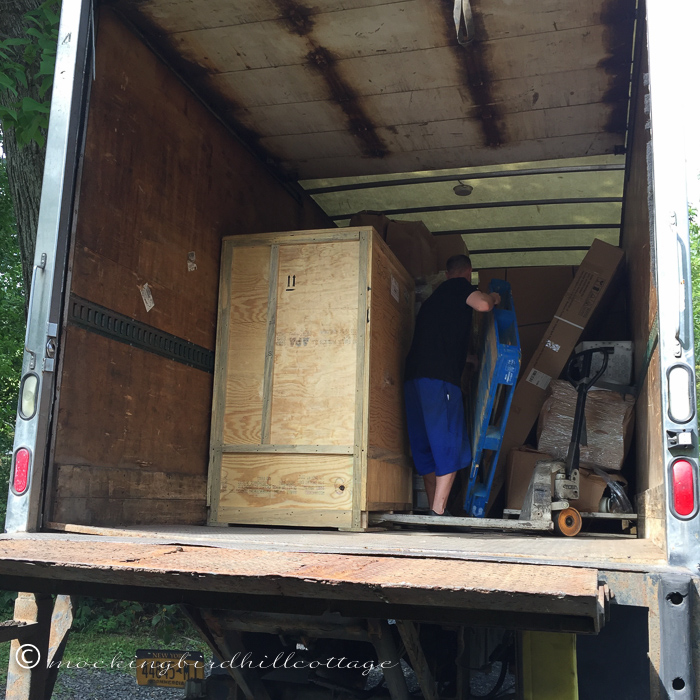 That's Stella in the crate. Why there was only one guy delivering this, I don't know. Don had to help him. What if it had been coming to a someone who was unable to help? The only thing that made sense to me was that his regular partner wasn't there…because it doesn't make any sense otherwise. This stove weighs a ton.
As it came down on the ramp, I had to go in the house. Visions of the crate falling over were going through my head.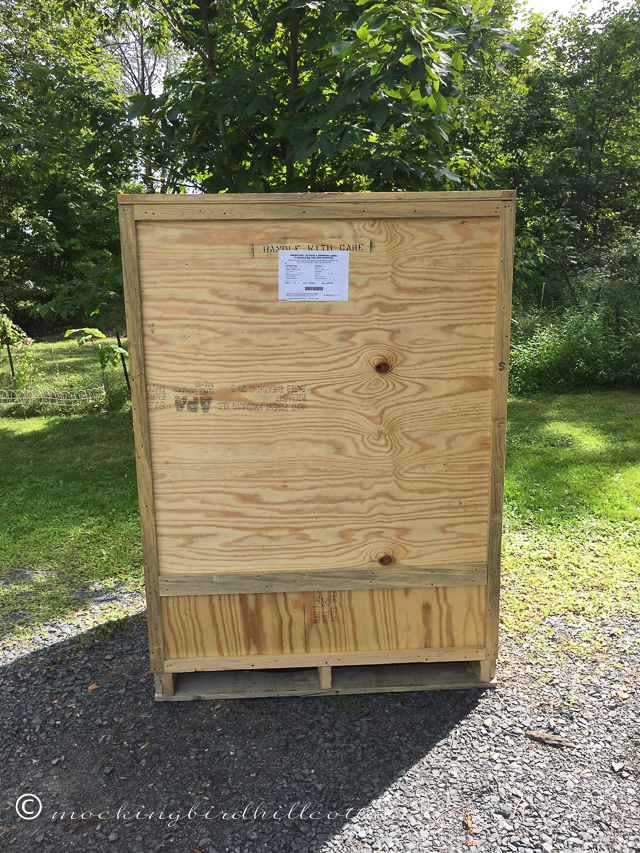 There she is.
At this point, I had to leave. I drove to the dealership to get my car inspected. They also informed me that my wheels needed realignment, so I had that done, too.
About an hour and a half later, as I was getting the keys to my car, a text appeared on my phone:
"Success! Beautiful, hassle-free success!!"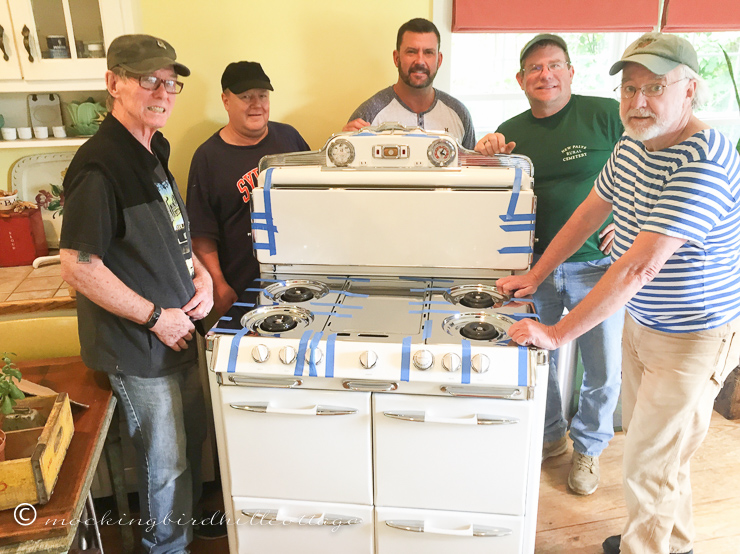 These guys, all friends of Don, came over, helped to take apart the crate, conferred, pondered and figured out the best way to get her in the house. The kitchen door was removed and they maneuvered the refrigerator dolly and unwrapped her…and this is the photo I received.
I was so relieved. Turns out my appointment took up just enough of my time to keep me away from the house and the stress I know I would have been feeling. It saved Don from having to deal with it, too! Perfect.
I came home, Don went to return the dolly and the packing blankets, and I lovingly removed all of the painters tape on Stella. It was sort of dark in the kitchen by that point so I had a hard time getting a proper photo of her.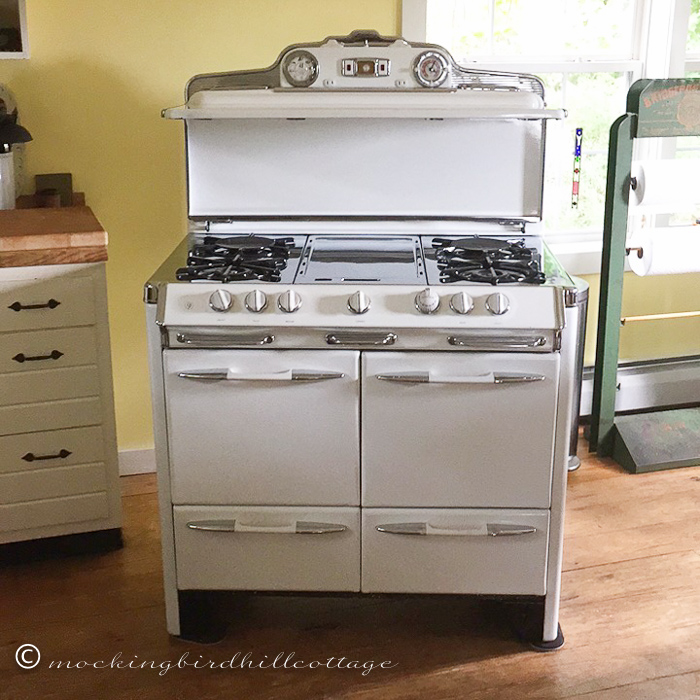 She's not in place yet because Gino has to do all the propane related things today and hook her up. But there she is. Welcome, Stella!!!!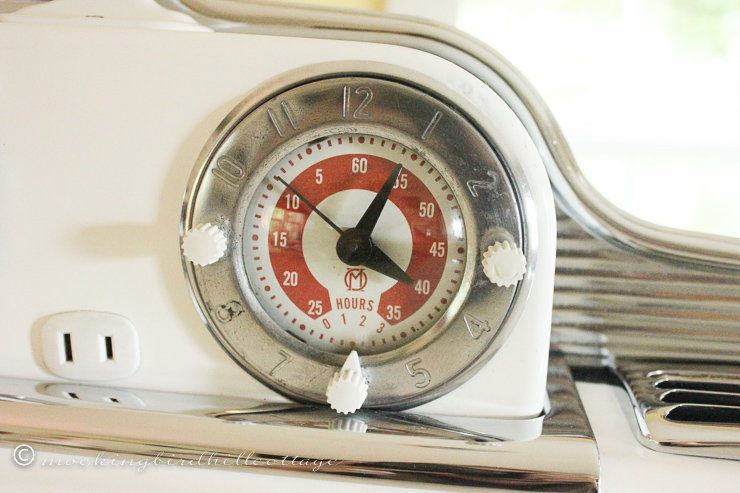 There's the clock. It doesn't work. Turns out that about 95% of the clocks from these older models no longer work. That's why we bought the timer.
But the electric works – the oven light and a light under the shelf – which I'll show you another time.
In fact, I'll take you on a tour of her next weekend when I am home for a longer period of time.
See the salt and pepper shakers? (That switch in the middle turns on the shelf light.)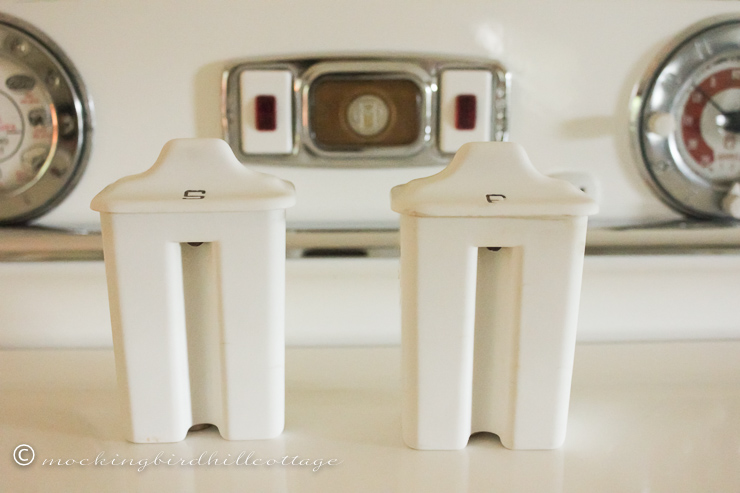 They they are. I love these little details. And there are lots of them on this stove – I promise I'll have much more next weekend, but I have to get my butt in gear and drive back to Hartford. It's been rather hectic here and not really restful but I'm so glad I was here to greet her yesterday.
She's so beautiful.
Don says he isn't going to cook with her until I get home next weekend. Hmmm. Frankly, she's so gorgeous and the chrome is so beautiful that we're a little anxious about that first cooking adventure.
Don kept telling the guys who were helping him yesterday, "Listen. If anything happens to this stove, I won't have a home. I'll have to stay with one of you. I'm not kidding."
He was right.
Oh, Texas, the images I see are heartbreaking. I find I can't write about this very articulately. Just horror. But the other side of that horror is another confirmation of man's goodness. So many brave citizens reaching out to help. Bless you.
Thank you for all your cheers for the arrival of our beauty! We figured out that the day we first saw her was July 10th. And here it is, August 29th, and she's in our little cottage. Amazing.
More later, I promise.
Happy Tuesday.