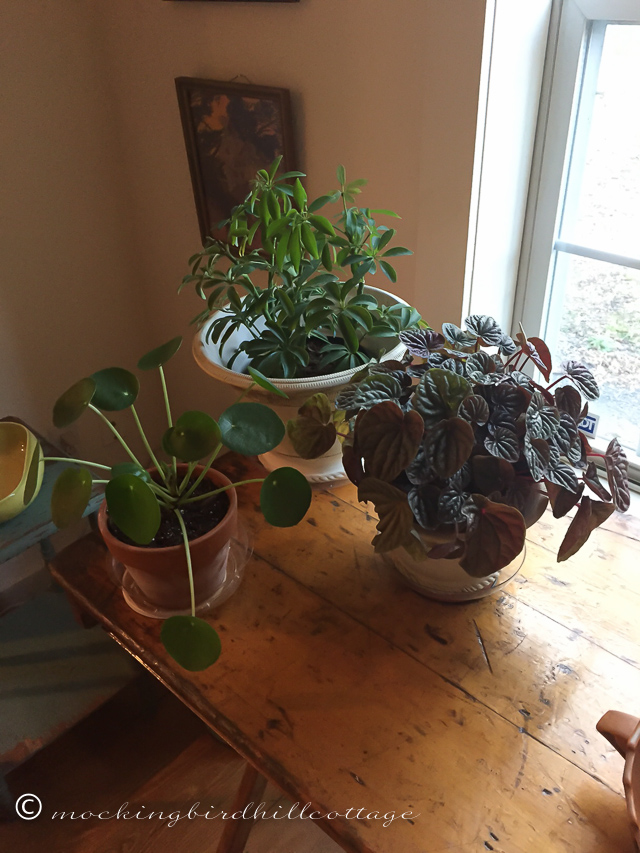 Hello from the cottage.
A long day of travel yesterday, of course, with an Uber ride to O'Hare, the flight home, then the shlepping. That's what I find the most tiring; I had two small rolling suitcases (Don currently has the large one) plus my handbag and a coat and I had to constantly start, stop, adjust my handbag, take my coat off, put it on, grab the suitcases by the handles to go up and down stairs, and maneuver through subway turnstiles to make my way back into the city. As it was unseasonably warm and I had layers on, I was uncomfortable and just wanted to get home.
But, I caught the 5:00 bus and my friends Rick and Doug picked me up from the bus station. And when I got home, my plants were in pretty good shape. The monstera (split-leaf philodendron) and the pilea were drooping quite a bit. Watering was my first priority and I'm happy to say that this morning, every plant looks revived and healthy. Two weeks away is okay in the winter. It would be more problematic in the spring and summer when plants require more water.
I'm glad to be home. I'm going over to Rick and Doug's place for brunch this morning. Rick is making French Toast, one of my favorites. Doug's daughter is visiting and it will be nice to get to know her.
Unfortunately, Don lost his voice on Friday during the matinee and, even though he planned to go on that night, the music director pulled him from the weekend shows because he has to be better for Monday's recording of the cast album. Also unfortunately, my best friend and her family came to the show on Friday night, so I was texting and calling her at the last minute to tell her Don wouldn't be appearing.
So, they didn't get to see Don in the musical, which was the whole point of going. Laural is in the theater so she understood. But Don felt badly; he really wanted to do that performance for them.
The company manager found an ENT doctor and Don saw him yesterday morning. He has an upper respiratory infection and is on meds and isn't talking for the whole weekend, so we're texting and/or face-timing with me doing all the talking and Don nodding yes or no.
Say a prayer or two for him, okay? He has to be better for that recording tomorrow.
I have to run to the grocery store this morning to stock up on food. I'm ready to eat at home for a while. Dining out is fun but when it's every day, I get tired of it.
What a blessing it has been to travel to New Orleans and Chicago and spend quality time in both places. Don will be home a week from tomorrow and we can settle in for the month of December.
That will be nice.
Closing with a shot of nighttime Chicago, taken my last night there.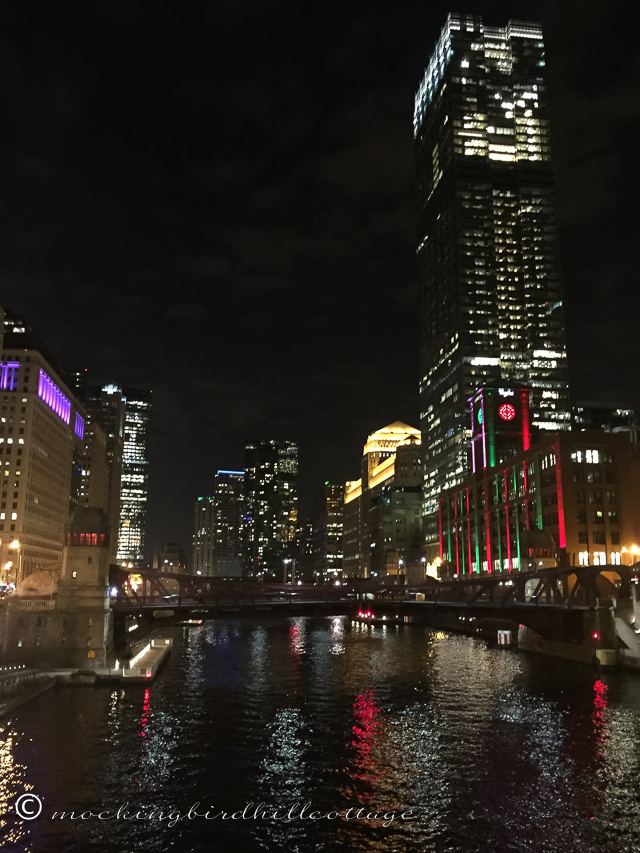 Happy Sunday.