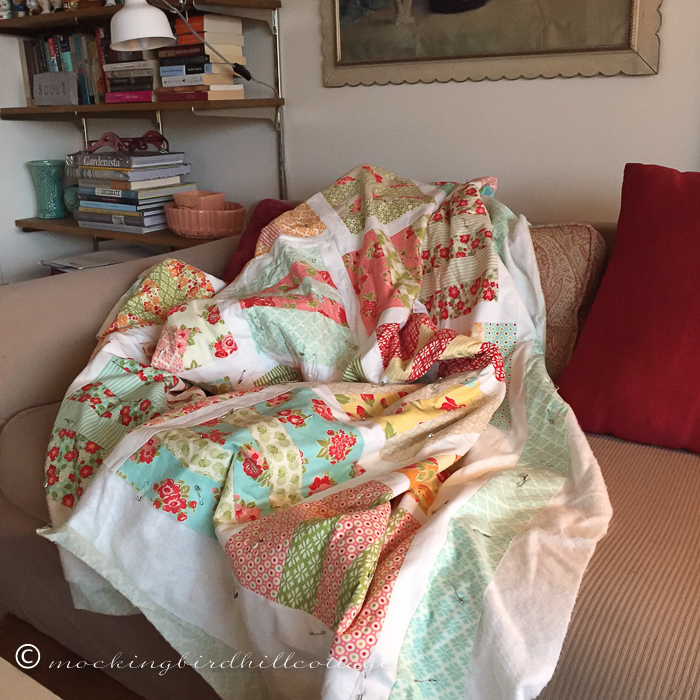 • As I work on this quilt, ensconced in my chair, I often channel surf. Since Don isn't here, I sometimes stop and see what's happening on HGTV.
Sigh.
I find very little of interest there. I really used to like HGTV, especially in its early days. There were shows about quirky and interesting homes. There was content based on actual real life decorating. Now, ever since they hit on their formula for House Hunters, it seems as if every show is just another variation. Formula: Find 2 or 3 properties, pretend the 'buyer' is actually making their decision in real time, though we now know they've already made the decision before filming begins, then show a lot of construction shots, problems that crop up that are magnified to hold the viewer's interest through the ensuing commercial, and staged scenes of the private life of the buyers and/or flippers, i.e., a scene of Chip and Joanna doing something with their kids or the Property Brothers  or the sweet blogging couple in Home Town  bowling with friends to coordinate with a visit to a bowling alley to get old floors for a countertop. It's all so predictable. I find I can't get past it. I tuned into Home Town  because it's a new show and I know of the blogger and her husband who are behind it. I'm cheering them on, of course, but I was so disappointed – not in their work – but in HGTV's choice to do more of the same. Same formula as every other show. I think they deserve better.
Yesterday there was show based on the House Hunters  formula – called House Hunters Renovation. When I saw a scene (obviously staged) where a couple walked into a beautiful Craftsman home, looked at the stunningly beautiful original tiles(!)  surrounding the fireplace and basically said they were 'too vintage' and needed to be ripped out, I screamed at the television and turned it off.
Okay. End of my rant about HGTV, which used to be really neat (to yours truly) but is now bland and boring (and sometimes enraging.)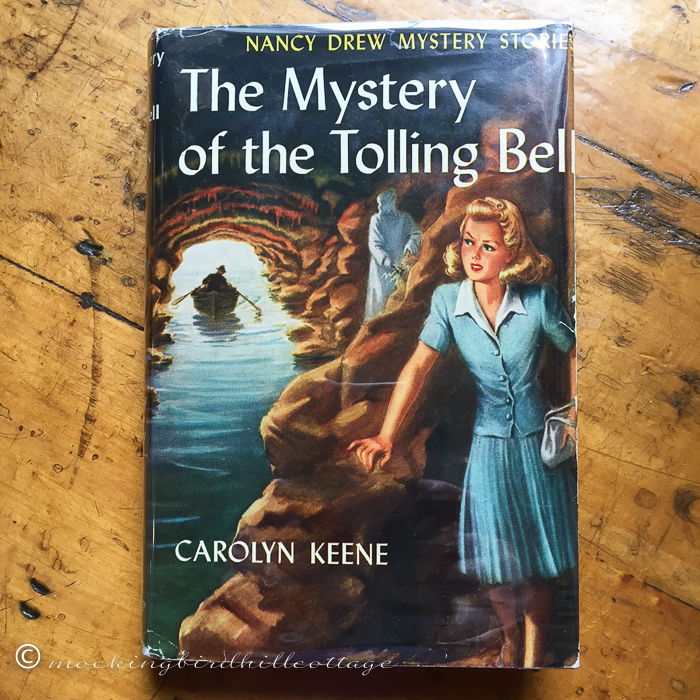 • I received another Nancy Drew in yesterday's mail. If this one looks different to you, you're right. It is. Russell H. Tandy designed four covers (#23 – #26) that were done in the forties and were obviously part of one of the many changes in design over the years. The font at the top is different, no longer in script form.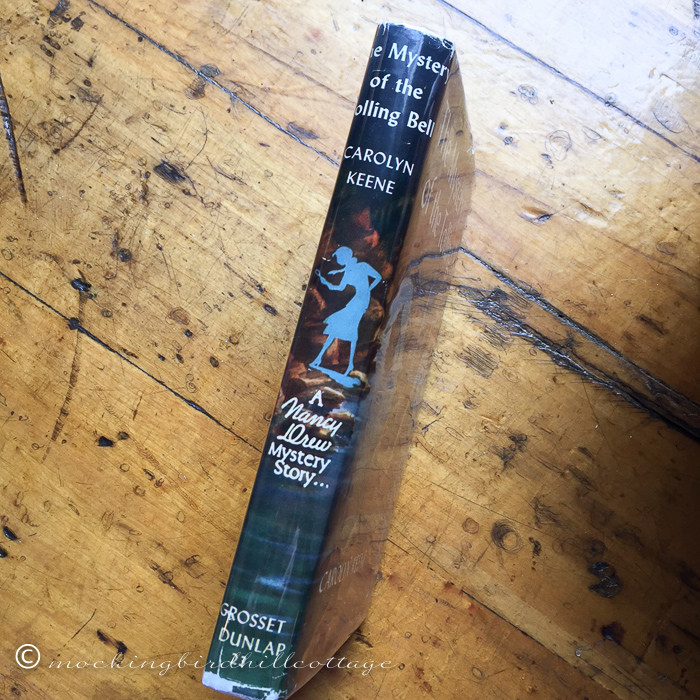 The spine has also changed. Numbers 1 through 22 have a white spine. Starting with #23, the illustration wraps around the spine.
I must confess I like the white spine versions the best, but since I'm collecting all of Tandy's cover illustrations, I am making an effort to find #23 – 26. The Mystery of the Tolling Bell  is #23. It's in great condition.
• I'm watching Rachel Maddow, Lawrence O'Donnell, reading updates on Twitter. To me, there is nothing more important right now than what is happening with Trump/Russia and the changes he is making to all those programs that were Obama's legacy – laws that protect our water, air, land, children, education, health, quality of life.
I trust that, in the end, the whole lot of them will be brought down. I'm already planning my celebration party.
• Don messaged me a photo last night. He was standing in front of the end of Route 66 sign in Santa Monica. Congratulations, husband – You did it!
Happy Tuesday.